PCC Board of Trustees report, April 2012
This article was originally published in April 2012
Notice of annual membership meeting
Tuesday, April 24, 5:30 p.m.
St. Demetrios Hall
2100 Boyer Ave. E., Seattle
Dinner will be served at 5:30 p.m. RSVP by April 17 online or call 206-547-1222.
CONFIRMATION NUMBER NEEDED FOR ENTRY
We have instituted a new reservation system that should make checking into our meetings a smoother experience. You are being asked to RSVP on our website (by April 17, 2012) and you will be immediately sent a confirmation number that you will need to check into the meeting.
Free parking • Directions are available online or by calling 206-547-1222 • Accessible by Metro Bus: http://metro.kingcounty.gov
As usual, the business portion of the meeting will feature the annual reports from the board and management on the state of our co-op. You also will hear from our four board candidates. They will have a few moments each to introduce themselves and tell you why they want to serve as trustees.
The theme of the education session of this meeting is childhood nutrition. We are thrilled to spend time on several aspects of this important topic with some key leaders in our community. Benjamin Danielson, M.D., is a pediatrician at Seattle Children's Hospital and director of the Odessa Brown Children's Clinic; Erin MacDougall, Ph.D., is Program Manager for Healthy Eating and Active Living for Public Health, Seattle & King County; and Ellen Gray is executive director of the Washington Sustainable Food and Farming Network (WSFFN). Gray manages WSFFN's "Fresh Food in Schools" project.
We also want to share with our members an overview of the kind of outreach PCC is doing all over our community to promote healthful eating and physical activity.
2012 PCC election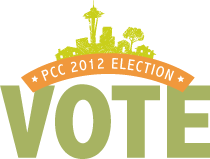 In order to give our members more time to get to know their candidates, we have published the candidates' information on our website, including video conversations with each candidate. The information will remain posted throughout the election period — April 24 through May 17. You'll receive your printed information, including your ballot, by mail to your home inside the May Sound Consumer.
Our candidates are:
Maggie Lucas (community advocate, parent, attorney), incumbent
Stephen Tan (environmental attorney), incumbent
Art Scheunemann (business executive)
Sandy Voit (financial counselor)
2012 PCC election: correction
Our apologies. Beginning April 24, members can download a ballot to complete and return by mail, or drop off at a store. But at this time we're not able to offer online voting as stated incorrectly in the print version of April's Sound Consumer.
Meet the candidates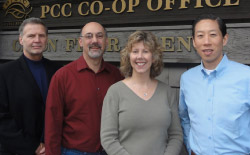 In addition to the candidates' presentation at the annual meeting, we're planning three store visits where members will have an opportunity to meet the candidates and ask questions in person:
Some of our current trustees also will be on hand to answer questions about what the board members do and why it's important for you to vote!
Board meeting report
The report from the March 27 board meeting was not available at press time and will be published in the May issue. The next board meeting will be May 29 at 5 p.m. in the business office. Member comment period is at 7 p.m., with comments limited to three minutes unless a longer presentation is approved in advance by the board chair.