Celebrate organic!
by Kristin Vogel
PCC Farmland Trust Communications Manager
This article was originally published in September 2011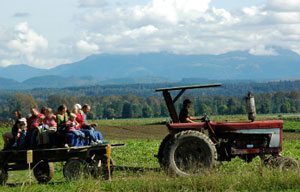 Snoqualmie Valley farm tour
Saturday, September 17, 10 a.m. to 3 p.m.
View PDF map of farms
Join our first "Celebrate organic!" tour of farms in the Snoqualmie Valley, a beautiful and unspoiled agricultural region in the shadow of metropolitan Seattle.
Participating farms will provide fun, educational activities, including walking tours, farm-stand sales, music and kids' games. Visitors will have opportunities to experience organic, working farms in action. At each stop, the emphasis will be on sustainable farming techniques, each farm's certifications, and sustainable operating principles. Free!
Visit pccfarmlandtrust.org for a tour map and more details.
Each autumn, we celebrate saving local, organic farmland with our supporters and the public. This year, we're drawing attention to sustainable and organic farms in the Snoqualmie Valley.
We'll tour Growing Things Farm, Oxbow Organic Farm, and Local Roots Farm, and more during Washington Tilth Producers' Washington Organic Week (WOW). The men and women who run these farms work in harmony with their natural surroundings to grow healthy, pesticide-free foods for our communities.
Come learn about our local farmers, support their crucial work, and have some fun! We'll see you on the farm.
Growing Things Farm
Growing Things Farm, a certified organic farm established in 1991, was preserved in perpetuity for organic farming by PCC Farmland Trust in 2006. Farmer Michaele Blakely and her crew adhere to the principles of being good stewards of the land, valuing all life on earth, and raising animals in a responsible and considerate manner.
During the tour, visitors will learn about tried-and-true organic practices, and how farmland preservation efforts help local farmers grow organically.
Oxbow Farm
Another participating farm on the tour is Oxbow Farm, a 25-acre certified organic and Salmon-Safe vegetable, fruit and berry farm. Luke Woodward and Sarah Cassidy and their team sell produce through a 300-member Community Supported Agriculture (CSA) program, at farmers markets, to area chefs, at an on-farm produce stand, and at Redmond PCC.
In 2010 Oxbow began an educational nonprofit, the Oxbow Center for Sustainable Agriculture and the Environment, to teach children and adults about healthy farming and land stewardship. Its outdoor classroom, the Oxbow Kid's Farm, is a wonderland of fun farm food. Kids can run around windy, leafy gourd tunnels, explore worm bins in the Creepy Teepee, get lost in the sorghum spiral, and play on the old Ford climbing tractor.
The "living playground" features magical leafy spaces to climb in and explore, and interesting exhibits and signs that teach kids and adults about organic farming practices abound across the farm.
On September 17, Oxbow Farm will offer special kid's farm tours at 10 a.m. and 12 p.m. called "Seed Feast," where kids can harvest and eat seeds grown on the farm (pumpkin and sunflower) and make popcorn from Oxbow's Dakota Black seeds. Short, adult-oriented tours will be given at 12:30 and 1:30 p.m. The PCC Kid Picks mobile will be on the farm throughout the day.
Local Roots Farm
At Local Roots Farm, you'll see a family-run farm in action, as the crew harvests crops for Sunday market. See how produce makes its journey from farm to plate. Local Roots will have plenty of fresh-picked vegetables for sale, just in time for dinner!