Your co-op, March 2010
This article was originally published in March 2010
Talk to the Board
Board members continue to report this exchange as very useful in engaging members on a one-to-one basis. Come share your thoughts with a board member at this month's Talk to the Board or email us at
board@pccmarkets.com
Next visit is Saturday, March 27, 9 to 11 a.m. at the Issaquah PCC Easter Egg Scramble.
All board members will serve as table captains at the upcoming annual member meeting (see sidebar this page). The member meetings provide additional opportunities for the board to have in-person interactions with members.
Notice of annual PCC membership meeting
Tuesday, April 27, 5:30 p.m.
St. Demetrios Hall
2100 Boyer Ave. E., Seattle
Dinner will be served at 5:30 p.m.
Free parking • Directions available online or by calling 206-547-1222 • Accessible by Metro Bus: http://tripplanner.kingcounty.gov
The spring member meeting will feature the annual reports from the board and management on the state of our co-op. You also will hear from our four board candidates (see 2010 election, below).
For our education topic, we're planning a unique look at what a typical day at PCC looks like. "A Day in the Life of PCC" should answer some member questions about our operations and what makes us different from other retailers. More details about our spring annual meeting program will be in next month's Sound Consumer.
2010 election coming soon
April 27 through May 20 • Meet the candidates
In order to give members more time to get to know their candidates, we will post the candidates' information on our Web site by March 24. We'll also post brief video conversations with each candidate.
The information will remain posted throughout the election period — April 27 through May 20. Members will receive printed information, including their ballot, by mail inside the May Sound Consumer.
Our candidates are:
Katrina Basic (controller, Aqua Quip)
Jason Hamlin (financial advisor, UBS)
Bryan Pearce (CEO, University Book Store)
John Sheller (managing librarian, King County Library System)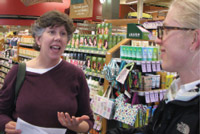 In addition to the candidates' presentations at the annual meeting, we're planning two store visits where all candidates will be available to give members an opportunity to meet them and ask questions in person:
Board report
At the January 26 meeting, the board heard reports from the Finance, Board Development and Member Relations committees. The board approved two topics for ongoing board study and engagement: understanding the local food system and food supply chain, and childhood nutrition. October 27 was approved as the date for the fall meeting.
The next scheduled board meeting is Tuesday, March 30 at the co-op office. The meeting begins at 5 p.m., with a member comment period at 7 p.m.