PCC Farmland Trust saves Orting Valley Farms
by Kristin Vogel
This article was originally published in December 2009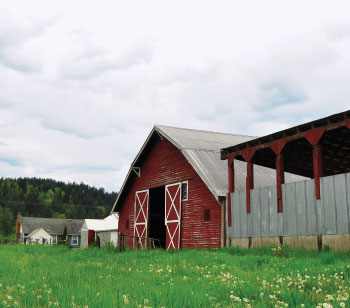 (December 2009) — It is with great excitement and gratitude that PCC Farmland Trust announces the preservation of 100 acres in Pierce County.
As you make the drive down state route 167 and through the Kent Valley toward Orting, you can see a dramatic evolution of place occurring throughout Washington and, in particular, areas just outside of Seattle.
Changing times and changing priorities are manifestly apparent — residential housing developments sprawl across the valley, and then line up in neat formation along the road into town. Land is for sale or on its way to being developed everywhere you look. Some is labeled "mixed use" and covered in gravel and weeds; some land still is recognizable as an old farm, with crumbling barns or a tractor idle in a field.
Glance up and see swaths of trees nicked out of the side of ridges; look to the side and see semis and trucks flying past white picket fences, tree nurseries, storage units, and empty pastures, chugging to the rhythms of commerce and industry.
And then, coming down Orville Road, driving south through the fertile Puyallup River Valley, Orting Valley Farms come into view.
Birds swoop overhead and a red iconic barn stands proudly at the eastern end. To the west, the Puyallup River and a tributary of the Carbon River form the property's border beneath the tallest ridge. In the eastern fields, well-maintained pasture stands as a place marker for what soon will be flowing lines of crops.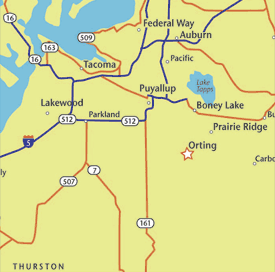 The dairy to the west is re-awakening: soon the barns will be put to use again. In an adjacent field, rows of squash, pumpkins, beets and greens hum with autumn bounty, beginning the cycles of seed, growth and harvest once more.
This property, Orting Valley Farms, has been our most complex and ambitious project to date and has involved the time and generous efforts of many project partners and concerned community members. Saving it is an accomplishment on many levels.
Preserving this land means 100 more acres of farmland will be producing organic food. We also are saving an historic farm in the center of some of the most valuable and threatened land in Washington state.
PCC Farmland Trust is riding a wave of increasing awareness about why it's so urgent that we save what's left of one of our most precious resources: farmland. Often the farmland that is the most agriculturally valuable — flat and well-drained with prime soils — also is the most desirable for development.
A developing crisis
Every minute of every day we lose about two acres of agricultural land in the United States. From 1992 to 1997 alone, we converted to development an area the size of Maryland. Why should we be concerned about losing large expanses of dirt to concrete and buildings? The American Farmland Trust states it succinctly: "No Farms, No Food."
Every year our food becomes less safe. We open our newspapers and Web browsers to more stories about food scares from a massive industrial food system. Add to the mix a vanishing way of life for American family farmers, and a dwindling ability to sustain our country's rich, rural agricultural heritage, and we have created a series of preventable tragedies.
Preserving farmland to ensure local, organic food production is undeniably important but saving farmland offers other benefits just as vital. Knowing our growers enhances traceability and accountability. The American Farmland Trust cites research suggesting that if every U.S. citizen ate just one meal a week made from local, organically grown produce, we would conserve one million barrels of oil in one week.
But perhaps the most significant benefit is economic — research done by Sustainable Seattle found that shifting just 20 percent of our food dollars to local choices more than doubles the number of dollars circulating among local businesses.
Using land for an organic farm instead of residential or commercial development offers benefits that roads, houses and malls never could provide. Organic farming methods protect water and air quality, prevent soil erosion, provide food and cover for wildlife, and eliminate the problems created by petroleum-based, high-nitrogen fertilizers, pesticides, herbicides and other chemicals used in industrial farming.
PCC Farmland Trust is leading the call to action to save local organic farmland forever, for the benefit of all. The trust also strives to offer the additional support necessary to keep farmland in production — helping to match farms with farmers, and connecting concerned landowners with tools of support.
A community effort
Saving Orting Valley Farms has been a long and complex process but also it has marked the beginning of a new model for PCC Farmland Trust: partnering with organizations and agencies serving the regions where we're attempting to save farmland.
Instead of concentrating on buying land as the trust has done in the past, we're now focusing more on purchasing organic agricultural conservation easements, which is more cost efficient for more acreage.
Purchasing and holding a conservation easement does two things: it restricts the farm from future non-agricultural development, and legally requires those farming the land — present and future — to use sustainable, organic farming practices.
By assuming the role of easement holder (instead of "landlord"), the trust can concentrate on land research, matching accomplished farmers with available farmland, and facilitating long-term stewardship of properties. Partner organizations assist the trust with local real estate transactions and offer extremely valuable connections to people, places, resources and needs of citizens.
Saving farmland is a monumentally expensive and knowledge-intensive endeavor, requiring a community effort and many different kinds of allies and support — including yours! When we work together, we can leverage the ideas, strengths and funding sources that each partner brings to the table.
In the case of Orting Valley Farms, PCC Farmland Trust worked closely with Pierce County to secure funds through the Washington State Wildlife and Recreation Program (WWRP) and Pierce County's own Conservation Futures program.
The trust will co-hold Orting Valley Farms' organic conservation easement with Pierce County — ensuring that the property remains an organic farm in perpetuity. Funds administered through the WWRP by the Washington state Recreation and Conservation Office (RCO) will be used to secure the farmland and bridge the increasing gap between the cost of farmland and what farmers can afford.
The project would not have been possible without the diligent work of Kimberly Freeman, senior Pierce County planner and Orting project lead, and Rick Tackett, Real Property Management Specialist for Pierce County. Technical assistance from Washington State University (WSU) Extension's agricultural educators also was of tremendous value, and we are thankful for the expert knowledge and support of colleagues, including Mary Embleton at Cascade Harvest Coalition, and Carrie Sikorski, Pierce County Farm Ombudsman.
Finally, there would have been nothing to save if not for the vision of Emma Ford, who owned what is now Orting Valley Farms with her husband, Ted, for more than 40 years. Her patience throughout this process and her commitment to keeping this farm in agricultural production is a legacy for those to come.
To date, Orting Valley Farms has two of its (eventually) three farm families on the property, already growing an array of produce. Kim and Dan Hulse of Tahoma Farms and Terra Organics were the first to break ground on their 40 acres this spring, growing a variety of vegetables.
Ken and Carrie Little will operate their Little Eorthe Farm on approximately 30 acres, growing berries, flowers, mixed veggies, honey, eggs and organic seeds, as well as ingredients for beer, wine and mead. The final parcel is in advanced negotiations, and those farmers will be planting in 2010.
For the new farmers who make Orting Valley their home, the site offers a wealth of riches, including prime soils, irrigation systems, water rights, and existing farming infrastructure.
The property is priority habitat for White River Elk, and its salmon-bearing streams will thrive and benefit from the farms' organic and sustainable practices. Orting Valley Farms also is located in a unique open space corridor, forming a continuum between Mount Rainier National Park and Commencement Bay.
The journey
The property is valuable far beyond its material or financial worth and the gratification of bringing an historic farm back into production is priceless. What is known now as Orting Valley Farms was farmed for nearly 100 years — 45 of them as a dairy farm.
Many cows and years later, Amy Sills and Agustin Moreno, farm managers at Tahoma Farms, describe their experience in 2009: "Agustin and I have been more than ecstatic with our first season. The soil here is simply magnificent. Our crops have been growing unexpectedly fast and healthy. This is a beautiful area and we couldn't be happier to be farming and raising our family here."
Saving 100 acres and preserving a beautiful farm in a gorgeous and threatened valley is a great satisfaction, and reason to celebrate. A visit to Orting Valley Farms is a memorable experience — there is something profoundly right about the rescue of this particular piece of land, something deeply steadfast in the soil, in the sense of place and beauty, something elemental, framed by the watchful peak of Mount Rainier.
But standing on its rescued earth also inspires the restlessness and urgency of knowing that this is only the beginning of our work. We invite you to get involved. We need your help to save more local farmland.
Stay tuned for details about a 2010 tour of Orting Valley Farms. In the meantime, visit our Web site (pccfarmlandtrust.org) to donate, join our monthly e-newsletter list, or to learn more about other farm projects and resources.
Kristin Vogel is PCC Farmland Trust's Office and Outreach Coordinator.
PCC Farmland Trust is an independent 501(c)(3) nonprofit, supported primarily by the public. While shopping at PCC Natural Markets provides some benefits to the trust, the great majority of our funding comes from individual donors — like you. Thank you.