Your co-op, May 2009
This article was originally published in May 2009
Vote now — PCC annual board election April 28 to May 22
Our members will elect three board members and a new nominating committee.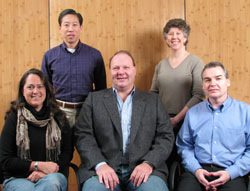 The special election insert sent to members' homes inside this Sound Consumer contains member ballots as well as biographical information, Q&A and campaign statements from each candidate.
The insert also contains information on candidates for the 2009-2010 nominating committee. The candidates are Diana Crane, Janet Hietter, Don Nordness, Rick Riehle and Mary Simon.
All campaign material also is available on our Web site.
Meet the candidates — virtually and in person
Visit our Web site to view brief video interviews with each candidate and learn why they're running.
We also are hosting four candidate forums — two on the east side and two on the west side — so you may talk one-on-one with the board candidates. The forum dates and locations are listed in members' election insert and on our Web site. All will feature delicious treats prepared by the PCC food demo team.
Please call Janice Parker at 206-547-1222 or email
board@pccmarkets.com
if you have questions about the forums or the election.
Notice of 2009 ballot counting meeting
The 2009 ballots will be counted at a public meeting on Monday, May 25 at 3 p.m. at the co-op office, 4201 Roosevelt Way N.E., Seattle. Call Janice Parker at 206-547-1222 if you would like to volunteer.
Who's on the board now?
As you consider your choices in the election, you may wonder who the three newly elected trustees would be joining on the board. There are six board members whose terms are not ending and who will continue service at least through the next board year.
Carol Binder: executive director, Pike Place Market Preservation and Development Authority.
Buzz Hofford: general manager, Seattle University dining program.
Kelly Horton: registered dietitian, food policy analyst and nutrition program planning consultant.
Julianne Lamsek: director of information technology, KCTS 9 public television.
Alexander Rist: economist, King County Solid Waste Division.
Chantal Stevens: countywide community forums program manager, King County Auditor's Office.
The current board members can always be viewed on our Web site here.
Notice: Sound Consumer delivery
PCC's bylaws and Washington laws require that we provide election ballots to all active members. Therefore, all active PCC members receive the May Sound Consumer, which contains the election insert and ballot. Please vote.
Annual meeting April 28
We'll publish a report and photos of our annual meeting on our Web site by May 13 and in the June Sound Consumer.
Available online now are the cooking demo videos presented at the annual meeting. Chef Lynne Vea, one of our PCC Cooks instructors, shows how easy it is to prepare delicious, cost-effective and nutritious meals from PCC foods. You'll also find some great recipes and shopping tips.
Board report
The board met on March 31 and heard a report from PCC's outside auditor. The 2008 audit reflected another strong financial year with record sales of more than $133 million.
Management also presented reports on achieving PCC's Ends. Excerpts will be published in the June Sound Consumer.
The next board meeting will be Tuesday, May 26 at 5 p.m. at the co-op office. Member comment period is at 7 p.m.