Your co-op, July 2008
This article was originally published in July 2008
PCC 2008 election results
The ballots from the 2008 board election were counted in a public meeting on May 26 at the co-op office. The board thanks the volunteers who counted ballots. Here are the election results:
Board of Trustees
Buzz Hofford, 1,239
Carol Binder, 1,166
Julianne Lamsek, 1,067
Amy Pennington, 802
The top three candidates are elected to three-year terms on the board of trustees.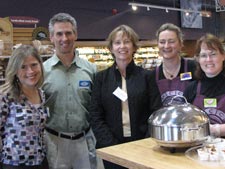 Nominating committee
Don Nordness, 1,271
Mary Simon, 1,256
Diana Crane, 1,243
Janet Hietter, 1,224
All four candidates were elected to a one-year term on the nominating committee. The board also will name one of its members to serve on the committee as mandated in our bylaws.
Bylaws amendment
Our members also overwhelmingly approved the proposal to amend our bylaws (Yes: 1,420; No: 69 ).
There were 1,590 valid ballots in the election representing 4.02 percent of the active membership. Quorum for the election was 1,188 votes (three percent of 39,598 active members).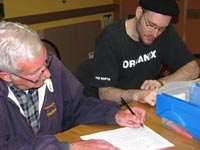 Board chair Julie Tempest notes, "The board congratulates all our candidates. We thank them for participating and for the time they committed to the application and campaign process. We look forward to working with Buzz, Carol and Julianne in service to our membership. The board also would like to thank all the members who voted."
Board report
At its May 27 meeting, the board began preparing for its August retreat. The retreat will focus on strategic planning and review of our Ends policies.
The board also approved a request from the PCC Farmland Trust to permit use of the PCC member mailing list for the trust's 2008 fundraising appeal.
The report on the June 24 meeting will be published in the August Sound Consumer. The next board meeting will be held on July 29 at the co-op office. Member comment period is at 7 p.m.
PCC member benefit with Zipcar
A new benefit for PCC members — get a discount on Zipcar, a car-sharing program, and start driving in Seattle, Portland, even London! Learn more online at www.zipcar.com/seapcc.