The Alaffia Bike Project: 2,000 bikes heading to Togo
by Olowo-n'djo Tchala
This article was originally published in July 2008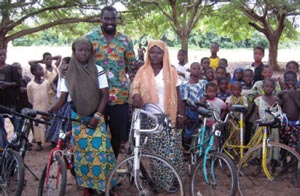 (July 2008) —
Editor's note: If you're one of the PCC staff or members who participated in a February bike drive for school children in Togo, here's a letter passing on heartfelt thanks. If you missed the February bike drive, there's still time to extend a helping hand — from our co-op to Alaffia's co-op, halfway around the world.
Dear friends and customers,
This is an update for you on our Bicycles for Education project. I am very happy to inform you that we are finally ready to make another bike shipment.
First, I would like to thank all of you for your participation, both directly and indirectly, in collecting bicycles over this past year. Without all your individual efforts, we would not have been able to get where we are now with this project.
With the help of our stores, representatives and volunteers, we now have more than 2,000 bicycles; 374 of them came from more than 200 PCC families during the drive at PCC Issaquah and West Seattle in February. Without your financial support through purchasing Alaffia products, we would not have been able to gather enough funds for the shipping, distribution and ongoing maintenance costs.
I would like to remind you how critical the bike project is to youth in rural Togo. While the majority of girls and boys in Togo complete primary school, attendance drops off rapidly in higher grades.
According to UNICEF, 90 percent of the girls in rural areas drop out before finishing secondary school. The time and energy required to walk to school are deterrents to continuing school, especially for girls, who have more household chores than boys. We believe these bicycles will decrease the time and energy required to get to school and provide an incentive to remain in school.
Togo will not be able to move out of poverty without educating its youth. The lack of education in the female population leads to the continuation of gender and economic inequalities.
We feel it is especially important to empower our female students and, for this reason, this shipment will be distributed primarily to female students in 50 different villages. I strongly believe that our communities in West Africa will gain the tools for self-empowerment through projects such as this that encourage respect and gender equality.
We are welcoming volunteers to prepare bicycles in Olympia for shipment from Friday, June 27 through Thursday, July 3. Then, on Tuesday, July 8, we'll be loading the bikes into shipping containers. We also are accepting financial contributions to help with supplies and shipping costs.
I will be in Togo the entire month of September to help with the distribution of bicycles and will bring a complete update upon my return in October.
Again, thank you very kindly for all your support.
Peace,
— Olowo-n'djo Tchala, Founder, Alaffia Sustainable Skin Care
Community Empowerment through the Fair Trade of Shea Butter