Quality standards, product changes
Sound Consumer January 2008 | by Trudy Bialic, Editor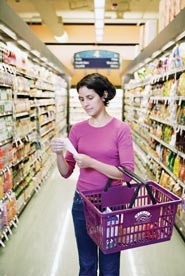 (January 2008) — You may have read about the elimination of high fructose corn syrup (HFCS) from products at PCC Natural Markets, the most recent change in our product standards.
We couldn't have done it without your encouragement. Thank you! (For more on HFCS, see HFCS: How sweet it isn't at PCC!, Sound Consumer, January 2008.)
Along the way to the HFCS announcement, we discovered that how sweeteners are identified on ingredient labels may be misleading. Some products in grocery, for instance, were no longer listing HFCS on their ingredient labels but did list "glucose fructose syrup," which is the same as HFCS! Our grocery merchandiser asked a number of companies to reformulate and they've done just that.
All PCC merchandisers are vigilant in their role as gatekeepers and push back complaints or suggestions to manufacturers. So as this new year gets under way, there are some more product changes you should know about.
Our supplements and bodycare merchandiser is introducing several new local lines, such as Oha skin care, a company in Bellingham that uses unprocessed and unrefined vegetable and fruit oils. She also has reminded vendors that time is running out to either get rid of parabens or be discontinued. Several are reformulating now.
In the deli, we're introducing a sliced turkey from Applegate that's certified organic. All the sliced cheeses sold from the deli service counter will be organic, too. Some packaging already is compostable; the search continues for more packaging that fits our guidelines.
In wine, our merchandiser is going through all his European bottlings, region by region, keeping only the best. Any lingering European "corporate" wines will disappear, and in U.S. wines, only a few mainstream wines will remain for customers who walk in off the street and want a familiar label — St. Michelle and Columbia Crest, for instance. Keep looking for character-driven, great value wines from small, independent producers.
In meat and produce, merchandisers are solidifying relationships with current suppliers and seeking out more local, organic providers. The meat department also is looking for alternative packaging to replace Styrofoam and plastic.
Stay tuned. There's surely more to come and we'll let you know what we find.