Shop for social change with the Puget Sound Community Card
This article was originally published in December 2007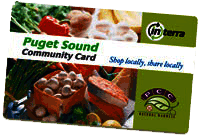 As of Sunday, May 31, 2009, Interra's Puget Sound Community Change (PSCC) program will no longer be in business. PCC will honor its participation and accept Puget Sound Community Cards through the end of the program.
(December 2007) — Many of us shop at PCC knowing that our purchasing decisions make a difference and we deliberately vote with our dollars.
Now, PCC is a partner and sponsor of a new initiative that promotes shopping at local businesses and invests a percentage of your purchases back into our communities. It's called the Puget Sound Community Change Program, developed by the nonprofit Interra Project.
The program revolves around use of a card called the Puget Sound Community Card (PSCC). It's free to anyone who simply registers online. During registration, you're directed to select local schools (public or private) or any of 15 local nonprofit organizations as beneficiaries to receive a portion of the rebates you collect.
When making qualified purchases at participating local businesses, you swipe or scan your card to earn "community rebates." (Community Cards are not payment cards; customers pay with another form of payment.)
A percentage of the amount spent at the participating businesses is returned to cardholders (35 percent), designated beneficiaries (35 percent), the card sponsor (10 percent) and the Interra Project for processing (20 percent). Cardholders also may choose to donate their cash rewards to the chosen beneficiaries, increasing their donation.
The PCC Farmland Trust is one of the 15 beneficiaries cardholders may choose to support. The trust also is the default beneficiary for PCC's co-branded Puget Sound Community Card, available later this month.
Jon Ramer, Executive Director of the Interra Project and a PCC member, says, "The Puget Sound Community Change program is a community loyalty program that links our values to our market choices and shifts dollars to the common good. By using a community card, we become 'savers and givers' — linking personal self-interest to the good of the larger community."
PCC encourages anyone interested in supporting locally focused, socially and environmentally responsible businesses to register and become a PSCC cardholder. Your participation is a way to shop and share locally.
Details about the criteria, the growing list of businesses and how to order a card can be found at www.pugetsound.cc.