Fall member meeting
This article was originally published in September 2007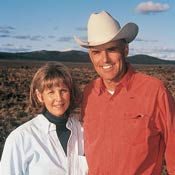 Wednesday, October 17, 5:30 p.m.
St. Demetrios Hall
2100 Boyer Ave. E., Seattle, WA
Dinner will be served at 6 p.m. Please RSVP by October 10.
Free parking
Directions are below, or call 206-547-1222.
Accessible by Metro Bus #25 and #48 (http://tripplanner.metrokc.gov).
(September 2007) — If you're a PCC member, please join us for our fall member meeting on October 17. Reservations will be accepted until October 10.
October is National Co-op Month, a wonderful opportunity to celebrate one of PCC's longstanding relationships with another cooperative, Country Natural Beef (CNB), previously known as Oregon Country Beef. Doc and Connie Hatfield, one of the co-op's original family producers, and other experts will talk about sustainable values and practices.
The CNB cooperative was formed more than 20 years ago by 14 family ranches who had ancestors on the Oregon Trail. CNB's Web site notes: "The direct connection between a natural environment and food was an everyday occurrence. It is a cultural loss that [the daily] meal and the connection with nature it represents is no longer a reality for most urban dwellers."
PCC's members realize the importance of that connection. "Our members tell us all the time that they want to meet the people who grow the meat and produce they buy in our stores," notes board chair Julie Tempest.
Come with your questions about beef ranching and be prepared to be impressed with a fantastic story of how the CNB co-op restored traditional ranching to the Northwest. It helped drive important changes in the meat industry, such as practicing humane animal husbandry and exercising environmental stewardship.
October also is the month that we might see a new U.S. farm bill passed. We'll take stock of the developing farm bill and learn what's in it for organic producers from Miles McEvoy, organic program manager for the Washington State Department of Agriculture. Andrew Stout, owner of Full Circle Farm, also will join us to give a farmer's perspective.
The member meeting begins with a supper featuring Country Natural Beef, seasonal and organic veggies and grains. Of course, there'll be time for your questions and comments about PCC.
DIRECTIONS TO ST. DEMETRIOS HALL
From Seattle
From I-5 North or South, take the 168B (SR 520 exit)
Exit Montlake Blvd off of SR-520 and bear to the right
Turn right onto Montlake Blvd East and immediately turn right onto East Roanoke St.
East Roanoke St. becomes 19th Ave. E. Continue to Lynn St. and turn right.
Immediately as 19th E turns into Lynn St, take the first left into the parking lot
From the Eastside
Take SR-520 West
Exit Lake Washington Blvd and turn left onto Lake Washington Blvd.
Make a right turn onto Boyer Ave off of Lake Washington Blvd.
Follow Boyer Ave East (crossing 24th Ave E) to 2100 block; church is on your right.
From I-90
Get onto I-5 or I-405 and follow the Seattle or Eastside directions above.