PCC Farmland Trust
Sound Consumer October 2005 | by Stephanie Taylor, Director, Farmland Trust
Actively seeking a new farm
The PCC Farmland Trust is actively seeking a new farm to save and preserve for organic production. Research involving possibilities in the King/Snohomish County region are underway. In anticipation of our new farm, the Trust has already received financial support from generous donors.
Kat Taylor, a passionate advocate of sustainable farming has kindly donated $25,000.
A longtime donor of the Trust contributed the remaining $30,000 balance on the loan for the Bennington Place Farm.
Newman's Own Organics contributed $2,500.
Organically Grown Company contributed $2,500.
An anonymous donor to The Seattle Foundation contributed $1,000.
Thanks to these generous benefactors, the PCC Farmland Trust is moving forward toward saving its next organic farm. We welcome your support!
Thank your local organic farmer: help keep our food close to home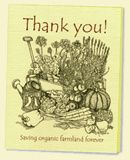 In this season of gratitude, we thank our Washington organic farmers. They do the work and take the risks to provide us with sustainable sources of fresh, healthy local produce.
Send a gift to the Farmland Trust and we'll mail this card to the farmer of your choice or choose a farmer for you from the Washington Tilth Producers Directory. Let us know what you'd like to say. All contributions will be used to preserve organic farmland.
Last year, local organic farmers received nearly 200 cards with our messages of thanks. The card's image of harvest bounty was created and contributed by artist Marion Keen. The colors are green and brown on cream woven card stock with matching envelope.
Double your contribution through the employee matching gift program
There's a good chance you can have your contribution matched by your employer. Many companies will match gifts even from retired employees and employees' spouses. It's easy.
Ask your company's personnel or community relations department for a copy of their matching gift form.

Complete your portion of the form.

Submit the completed form with your gift to the PCC Farmland Trust.

We'll do the rest.
For more information, contact the Farmland Trust at 206-547-9855, or farmlandtrust@pccmarkets.com
Welcome Summer Howe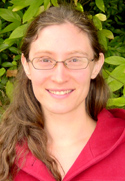 Please join the PCC Farmland Trust in welcoming Summer Howe as our new staff member. Summer will be working two days a week assisting with general administration and program development. Summer has been contributing as an intern with the Trust since January this year, bringing much needed and valued assistance to our busy office.
Born and raised in Missoula, Mont., Summer moved to Seattle and attended the University of Washington where she earned a B.A. in geography. Summer has worked with organizations and businesses such as Students Advocating Global Awareness (SAGE), the Peace Cafe, Bulldog News and Seattle Tilth to raise community awareness about social justice and environmental sustainability. Joining the PCC Farmland Trust came naturally. "The trust is laying a foundation for the future of sustainable agriculture in Washington that is essential to our earth, our community and our health," says Summer.
We're happy to have her. Contact Summer at summer.howe@pccmarkets.com or 206-547-9855.
New Farmland Trust merchandise
The PCC Farmland Trust is offering new totes and t-shirts with our new logo. These items can be purchased in any of the seven PCC stores with 100 percent of the proceeds going to save organic farmland. All items are made with 100 percent organic material and natural dyes. Help support the PCC Farmland Trust with your purchase. They make great gifts.