Co-ops: the quiet economy
by David J. Thompson
This article was originally published in October 2005
(October 2005) — There are 40,000 cooperative organizations playing an important role in the lives of most Americans. Although these cooperatives aggregate billions of dollars and serve millions of people on a daily basis, the media seldom mention their presence.
As October is National Co-op Month, we have an opportunity to share some background. Let's look at some of the different ways co-ops play a role in our lives.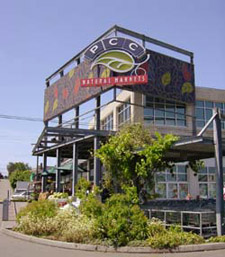 More people own shares in cooperatives and credit unions in the United States than own shares of stock in publicly traded corporations.
With more than 2,000,000 members, the REI co-op has more shareholders than most other U.S. corporations.
Almost 90 percent of the United States' landmass is served by electric cooperatives (The sole source of electric power for President Bush's ranch in Crawford is the McLennan County Electric Co-op).
85 million people are members of credit unions (financial cooperatives).
The largest single housing mortgage in the United States is for Co-op City, a housing co-op with 55,000 residents in more than 15,000 units in the Bronx, N.Y.
Most of the millions of people who eat fast food everyday are consuming foods the franchisees have bought through their own purchasing co-ops.
Much of the news you get is provided by the Associated Press, a worldwide cooperative of news providers founded in New York in the 1840s.
Best Western, the world's largest lodging chain, is a cooperatively owned association of more than 4,000 hotel owners offering more than 310,000 quality guest rooms in 78 countries.
Linked through the National Cooperative Grocers Association, natural food co-ops will become one of the five largest purchasing groups in the natural foods industry.
Yet while you can eat, live, save and sleep cooperatively, many people are unaware of this quiet economy.
In 2004, the National Cooperative Business Association (the national trade association) conducted a survey with the Consumer Federation of America and other co-op groups to find out people's attitudes about different types of businesses.
According to the results published in the Cooperative Business Journal, "Two-thirds of consumers say they believed businesses that are owned and governed by their customers and have consumers on their boards are more trustworthy than those who do not." … "While fewer than half of Americans said they were familiar with co-ops, most also said they'd be more likely to patronize a business if they knew it was a co-op."
People cooperating together to achieve common goals is as old as humanity. However, the principles and practices that form the basis for today's definition of a co-op were not crafted until 1844 in Rochdale, England. What distinguishes co-ops from a publicly traded corporation are a couple of important principles: co-ops are democratic organizations based upon one member one vote, and in a co-op the profits do not go primarily to the owners of shares but to the members, typically in some proportion to their use of services.
To some, this talk of co-op history and principles appears old-fashioned and redundant in light of global capitalism. To others, co-ops appear as a very positive tool of local control and a model of a responsible corporate citizen. In a world of Wal-Marts, Enrons, outsourcing and "irrational exuberance," co-ops offer stability, active ethics and responsiveness to the needs of their communities.
The wonderful element of the founding of the modern cooperative movement in 1844 is not that it allows us to dwell on the past but that the co-op in Rochdale gave us the practical tools to build the future. Because Rochdale needed to create a model that served the long-term needs of the community, it had to design a new type of corporate structure. As a result of meeting new needs, co-ops are frequently pioneers for the people.
In the 1970's co-ops such as PCC ushered in the natural foods movement and the promotion of organic farming. Organic Valley is an incredible example of how nearly 800 dairy farmers use the co-op model to build one of the strongest brands in organic dairy products. The Seikatsu Club, a consumer co-op in Japan, initiated the first model of a CSA (Community Supported Agriculture), an idea that has spread worldwide.
Fair Trade has its origins and outcomes in the co-op movement. For example, only grower owned co-ops qualify for Fair Trade certified™ coffee. Equal Exchange, based in Massachusetts, is a worker-owned co-op supplied by grower-owned co-ops, which sells to almost every consumer co-op in the United States. Equal Exchange is proving that the economic lives of people all around the world can be bettered using the co-op model.
The shelves of PCC place heavy emphasis on supporting the products of people-centered cooperatives. Clearly, the most critical innovations occurring in food production and distribution are being done by cooperatives.
Yet great philosophies do not become real without the presence of best practices. PCC, along with another 99 co-ops in the United States., recently formed the National Cooperative Grocers' Association (NCGA). The objective of the NCGA is to unite together as a "virtual" national chain. In doing so, NCGA intends to lower the cost of inputs and services for its members through the joint purchasing power of the member co-ops.
Randy Lee, chief financial officer of PCC, is upbeat about the potential of the NCGA plans. He is particularly interested in the outcome of the proposed National Purchasing Program (NPP). "The NPP, which involves combining natural food co-ops' purchasing volume from national vendors, holds promise for the NCGA member food co-ops to compete more effectively within the natural foods retail sector. By banding together, we should achieve more effective results, strengthen our procedures, and push ourselves to do better.
"A stronger unified co-op sector will be seen as a significant player by both wholesalers and manufacturers. As a result of an adopted NPP, we can enhance vendor-customer relations. Progress in many economic areas comes only with scale and NPP has the potential to move us in that direction." Randy hopes the first NPP will be adopted within the next six months.
From the very beginning in 1844, co-ops have embodied their members' interests in achieving social goals while at the same time running a business.
Father Don Jose Maria Arizmendiarrieta, (1915-1976) founder of the Mondragon Cooperative Corporation (MCC) based in the Basque Country of Spain, wanted to achieve many goals for the co-op's members. He reminded them constantly, "If we are not economically efficient, we cannot be socially effective." Today, the MCC is the largest enterprise in the Basque Country and continues to be the most innovative.
Co-ops may not be known to millions because they don't attract the headlines with talks of stock options, takeovers, mergers and layoffs. In almost every country of the world and in every state of the union co-ops quietly serve their members. Even with 800 million members worldwide, co-ops still remain the "unknown economy." Yet, now you know differently — and all because October is National Co-op Month.
David J. Thompson is author of "Weavers of Dreams: A History of the Modern Cooperative Movement" and more than 200 articles on cooperatives. He is president of the Twin Pines Cooperative Foundation (www.community.coop).