PCC Farmland Fund
by Stephanie Taylor, Director, Farmland Fund
This article was originally published in May 2005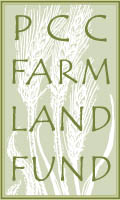 (May 2005)
---
Bennington Place Challenge
A very warm thanks to everyone who generously supported the Bennington Place Challenge with your donations to the Farmland Fund. Together we are making a positive difference for farmers, our environment and our health. Your support helped us reach our $20,000 goal!
Update on threat to conservation
by Stephanie Taylor, PCC Farmland Fund director
In March, more than 30 national conservation, wildlife and hunting organizations objected to recommendations by the U.S. Congress's Joint Committee on Taxation (JCT) that would damage conservation efforts.
The organizations sent a letter, addressed to Chairman Grassley and Sen. Baucus of the Committee on Finance, objecting to two specific sections of the JCT proposal. They say the policy changes would "drastically reduce voluntary donations" and "would represent a sharp and unwarranted reversal" of policies that have played a major role in conservation over the past 30 years.
The letter also says that "such legislation would be inconsistent with both the public interest and the public will, as evidenced by their own leadership in expanding conservation incentives" in recent years. Finally, the authors concur that while there have been abuses by some organizations, the proposed measures would not target abusers nor end abuses but would discourage all conservation donors from making legitimate contributions to preservation.
The complete letter is available at www.house.gov/jct/s-2-05.pdf. The organizations that signed on include The American Farmland Trust, National Audubon Society, Ducks Unlimited, Civil War Preservation Trust, Campfire Club of America, The Conservation Fund, and International Association of Fish and Wildlife Agencies.
To protect our farms and farmers, please write your own letter of comment on these proposed changes to your senators and representatives. Information about how to contact your representatives and a sample letter are available on our Web site at www.farmlandfund.org.
A report from the Bennington Place
by Joel Huesby, Thundering Hooves
Certified organic
There's a lot to celebrate. Our business is now called Thundering Hooves, Certified Organic Pastures. In February, most of the Bennington Place became certified organic — the last 50-acre pasture planted to grass will be organic next spring. This is the first step toward our goal of having organic livestock production. The next step we've already begun — to breed and purchase genetically selected grass-fed and Pasture Finished™ cattle (never in confined feedlots on an unnatural grain diet). This will require an extensive investment in time and money but will better match the animal to the environment.
Plans for expanding a seasonal wetland habitat
A friend of ours, who works for the Army Corps of Engineers as a water engineer, is assisting us in creating a wetlands habitat area for migratory waterfowl in the four-acre pasture bottom of the Bennington Place. This will allow us to flood the bottom land with seasonal water. The cattle will graze only briefly once or twice in the summer after the nesting season and before the winter stopovers. Our long-term plan calls for planting more trees, forbs and grass. Farming and the environment can go together.
Sunfield Farm meets fundraising deadline
Thanks to many generous contributions, Sunfield successfully raised the funds necessary to meet the February 14, 2005, purchase contract deadline! The 81-acre farm will be placed in conservation and Sunfield Education Association will take ownership of the property.
"We are very excited that this four-year collaborative effort has come to fruition with the preservation of Sunfield Farm," says Helen Curry, Sunfield board president. "We're extremely grateful to all the individuals, businesses, community agencies, and county and federal grant programs that made this possible."
Supporters of the project donated to the farm acquisition by sponsoring up to an acre of the land. The last 10 acres still remain open for sponsorship in an effort to re-pay the $50,000 loan. Sponsorship shares of Sunfield Farm are available. All donors were honored at a celebration held on the land on April 16. Interested donors can contact Sunfield directly at info@sunfieldfarm.org or at 360-385-3658.
Sunfield's plans for the farm include developing a working biodynamic farm, a food-share program for low-income families, and land stewardship and environmental programs for youth from public and private schools. A Waldorf school from pre-K through grade eight, planned for development on the property adjacent to the conservation easement, also will offer farm stewardship educational programs.
Come celebrate 25 organic years!
Nash's Organic Produce is celebrating 25 years of being organic with an invigorating barn dance. Please come and join us Friday, May 6 as we celebrate 25 full years of the farm's history and success — thanks to you, our supportive farm family. Potluck starts at 6 p.m. and the Delta Rays will be playin' the night away starting at 7:30 p.m.
Nash's crew will be hosting a free farm breakfast Saturday morning. For more information including directions and a list of local accommodations, contact Kia at Nash's Organic Produce, 360-683-7458.
Delta Farm update
by Kia Kozun
Organic seed workshop: Early Summer Field Day
In March, Nash's Organic Produce hosted the first of a two-part workshop called "Organic Spinach Seed Production" organized by the Organic Seed Alliance (OSA). The project attracted more than 30 growers from Canada, Washington and Oregon. Training farmers about organic seed production empowers them to cultivate organic seeds for their own use and for sale in the national and international seed market.
Presently, the organic industry lacks a steady, versatile supply of organic seeds available to organic producers. The first workshop, called the "Early Summer Field Day," focused on Nash's spinach seed crop where participants learned about cultivation practices, crop challenges and selection criteria, spinach reproductive biology, and disease prevention/control. The next workshop — the "Late Summer Field Day" — will focus on gauging maturity, crop harvest, seed cleaning, and yield and quality analysis. For more information, contact OSA at www.seedalliance.org.
Donor Roster (March 1-31, 2005
Anonymous: 26
Happy Birthday to Kathy Tod
Individuals:
Steven F. and Diane E. Adam
Molly Adolfson
John Albert
Elizabeth Alexander
Noel G. Angell and Emory Bundy
Marcia K. Appleton
Mark M. Arakaki and Deborah L. Roemer
John D. Ballard
Tanya M. Barnett
Jacqueline Beck
Earl H. and Ann E. Beede
Jeffrey and Magali Belt
Helen Berman and Leona Green
Heather Reed and Sven Eric Bioren
David C. Black
Philip D. and Dorothy Joan Bohn
Celia and Gordon Bowker
Martin T. and Mackenzie A. Brennan
Gro A. Buer and Bruce W. Williams
Elizabeth Burton
Billye J. Christensen
Arden Clise and Eric Mamroth
Lorraine Craft
Brian Cran And Susan Onstad
Lourene G. and Linden G. Criddle
Marti and Jay Davis
Mrs. Barbara B. Dick
R.D. Dickerson
John Donaghy and M. Sue McCabe
Jennifer Donnette
Jilly Eddy and Marsha Kremen
Mary E. Embleton
Frances and Jeffrey Fawcett
Carolyn K. and Donald W. Ferrell
Cheryl D. Fleming
Corinne L. Fligner and Mark H. Wener
George O. and Norma L. Gellert
Liliane Gilbert
Lisa M. Gordanier and James K. Richards
Don and Jerri Gordon
John Gore
David R. Gross and Kelley E. Sweet
Lucy J. Hadac
Jeffrey Hamblin
Lynn J. Hamilton
Blaine and Solweig Hammond
Marie J. Harrington
Esther Hazelet
Tony E. C. and Carol G. Henderson
Prudence A. Herdman
Jon and Marianne Niki Hermanson
Candice and Ted Hoffman
Bard Horton and Jessica Dixon
Keith E. and Patricia Horton
Betty H. Hughes
Judith Hurcomb and Robert E. Coleman
Marty and Samuel Jacobs
Aaron Katz
Kris Kegsnets and Patrick Snetsinger
Michael R. and Joan M. Kelly
Hugh S. and Janet R. Kimball
Carrie Kingsley
Gerrit Kischner and Nancy A. Bacon
Dennis C. La Master, LMP
Zenia P. and Michael J. Landi
Maria Helena and David A. Leonard
Ronald D. Long
Myra B. Lovett
Individuals (cont.)
Ian Mackay and Helene Starks
Karen Manarolla
Emily C. And Leonard Mandelbaum
Julie & Lyle Margulies
Donald and Susie Marshall
Carolyn T. and Richard J. Mattern
Sarah J. McElroy
Margaret C. McKibben
Kate McNenny
Robert Messina
Carly and Peter Mezey
Bonnie E. Miller
Pamela J. Murphy
Jay A. Deanna K. Neher
Ben and Martha M. Ohashi
Gordon H. and Elizabeth Orians
Christopher W. Pansula
Julia A. Paulsen
Georgia M. Penfield
S. Nicholas and Jennifer C. Potter
Victor W. and Linda J. Rantala
Judith Rickard and Geoffrey and Braden
Stephanie Roche
Stella and Lawrence Rogovoy
Polly B. Sanford
Patricia Saunders
C.W. and V.M. Scoby
Ange and James R. Scott
Linda K. Shaw
Ruth I. Shimondle
Theodora M. Speer
Helen Baker and Stacy St. John
Norman F. Tjaden
Nancy and Mark Tucker
Suzanne Uchida
Mary Voytko
Babarba L'H. and Frederic C. Warden
John A. Watson
Carolyn R. West
Nancy L. Winder and J. Lawrence Howard
Mary J. White
Zela R. Woloszyn
Diane M. Zimberoff
PCC Staff:
More than 100 PCC staff members make payroll deductions and contributions.
Businesses and Organizations:
Alaskan Brewing
Choice Organic Teas
Clean Earth/PureAyre
Full Sail Brewing
Habitat Wines
Local Vegetarian Cookbook
A Moveable Feast
Natural Factors
New Belgium Brewing
Newman's Own Organic
Organic Valley
Organically Grown Company
Plymouth Congregational Church
Plymouth Poultry
Small Changes
Springfield Creamery
Stonyfield Farm, Inc
TalkingRain Beverage
Tony's Coffee
Vigal Coffee
Whit Press
Wildwood Natural Foods, Inc.
---
The PCC Farmland Fund works to secure and preserve threatened farmland in Washington State and move it into organic production. The fund is a nonprofit 501(c)3 organization that is separate from PCC Natural Markets and exists by independent donations from contributors. For more information, see the PCC Farmland Fund Web pages. You may also contact the Fund at 206-547-9855 or email farmlandtrust@pccmarkets.com