Fair labor bananas
by Trudy Bialic, editor
This article was originally published in May 2005
(May 2005) — Of all the foods offered at grocery stores, bananas are the most-often purchased item. That means that a banana with great flavor and texture, and that ripens well, may be the most important item in a store — to consumers and retailers alike.
At PCC, we set the standard higher — to ensure that our bananas are produced according to fair labor practices. Over the years, PCC has offered several different fair labor bananas, but the best is from Organics Unlimited, a small family-owned business that began in 2000 as a husband-wife team importing certified organic fruits from Mexico. PCC Produce Merchandiser Joe Hardiman says the quality of the fruit itself is consistently outstanding and that there isn't another banana that compares.
But something else beautiful is growing at Organics Unlimited — a program to support those who labor in the fields, the workers who grow, harvest and pack the fruit. Organics Unlimited made a large contribution in February to create a foundation called GROW (Giving Resources and Opportunities to Workers). It's a non-profit dedicated to improving the lives of field workers and providing resources for their communities, such as a free daycare service. The president of Organics Unlimited, Mayra Velasquez de Leon, says, "We know we can't take care of the whole world, but we can make a difference with the people who are providing the food that we eat and that we sell."
Mayra understands the challenges that farmers face and the consequences of non-organic, chemical farming methods. She comes from four generations of organic farmers in Mexico, mostly banana growers. She says her father was the first organic banana grower in the world and she grew up in the business as the organic market evolved. "I worked for 13 years in my dad's company, the Mexican American Fruit Company (MexAm). I was peeling bananas for Earth's Best baby food, and then selling bananas. When he retired, he pushed me to do this, to start my own business with my husband."
Manuel Velazquez de Leon was an engineer in charge of operations with MexAm when he and Mayra struck out on their own. He's now vice president of Organics Unlimited. "Sustainability was really at the core of our beliefs," says Mayra, "even before the produce community understood all that it entailed for the world and for the U.S. market. We've always believed in growing tropical fruits in a more natural state, free of chemical fertilizers. Even as organics began to prosper, Organics Unlimited focused on the social responsibility of taking good care of its workers."
Now Mayra and Manuel want to help others who are struggling to make a living as farmers. So they set up the GROW Foundation with the help of the International Community Foundation (ICF). "Whatever money goes through ICF is tax-free," says Mayra. Also, GROW has minimal administration, releases funds almost immediately and maintains firsthand knowledge of working conditions.
To keep GROW growing, Organics Unlimited charges a small fee of 60 cents per box of bananas. While 60 cents may seem like a small donation, it makes a considerable difference to the people and towns receiving assistance. Mayra says they have four growers, each with four or five farmers. That translates into a lot of families; she's not exactly sure how many. "But just for packing," she says, "we need 26 people to package one container. That's 26 different families. Then there's all the growing."
To make the GROW program work, PCC is doing its part. "Currently, PCC is making this contribution without raising the retail on this banana," Joe Hardiman explains. "We're offering a fair labor organic banana for the same retail as regular organic bananas. The extra 60 cents cost is not being added to the price for consumers. It's a win-win for all. There are many ways to address fair labor issues. This GROW program will help."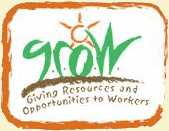 Shoppers will start noticing a new GROW sticker on PCC bananas, signifying that fair labor practices are hand-in-hand with organic methods. Growers earn a fair price, field workers are well treated and well paid, and the earth remains unsullied. All bananas from Organics Unlimited are certified by Quality Assurance International, the internationally recognized organic certifying agency.
"When we have a grower who wants to work with us, he has to grow organic," says Mayra. "So we give him an incentive. We pay better than what the market is doing, our engineers offer assistance managing the farm, and we give him so much more. In addition to providing resources, we sponsor festivities with raffles and give the children gifts. We make them happy and make it a community, doing work that's part of the culture, growing fruit.
"We don't permit children to work in the fields, but encourage them to attend school by paying their families well. We're looking to develop childcare. It's important to keep knowledgeable, competent workers on our plantations and provide them a stable life so they'll stay. There are more farmers and families who want in, but we need more customers."
The company is only five years old, yet PCC is committing to purchase all its bananas as part of the GROW program. If GROW product isn't available, which may happen occasionally, Organics Unlimited regular organic bananas will fill in.
So when you reach for bananas, think of this small family company with a big vision. The GROW sticker that tells us something beautiful is growing with our collective support.