Private and public conservation efforts at risk: Help the PCC Farmland Fund
by Stephanie Taylor, director, PCC Farmland Fund
This article was originally published in April 2005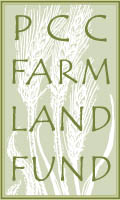 In lieu of Farmland Fund news, we offer this special report this month.
(April 2005)
---
The U.S. Congress's Joint Committee on Taxation is recommending measures that would severely limit efforts to save farmland. The recommendations from the committee could destroy incentives for landowners that have been essential to conserve private and public land. The incentives, in place for more than 25 years, have led to voluntary conservation of more than 35 million acres of working agricultural lands, working forests, wildlife habitats, historic landscapes and parklands.
These incentives, which reward landowners who donate part of the value of their land, also provide leverage that often doubles the effectiveness of local, state and federal conservation programs. Donations by landowners are a key element in the success of grant programs such as the North American Wetlands Conservation Act, the Forest Legacy Program of the U.S. Forest Service, and the Farm and Ranch Land Protection Program of the Natural Resources Conservation Service. The joint committee now is recommending:
Cutting two-thirds of the deductions a landowner can take for donating a conservation easement on his or her land.
Discontinuing deductions for donating conservation easements on land where the landowner lives.
Limiting deductions for donating property when calculating the basis. This will reduce incentive and make it less affordable for farmers and ranchers to donate land.
The specific proposals can be seen at www.house.gov/jct/s-2-05.pdf (PDF). The recommendations affecting land conservation efforts are items VIII-F and VIII-H.
The joint committee's rationale for these proposed changes is abuse of these deductions by some conservation organizations, and the difficulty in policing easement appraisals by the Internal Revenue Service.
The land conservation movement supports reforms to prevent and identify abuses of existing laws. The joint committee proposals don't accomplish that — instead, it fails to identify abusers, penalizes all donors, and discourages private, voluntary conservation at a time when it's needed more than ever.
The committee report is working its way through Congress, where discussion could begin anytime.
The joint committee advises Congress on tax matters. This report on land trusts by the joint committee is discussed in committee, by committee members and others interested in the report. If recommended by the committee, it goes to the U.S. House of Representatives for a vote.
You can help preserve land conservation
Congress can move on this issue at any time. Write or call your U.S. senators and representative now to alert them to how this proposal will affect conservation of farmland. The more you tailor your message to the PCC Farmland Fund, our activities (see below), and the communities we work in, the better.
We've provided a sample letter for you to download and send.
Farmland Fund activity
2000-2001 The Delta Farm
The Farmland Fund's first farm is a 100-acre flood plain property in the fertile Dungeness Delta of the Olympic Peninsula. The farm is now leased to a longtime organic grower Nash Huber and is part of his apprenticeship plan.
2002 Washington Department of Fish and Wildlife (WDFW)
WDFW purchased part of the Delta Farm's wetlands and a conservation easement on the rest of the farm.
2003 Sunfield Farm
The Farmland Fund made a one-year $10,000 challenge to Sunfield, a Waldorf school community working to preserve an 83-acre farm south of Port Townsend, in Jefferson County for organic farming and agricultural education.
2003 Meadowbrook Farmland
The Farmland Fund is one of nine partners in a Dungeness River estuary project from a grant of $987,500 from the U.S. Fish and Wildlife Service. This project entails the conservation of coastal farming/wetland habitat in the lower 1.5 miles of the Dungeness River and Meadowbrook Creek.
2003-2004 Bennington Place
These 174 acres rise from the Oregon border southwest of Walla Walla. The leasing Huesby family raises pastured livestock and poultry in an open, natural and low-stress environment. The land was just certified organic.
Education and advocacy
The Farmland Fund provides counsel and assistance to farmers and to other organizations engaged in preserving farmland and assisting farmers.
Donor Roster (February 1-28, 2005)
Anonymous: 4
Happy birthday to Kathy Todd
Individuals:
Kathryn Batson
Mark Berryman
Terri Cole
Mary Coles
Ginelle Cousins
Jacqueline Delecki & Howard Uman
Antje Helfrich
Leah and Scott Jurek
Chery Kinnick
Deena C. McCloskey
Carla B. McLean
Connie Miranda
Sabrina Oesterle
Carla Saulter
Kelsey Vaugh
Jennifer Winters
PCC Staff:
More than 100 PCC staff members make payroll deductions and contributions.
Businesses and Organizations:
Choice Organic Teas
Clean Earth/PureAyre
Benjamin & Margaret Hall Foundation
Habitat Wines
Local Vegetarian Cookbook
A Moveable Feast
Natural Factors
Newman's Own Organic
Organic Valley
Organically Grown Company
Plymouth Poultry
Salmon Bay Friends Meeting
Sam Smith
Sierra Nevada
Small Changes
Springfield Creamery
Stonyfield Farm, Inc
TalkingRain Beverage
Tony's Coffee
Vigal Coffee
Whit Press
Wildwood Natural Foods, Inc.
---
The PCC Farmland Fund works to secure and preserve threatened farmland in Washington State and move it into organic production. The fund is a nonprofit 501(c)3 organization that is separate from PCC Natural Markets and exists by independent donations from contributors. For more information, see the PCC Farmland Fund Web pages. You may also contact the Farmland Fund at 206-547-9855 or email farmlandtrust@pccmarkets.com