Beecher's brings handmade cheese to Seattle
Sound Consumer December 2004 | by Cameron Woodworth
(December 2004, updated 12/22/04) — Kurt Beecher Dammeier has been a fan of artisan cheese for as long as he can remember. As a child, he asked his mother to buy premium cheese rather than the processed ones taking over the American marketplace at the time.
So it's not surprising that late last year, Dammeier, an entrepreneur, opened Beecher's Handmade Cheese in Seattle's Pike Place Market. "I love cheese, and I felt that Seattle, as a prominent artisan product town, really needed and could support its own cheese. Our goal is to be Seattle's cheese."
There are other cheesemakers in Washington state, but they usually are found in more rural settings. Dammeier says Beecher's is the only artisan cheese shop in town. He likens the difference between artisan cheese and processed cheese to that between homemade bread and processed loaves bought at most grocery stores.
Beecher's focus is handmade cheese that is free of artificial preservatives, colorings, flavor enhancers and milk protein concentrate (MPC) — an unregulated food ingredient made from what's left after making other dairy products.*
"My own philosophy is additive-free," says Dammeier. "I really have a huge problem with the way so many foods reach consumers today, full of preservatives to make them last forever — but in many ways contributing to health problems." Beecher's uses many organic ingredients in its cheeses and foods, though not all ingredients are organic.
Additionally, the milk used to make the cheese is produced locally by a single herd of less than 200 cows allowed to roam and graze freely and fed high-quality feed. The milk is also free of genetically engineered recombinant bovine growth hormones (rBGH).
Beecher's makes an especially creamy Jack cheese, and three World Flavors: Jamaican with jerk seasonings, Mexican with chipotle and roasted green chili, and Chinese with chili and black beans. They also sell Brad's Blue cheese, cultured butter and a fresh farmer's cheese called Blank Slate, sold plain or blended with olive tapenade, dill and chive, or other flavors.
High-quality artisan cheese goes way back in our nation's history. For hundreds of years, only artisans made cheese. That changed after World War II when mass production started to rule the food industry, and processed convenience foods began filling the stores. By the 1950s, the demand for artisan cheese waned as processed cheese appeared. But in the 1960s and 1970s, a "back- to-the-land" movement took root, bringing renewed interest in artisan cheese making. An increasing number of artisans are making premium cheese today.
Dammeier's goal is to bring cheese making to the people. Some say he is doing for cheese what microbrews are doing for beer.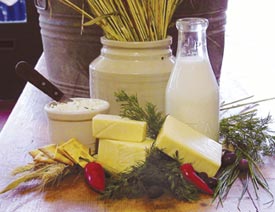 If you visit Beecher's store at Pike Place Market, you can watch artisans making cheese while sitting at the deli or strolling through the market. Look in through the windows and you can watch as curds materialize from the milk and are knitted together to create a wonderful artisan cheese. The techniques used at Beecher's are ones used for 5,000 years — albeit with a few modern-day modifications. Cheese is made at Beecher's on Tuesdays, Thursdays and Saturdays, and occasionally on other days.
"We felt that to really help build our brand and promote our philosophy, having the store in Pike Place Market would be a great chance for people to see what we are doing," Dammeier says.
Beecher's cheese maker, Brad Sinko, is one of the few people still practicing open vat cheese making, a centuries-old craft in which every step of the process is controlled by hand. Milk is poured into a large, uncovered vat and Sinko uses intuition and experience to determine the next step. It's a process requiring great attention and precision; mistakes can ruin hundreds of pounds of cheese. Sinko honed his craft at Bandon Creamery in Oregon, owned by his family. He shares Dammeier's commitment to pure, all-natural food.
Supporting sustainability is a high priority at Beecher's Handmade Cheese. The company has established what it calls the Flagship Program, contributing the equivalent of 1 percent of its sales toward grants that support education about food purity and food production. Dammeier says the company will provide almost $15,000 this year to groups and individuals working on these issues.
Last month, a year after Beecher's opened for business, the company launched Flagship, its signature cheese, a semi-hard cheddar-Gruyere hybrid that's been aged for one year. You'll find Beecher's handmade cheeses for sale in PCC's markets.
Beecher's Web site (www.beecherscheese.com) includes articles about the benefits and history of artisan cheese, as well as recipes and much more. You also can sign up to be notified via email about upcoming classes and events.
*The U.S. Food and Drug Administration (FDA) never approved MPC as a food ingredient because it doesn't meet "Generally Recognized as Safe" standards; it is used in glue and animal feed. To sidestep the FDA, MPC may be listed as "pasteurized process cheese food." Large cheese processors, such as Kraft, allegedly import MPC from other countries and use it because it's cheaper than using domestic milk or dry milk. A USDA spokesman says MPC has hurt U.S. dairy farmers by reducing the demand for milk in cheese making.