SUSTAINABILITY profile
by Cameron Woodworth
This article was originally published in March 2004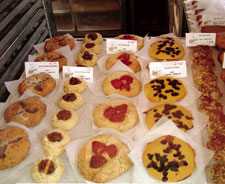 The Flying Apron Organic Bakery
(Sound Consumer, March 2004) — Working to protect the environment comes naturally to Bill and Jennifer Dowd. The father-and-daughter pair, who started the Flying Apron Organic Bakery in Seattle's University District, brings a passion for making a better world to everything they do.
"Organic food is hugely important to me because of planetary concerns," says Jennifer. "I first became interested in organic foods for health reasons, but as I've learned more my interests have grown to encompass all the environmental issues as well."
The pair decided to open the Flying Apron in 2002 because they saw a need for more vegan and organic bakery choices in Seattle. "We both have an affinity for great tasting food and for me baking has always been a creative outlet," Jennifer explains. "The Flying Apron offers a meaningful means of sustenance for both of us."
The Dowds have developed quite a devoted following at their little bakery, which sits at the corner of Brooklyn Avenue and 50th Street. If you visit on a Saturday when the University District farmers market is open across the street, you may find a line of several people waiting to sample Flying Apron's scrumptious, mostly vegan fare. The bakery is in the basement of the building that houses Cedars Middle Eastern and Indian restaurant.
Several PCC stores now carry a number of Flying Apron baked goods, from coconut macaroons and chocolate chip cookies to a variety of delicious muffins and cupcakes. Look for them in the delis of PCC Fremont, Greenlake, View Ridge, West Seattle and Kirkland. Stop by the Flying Apron for additional items such as cakes, pies and breads, including maple spice loaf, quinoa cornbread and gluten-free sweetbread.
The Flying Apron is tapping into another growing niche market beyond organic foods. "We were surprised by the positive customer reaction to our wheat-free items," says Jennifer. "Many people are looking at eliminating things from their diets. We don't use wheat or soy and we use very little corn."
In addition to their strong commitment to everything organic, the Dowds work to be sustainable in a number of other ways. One key area is their packaging. "Everything we do at PCC is sustainably packaged," Jennifer says. "We work with the Pak-Sel Company, and they make a clear wrap out of cellulose from fruits and vegetables that breaks down." For some of its wholesale accounts, the Flying Apron even delivers baked goods in reusable plastic containers.
One of the biggest challenges in creating an organic bakery was sourcing organic ingredients, Jennifer says. It took a great deal of work, but almost all of Flying Apron's baked goods are organic. Only a couple of items — vanilla extract and fruit concentrate used in two items — are not. In addition, almost all of Flying Apron's baked goods are vegan, except for the maple butter bars and cornmeal zallettis, which contain dairy. Everything is preservative-free.
Before starting the Flying Apron, Bill was in the computer industry for 10 years. He also worked for a public relations firm and an environmental consulting firm. Jen has worked in bakeries since she was a teenager and then in industrial design for a metal-making company before returning to her true calling.
Jennifer says their most popular items are the Cardamom Chai Cake (I've had it, it's terrific), the sweet tahinis, and the "apricot-almond individual" cookies. On cooler days (when there's no risk of melting), look for the fabulous chocolate walnut triangles, as good as fudge. I also recommend the macaroon mountains, coconut macaroons topped with a thick, rich chocolate sauce.
"Opening our bakery at 50th and Brooklyn and experiencing this neighborhood has been such a gift," says Bill. "We really appreciate all the people who want to support a local business such as ours. True, deep friendships have been born from that little window."
Bill's also delighted that PCC is selling Flying Apron products. "I've been a PCC member since 1978. I thrive on PCC's soups. There have been times when I have bought soup there four times a week. It's exciting now to be a partner with their delis."
Flying Apron has a Web site at www.flyingapron.net. The bakery is open from 8 a.m. to 7 p.m. Monday through Friday, 8 a.m. to 5 p.m. Saturday, and 11 a.m. to 4 p.m. on Sunday.