SUSTAINABILITY profile
Sound Consumer February 2004 | by Mimi Ford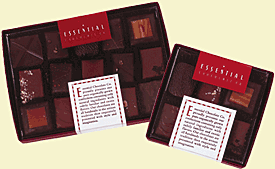 Sweet and sustainable: Essential Chocolate
(February 2004) — Good news for chocolate lovers: there is a new chocolate maker in town, the Essential Chocolate Company — and their organic product is delicious.
The chocolates are in PCC stores now, with production of artisan, handcrafted chocolates in full swing. Chocolate maker Todd Kluger traveled to Mexico and Europe to acquire the equipment needed to do small-batch production, from roasting the beans to blending them into the final product.
In buying chocolate from Essential Chocolate, consumers can not only get a delicious product but can also promote sustainability practices. The Essential Chocolate Company is one of the companies leading the way in adopting sustainability and Fair Trade standards in the chocolate industry. Following Fair Trade practices means that the price set helps ensure that growers make a decent living.
Much of the industry has been dominated by the cocoa futures market that sets prices for upcoming years to smooth out the price bumps. This protects buyers from annual harvest variations — a small harvest causes high bean prices and a large harvest causes low prices. Purchasing beans directly from growers can cost almost double the average world price, but that is an essential part of what constitutes Fair Trade and sustainability for the grower. Essential will buy its beans from growers around the world according to Fair Trade standards.
At Essential, Kluger says, "We do want to support local producers and workers — everyone deserves fair living wages and to be included in the system. And we'd like to make it a better system. If we can influence it, that would be cool. During the last 10 years on the baking side, we've been producing organic product supporting farm workers. It's a principle of the company and we do it because we want to."
Up to now, organic chocolate sold in the United States has been made elsewhere, typically Europe. Purchasing organic cocoa beans makes Essential a pioneer in producing organic chocolate in the United States. Essential Foods CEO Jeff Fairhall says, "By creating demand for organic cocoa beans and by helping to raise people's awareness of the possibility that excellent quality products can be made from organic chocolate, we are helping to move things in a more sustainable direction in the chocolate industry."
Making chocolate is not simple. "The solid chocolate — 'chocolate' as we know it — is usually a blend of three to 10 sources of beans, all mixed together to give the profile of what 'chocolate' is," says Todd Kluger, who has experience roasting those beans. He says, "There are just 16 companies in the United States that produce chocolate from the bean — we'll be the 17th, compared to over 800 small chocolatier companies. We're not supplanting any producers in the United States at all. It's an idealistic, high-minded goal."
In buying chocolate from Essential Chocolate, consumers can not only get a delicious product but can also promote sustainability practices.
Essential Chocolate, like its parent, the Essential Baking Company, focuses on the attentive creation of artisan-style food. William Leaman, chocolatier, supplies the artistry in the chocolate confections, "I strive to take the old-world style and merge it with natural and traditional and exotic ingredients." The ingredients in chocolate itself are fascinating, with some types of chocolate containing magnesium, folate and phenyalanine, a mild mood elevator — all organic and good for you.
The cocoa beans' flavor derives from volatile fatty acids. The country of origin influences bean flavor through location factors such as rainfall and soil nutrients. This distinctive flavor of origin is something to be savored rather than camouflaged in production. "There's a growing awareness in Europe that's taking hold in the United States, that a bean has a flavor influenced by its origin — origin countries chocolate. We're trying to increase this awareness," says Kluger.
Essential is located in a 1905 landmark building in Fremont. The former trolley house (and former home of Redhook Ale) is being renovated. It will feature a café and roasting plant that the public can tour — possibly as early as summer 2004.
All of which adds more jobs in the Essential Chocolate/Essential Baking family. "We are really proud of our employees and we're focused on a holistic learning style," says Kluger. "The more people understand artisan foods, the better they understand this company. We have very low turnover, and we are very pleased by that. With every employee, we're concerned with how they're part of the company."
It is a pleasure to see Essential Chocolate emerge as a sustainable business in the community. And as for having to eat a box of their chocolates for research, well, it was essential.