A season for sharing
by Nancy Schatz Alton
This article was originally published in December 2003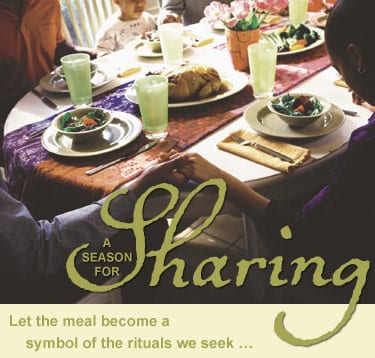 Let the meal become a symbol of the rituals we seek …
(December 2003) — When a group of strangers meet for the first time, food binds them together. Place a meal on the table: People not only have something to eat, they have something in common to discuss and share. The table, ideally, becomes a bridge bringing people together.
When people who know each other well come together for a holiday celebration, the ritual of food and eating takes on an even richer meaning — stretching far beyond the typical turkey, cranberries and dressing.
After all, what would the season be without grandma's potatoes, perfectly mashed, with just the right amount of lumps? Or mom's brightly decorated sugar cookies, cut in the same familiar shapes from cookie cutters that have been passed from one generation to the next? In the end, what's on the table becomes just as important as who's sitting around it.
"If an event is meant to matter emotionally, symbolically, or mystically, food will be close at hand to sanctify and bind it," writes Diane Ackerman in The Natural History of the Senses. At holiday dinners, we use food to connect with the people tethered to us by blood, law, love and friendship. The meal is a ritual, marked by family recipes, your great-grandmother's china and the same family jokes retold year after year.
While you may not be overly fond of candied yams, the smell of roasting yams probably evokes fond childhood memories. Though you may eat only a sliver of the canned cranberries your mother serves — now you prefer fresh cranberry chutney — it would be shocking not to see the perfectly shaped cranberry roll sitting in its crystal dish. And, if you find yourself a continent away from family, you might even purchase canned cranberries for your celebration.
As chef Barbara Smith writes in Rituals & Celebrations, "Every time you celebrate one of the traditional holidays, you become part of a whole chain of memories woven by the generation that came before you and those that are following after." This explains why you lovingly place candied yams on the table. It is why I've altered my family's Durkee Green Bean Casserole. Now I use organic green beans and soy milk, and, because I live 1,500 miles from my family, baking and serving this specific dish brings a bit of my family to me.
Of course, making new traditions is part of the fun of holidays. And, because our world is ever changing — people's dietary needs change, new friends join us, we adopt new belief systems — it is often imperative that we adopt new rituals. In The Book of New Family Traditions: How to Create Great Rituals for Holidays and Everyday, Meg Cox suggests finding your purpose and making it personal. She writes of a family whose ancestors nearly starved out west, surviving on turnips during one particularly hard year. They include a turnip dish as part of their meal, in thanks for all they have now.
Besides nourishing our bodies, the foods we think of as traditional at our holiday meals also feed our emotional needs. Cox talks about why rituals are important for children, but these same reasons convey why ritual is important for people of all ages. Below I've shared some of Cox's list of the benefits of tradition, along with stories about people's cherished holiday rituals. Perhaps these tales will inspire a new tradition at your celebration this season.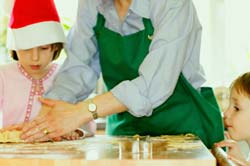 Impart a sense of identity
When PCC staff member Kibby Bowen and her family moved here from California, they created a whole new menu to reflect their new identity and surroundings. "My first Thanksgiving here, we decided to have a Northwest feast. Instead of turkey, we had fresh-caught Dungeness crab and salmon. We added fresh parsnips and carrots to our mashed potatoes (courtesy of a neighbor's garden) and served a spinach salad with apples and satsumas," says Bowen. "That was 10 years ago and the tradition is still holding today. The side dishes have varied over the years, but the heart of the meal is still centered on fresh seafood and seasonal produce."
Help to navigate difficult times
Freelance writer Alison Peacock's cherished family ritual stems from her parent's hard times. "We all drink a shot of cherry kijafa (Swedish cherry brandy) on Christmas Eve because the Swedes open all their gifts on Christmas Eve," says Peacock. "The tradition is very definitely personal — although the brandy is Danish, and so, it does relate to our Scandinavian heritage. The reason it is a tradition is because my dad used to work in a liquor store when he and mom were first married. They drank cherry brandy to celebrate the holiday despite their poverty in other areas."
Teach values
Graduate student Caroline Cummins learned about the value of community from one of her family's holiday traditions. Her family had two parties every year: an enormous neighborhood party and a quieter close-family-and-friends party. "Not everybody has such a close-knit neighborhood, and the neighborhood party was always the bigger deal when I was growing up," says Cummins. "Plus, Santa came, and we really and truly believed that we were so special that Santa was stopping by just for us before going out on his nightly rounds."
Farmland Fund director Jody Aliesan hasn't celebrated "The Holidays" since 1969. "By myself I quietly observe the winter solstice, from an astronomical point of view, as a moment for remembering that we're all on a tiny and precious sphere hanging among other spheres in the immensity of our solar system, galaxy and what may be one among many universes. Gives me perspective," says Aliesan.
"That night the northern half of our planet tilts as far away from the sun as it ever does in its annual orbit. At home I turn off lights and heat to experience what we owe that nearest star. I burn candles, bring out the seeds for next spring's planting, think about the sign of the Tao — how it signifies the way every extreme holds its opposite. How it demonstrates the equality of darkness and light. But this isn't a substitute for any other 'Holiday.' I observe all the solstices and equinoxes. I don't prepare beforehand. No cards, no gifts, no feasts, no parties. It's just another day — something worthy enough of celebration and gratitude."
Pass on ethnic or religious heritage
Heidi Schuessler's father incorporated his upbringing in Germany into their holiday festivities. "Christmas is not Christmas at our house without stollen, the slightly sweet German bread made with fruits and nuts. Let me say up front that this is NOT fruitcake. This is a light bread that has candied fruits and almonds kneaded into the dough before it rises, and then the long, folded loaf is baked and topped with powdered sugar," says Schuessler, who is the managing editor at Sasquatch Books.
"I can't remember ever having breakfast on Christmas morning without stollen — in fact, as children we were not allowed to unwrap our gifts before we sat down as a family and ate our holiday breakfast together. The actual baking of the bread was also fun. The whole family got involved: we were always up to our elbows in flour!"
Although her family lives all over the United States now, they still all try to gather at her mom's house in Iowa to make stollen together. When her family traveled to Seattle and didn't have time to bake together, Schuessler found a handy, timesaving remedy. "The Madison Park Bakery makes a stollen that's almost identical to Mom's," she says. "It did the trick!"
In The Festive Table by Ronni Lundy, school principal Ken Saltzberg talks about creating a Hanukkah celebration to fit his needs today. Saltzberg is the only Jewish person living in an intentional community, Monan's Rill, and he wanted to have a ritual that had meaning both for him and his community. "And what made sense for me was to have a big latke party. I liked the idea of a celebration based on food, because people who break bread together build a sense of community," he says.
Besides the people at Monan Rill, Saltzberg invites his extended family and people from his school and his wife's school, which equates to about 100 people. The latkes — imagine the potatoe peeling involved for latkes for all those attendees — are fried the day before and rewarmed on the day of the party. The celebration is a potluck, and Hershey kisses are used for betting during the dreidal games.
Keep alive a sense of departed family
Executive assistant Susie Emmert associates the sweet smell of cinnamon with her mother. "My mom and my aunt Rosie always made cinnamon rolls. They would make them from scratch Christmas Eve day and just pop them in the oven Christmas morning as we opened gifts and the whole house smelled like cinnamon rolls," says Emmert. "My mom died in September 2000 and ever since then, my aunt has made extra and snuck them in our refrigerator on Christmas Eve day sometime, so we still have cinnamon rolls on Christmas morning."
Generate wonderful memories
Architect James Butler fondly recalls sitting around the fireplace after their holiday dinner. "Before going to bed, while the coals were still glowing we would "wish" to the fireplace: Santa, I have been good all year, except for when I broke the window and blamed Charles for it, which I am sorry for and I did apologize to Charles and I did give him my favorite Princess Diana and Prince Charles card," says Butler. "Anyhow, I would like the new Dungeon's and Dragon's Master Users guide. Thanks Santa. I left you some milk and cookies on the hearth." As an adult, Butler does fireplace "wishing" with his brother and sister's children.
Another idea, a bit more serious, also involves wishes. Every attendee writes down their wishes for the coming year, then places them in a special box. The following year, each person reads them out loud and tells if their wish came true.
Travel + Life magazine editor Marika McElroy's family ritual is silly and might seem spontaneous to newcomers. "After holiday meals my whole family likes to hang their coffee spoons from their noses," says McElroy.
Funny or solemn, savory or sweet, holiday dining traditions connect us to the people we love in a unique way. Heather Hardin, the regional director for Progressive Action Network, finds the interplay between long-held family traditions and new traditions interesting. "Marrying food and holidays gives us something to remember, to carry on, to rebel against, to gently adapt or to throw away completely," says Hardin.
"To me the holidays are about traditions new and old."