PCC's campaign to label GE foods
This article was originally published in December 2003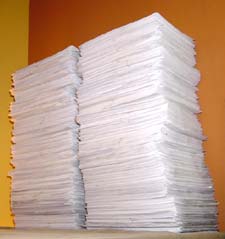 (December 2003) — PCC members once again have stepped up to make their voices heard by lawmakers on a consumer food concern. Members and other consumers signed an estimated 13,500 letters in support of a law for mandatory labels on genetically engineered (GE) foods.
PCC provided letters for shoppers to sign in all seven stores from October 15 to November 9. The letters stated support for a bill before the U.S. House of Representatives known as H.R. 2916: "The GE Food Right to Know Act." If passed, H.R. 2916 would require labels on GE foods. Washington Congressman Jay Inslee has already endorsed the bill.
A Senate version is expected to be introduced soon. PCC provided letters that encourage Washington's U.S. Senators, Patty Murray and Maria Cantwell, to support upcoming legislation.
This was PCC's second campaign to label GE foods; our first was in 2000. Advocates believe there's a better chance of passing a bill now since it's an election year, there's nearly a year left in the Congressional session, and there's strong public support.
Since 1997, more than 20 U.S. polls have shown strong support for labeling. ABC News recently reported that 92 percent of Americans want GE food labeled. A 2001 poll by Oxygen/Market-Pulse also discovered that only 37 percent of women would feed GE food to their children.
Readers may recall that a bill to label GE foods in Oregon State was defeated last year. In the last weeks of that campaign, biotech giant Monsanto and supporters poured $5.2 million into an ad campaign that reversed voter sentiment from strong support to defeat. The ads claimed that labeling GE foods would add significantly to the cost of food, an argument that doesn't bear up.