Western Washington's Harvest Celebration Day
Sound Consumer October 2003 | by Jody Aliesan, Director Farmland Fund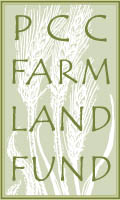 (October 2003) — This year's Harvest Celebration Day is Saturday, October 4. For locations, directions and hours, visit the Cascade Harvest Coalition Web site at www.cascadeharvest.org.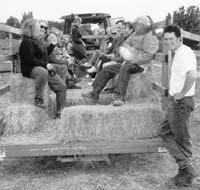 Nash Huber began this annual festival in April of 1996 when he opened his fields to the public. The following autumn, five farms participated in a countywide farm day on the first weekend in October. The rest is history: in 2002 nearly 18,000 people attended events in twelve participating counties.
Nash's farmstand is just up the road from our Delta Farm. For a map and directions, visit his Web site at www.nashsproduce.com. Celebrate the harvest with Nash and everyone at Dungeness Organic Produce. Meet the beautiful fertile land we've saved for organic farming forever.
Shipley Fields Update
The appeal stage is over. Sequim City Council has formally approved Wal-Mart's plans to build a 195,000-square-foot superstore (and a 75-acre parking lot) right next door to the Shipley Fields " with no Environmental Impact Statement (EIS). The council's decision was made behind closed doors with no opportunity for public comment.
Local community group Sequim First has filed suit in Clallam County Superior Court to require an EIS. If the judge finds for the city and no other avenue is left for effective opposition, the Farmland Fund will provide an opportunity for everyone who contributed toward a conservation easement on the Shipley Fields to redirect their gifts to other projects.
Buy a New Chinook Book: $10 goes to save farmland!
Chinook Book, the brightly colored coupon guide, describes itself as "the book that pays for itself." It pays for a lot more that that " when you buy a Chinook Book at PCC, the entire $10 profit goes to the Farmland Fund.
Chinook Book is a guide to dining, recreation, food, and household products and services with significantly reduced environmental impacts. According to the Celio Group publishers, Chinook Book shows that reducing personal impact on the environment is "important, possible, not more expensive and not that hard to do."
Chinook Book (www.chinookbook.net) is printed on Process Chlorine-Free (PCF) recycled paper with 90 percent post-consumer content, 10 percent hemp or flax, using soy-based inks. It would make a gift you'd be proud to present or receive. Chinook Book is available for $20 in all PCC stores.
Ox Cart Man
In October of the year,
he counts potatoes dug from the brown field,
counting the seed, counting
the cellar's portion out,
and bags the rest on the cart's floor.
He packs wool sheared in April, honey
in combs, linen, leather
tanned from deerhide,
and vinegar in a barrel
hooped by hand at the forge's fire.
He walks by ox's head, ten days
to Portsmouth Market, and sells potatoes,
flaxseed, birch brooms, maple sugar, goose
feathers, yarn.
When the cart is empty he sells the cart.
When the cart is sold he sells the ox,
harness and yoke, and walks
home, his pockets heavy
with the year's coin for salt and taxes,
and at home by fire's light in November cold
stitches new harness
for next year's ox in the barn,
and carves the yoke, and saws planks
building the cart again.
— Donald Hall
From the anthology In Praise of Fertile Land (Whit Press, 2003), winner of the 2003 Bumbershoot Literary Award, available for $14.95 at PCC Natural Markets. All proceeds benefit the Farmland Fund.
Public reading to celebrate In Praise of Fertile Land: Thursday, October 9 (Full Moon), 7 p.m., at Hugo House, 1634 11th Avenue on Capitol Hill. For directions, call 206-322-7030 or visit www.hugohouse.org/about/directions.html.
Donor Roster (August 1-31, 2003)
Anonymous: 2
Judith Adams
Stephen Anacker & Lisa King
Kathryn Batson
Ginelle Cousins
Kim Duddy
Antje Helfrich & Nancy L. Shawn
Mary Jane Helmann
Betty H. Hughes
Jared & Cindi Gellert
Virginia A. Kelley
Ronald D. Long
Deena McCloskey & Jay Alan
Eileen O'Reilly-Miller & Kip Miller
Gordon Orians
Carla Saulter
Sarah Seltzer & John Larsen
Melanie Smith
Pat Stimac & Kent Buttars
Mark & Nancy Tucker
Kelsey Vaughn & David Hale
Susan Weinstein
Jennifer Winters & Tony Earle
PCC Staff
More than 100 PCC staff members make voluntary payroll deductions twice a month.
Businesses and Organizations
Boeing Matching Gifts Program
Choice Organic Teas
Microsoft Matching Gifts Program
PureAyre
TalkingRain Beverage Company
Washington State Employees Combined Fund Drive
Wildwood Harvest Foods
The PCC Farmland Fund works to secure and preserve threatened farmland in Washington State and move it into organic production. For more information, see the PCC Farmland Fund.