The co-op movement a better business model
by Alicia Lundquist Guy
This article was originally published in October 2003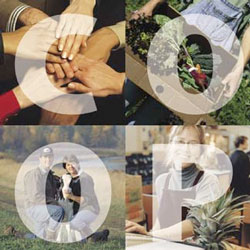 (October 2003) — October is National Co-op Month. To some, this may seem like an oddly narrow focus to warrant an entire month of celebrating, but in reality cooperative businesses are everywhere you look — from vibrant, local natural foods stores (hey, that's us!) to rural electric supply companies, credit unions, and farmers' purchasing co-ops all over the globe.
In the United States alone, there are 48,000 cooperatives with more than 120 million members. According to the National Cooperative Business Association, "America's member-owned-and-operated cooperatives are thriving, registering in excess of $500 billion annually in economic activity."
Cooperatives bring a fair, democratic model of business to almost every facet of life. Co-ops are a collective of people with a common goal who pool together their resources to achieve greater purchasing power. With this level of interest, members can ensure that their businesses are run fairly and by methods responsible to members, workers and local communities.
On the Web site for Co-op Life, a quote from a depression-era Japanese clergyman by the name of Toyohiko Kagawa declares, "Cooperatives are the foundation of world peace. They are the love principle in action. Whether we like it or not, there is no other way but cooperatives." He labeled cooperatives "brotherhood economics." This brotherhood economics has probably been around since the dawn of humankind, but its modern success story begins a century and a half ago on a dark street in industrial-age England.
31 Toad Lane
The history of the first enduring food co-op sounds as if torn from the pages of a long-lost Charles Dickens novel. The year was 1843. Textile workers in Rochdale, England were being paid by their employers in the form of credit that could be used only at company-owned general stores.
Dissatisfied with the quality and prices of company goods, 28 workers banded together to form the "Rochdale Equitable Pioneers Society." They scrimped and saved for more than a year until they could open their own small storefront with the 28 pounds they had pooled together.
On a chilly winter night in December 1844, candles sent light out into a dark street at 31 Toad Lane. Here the first successful food co-op was born. The co-op sold a limited selection of butter, sugar, flour and oatmeal. Here there was hope — the kind of hope one always finds in a Dickens novel. In the midst of exploitation, poverty and misery, people with a vision for a better way of living had banded together and taken matters into their own hands.
Cooperative principles
A sense of hope was not enough to keep the tinder of the cooperative movement glowing on its own. The small flame was fueled by a tangible, thoughtful operating plan. Various co-ops had come and gone in the past, as would more in the century and a half to follow. Many successful ones would abide by the cooperative principles laid out by the Rochdale Pioneers. The basis of these principles has evolved over time to become the Seven Cooperative Principles, as outlined by the International Cooperative Alliance.
Voluntary and open membership

Democratic member control

Member economic participation

Autonomy and independence

Education, training and information

Cooperation among cooperatives

Concern for community
Types of co-ops
These principles lay the groundwork for co-ops that can be found across the spectrum of modern-day life in the United States.
Consumer-owned co-ops are retail or service industry businesses owned by the people who purchase the goods and services supplied. PCC Natural Markets is a consumer-owned co-op. Other consumer co-ops include credit unions, daycare centers and co-op housing. Co-op members sometimes receive a portion of business profits on their investments back in the form of special pricing or yearly patronage refunds.
Producer-owned co-ops are a group of farmers or small businesses (often consumer co-ops) that band together to increase their purchasing power as a larger unit. By creating these purchasing cooperatives, the members are able buy supplies and equipment at a better price, provide credit to fellow members, and pool marketing resources.
Many producer-owned co-ops are in the agriculture industry. For example, Organic Valley products are generated by a producer-owned co-op of northwest regional dairy farmers. Around the globe, poor small-scale farmers also are banding together in cooperatives to strive for a fair price for their harvests of crops such as coffee beans, tea and cacao beans.
Worker-owned co-ops are owned and controlled by the co-op employees. Worker-owned co-ops can be found in almost any economic industry — restaurants, food stores, timber, heavy industry, and hardware. Alvarado Street Bakery is an example of a worker-owned cooperative whose products are found on PCC shelves.
Food co-ops
Today, there are 500 retail food co-ops in the United States. Many of them, including PCC, started out as food-buying clubs — a way for a small number of people to pool their money and purchase larger quantities of basic food items, such as flour and oatmeal, at wholesale prices. Beyond consumer-owned food co-ops, there are 75 grocery retailer-owned cooperatives in the United States. Frontier Natural Products, supplier of PCC's bulk herbs and spices, is an example of a cooperative owned by the retail grocers who purchase its products.
Choosing co-ops
The reasons that consumers patronize cooperatives are many and varied. For some, it's a matter of economy. For others, being a co-op member translates into being an active part in the vitality of the local community. Still others find it to be a matter of trust. Recent unsavory history in corporate America has left many consumers searching for ways to vote for a better way with their dollars.
In a recent survey of more than 2,000 Americans sponsored by a coalition of national cooperative membership associations and conducted by The Opinion Research Corporation, 77 percent of those queried felt that co-ops had the best interest of consumers in mind when conducting business, opposed to only 47 percent for publicly traded corporations. Sixty-six percent felt that a business owned by the people who use the services of the company or buy its goods is more or much more trustworthy than publicly traded corporations. Of those surveyed, 78 percent felt that co-ops were committed to and involved in their communities.
This level of expectation is part of what makes cooperatives an ideal business model. Co-ops are expected to be responsible to their members and communities. Members are counted on to participate in the business of the co-op by investing, voting and, of course, shopping. It's a symbiotic relationship based on trust. As in any relationship, conflict arises on occasion. What makes the co-op model unique is that members are respected for speaking their opinion. In much of corporate America, dissatisfied consumers often have little, if any, voice.
What makes PCC a co-op?
Since life was first infused into PCC in the 1950's, there has been a constant and sometimes heated dialogue about what makes us a co-op. Is a co-op a small, tightly packed storefront with few services but plenty of friendly, familiar faces? Or is a co-op an ever-evolving entity, expanding and modernizing to meet the needs of an increasing membership? Should our focus be on pricing, customer service, education or community involvement? In truth, a healthy co-op has a balance of all these elements.
The greater value of co-ops
Every co-op member plays a part in the greater community of co-ops. If we really value the cooperative ideal, then we can each think of ourselves as a set of steps in the march for a more cooperative global community.
Today, most people participating in the cooperative movement have considerably more control over their own destinies than that small group of poor workers in industrial-age England. Yet there are still consumers, workers and farmers in all nations of the world struggling to find ways to overcome poverty — just like the Rochdale Pioneers.
Many are looking at the cooperative model with hope as a way to improve their lot. The members of the Rochdale Equitable Pioneers Society likely did not realize the ball they were setting in motion when they opened their little co-op. By continuing to support the principals that they laid out, imagine what beneficial effect modern-day co-ops could have around the globe and for generations to come.