A few new grape varieties for the maritime Northwest
by David Johnson, Crop Horticulturist
This article was originally published in February 2003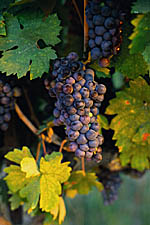 (February 2003) — As spring season approaches, many people will visit their local garden center or chain store to look for fruit and berry plants. Unfortunately, many of the varieties offered are not at all suited to our marine climate.
At the major chain store outlets, staff with no real knowledge of our unique climate likely makes nursery stock selection from a Los Angeles office building. There are alternative sources, but it's often difficult to find out who and where they are.
I have developed some very good hybrids in Milton (near Tacoma) over the past 20 years and would like other people to try them out. I have only a small vineyard, but I'm happy to share a few cuttings on request. Here are a few new and unusual hybrid grapes that have demonstrated superior performance in the lower Puget Sound region.
Selections to consider In this list are some of the better-known new selections worth looking for. A few are available only as cuttings.
Table grapes
Canadice — a very good red fruited seedless grape that holds up well on the vine. Ripens early.
Glenora — a black seedless with fine fall leaf color. Does get a bit of powder mildew, so needs good air circulation or sulfur spray. Ripens midseason.
ES 5-17 x Flame Seedless — my own introduction. Flavor like Flame seedless, but much healthier. Red fruit color. Ripens late midseason.
Jovan — a red/violet seeded table grape that makes great juice. Good sugar and production cuttings only. Ripens midseason.
Czar Nicholas — a black seeded table grape with royal fall colors. Flavor is spicy and faintly like Concord. Ripens late-midseason.
Wine grapes (generally only cuttings)
GR-7 — a red wine hybrid from Geneva New York. Hard to find, but worth it for red wines.
Landot 4511 — a French hybrid red wine type. Hard to find, but also worth it.
Agria — a Vinifera hybrid from East Europe. Ditto as above.
Siegerrebe — available as cuttings from Bainbridge Island Winery, an excellent white vinifera muscat.
Ortega — another German white vinifera and seedling of Siegerrebe. Excellent early white grape for wine and quite productive.
Trazel hybrid — a chance seedling, planted by a robin in my back yard. Vigorous and productive with black fruit. Probably a great one for organic growers. Cuttings only.
Varieties to avoid
Since a lot of people will venture to the local chain store, I'd like to name a few selections that appear every season and caution against planting any of them. Here are the losers:
Thompson Seedless — Powdery mildew, low crop yield, low sugar, cold tender.
Concord — Too late maturing, low sugar, poor table and wine quality.
White Riesling — Too late maturing, powdery mildew, botrytis.
Cabernet Sauvignon —Too late maturing, powdery mildew, ditto Merlot, Chardonnay.
Black Monukka — Barely makes it most seasons, powdery mildew, botrytis.
Niagara — Barely makes it most seasons, low sugar poor table/wine quality.
Himrod — Excessive vigor and low production.
Johnson also grows tomatoes and vegetable crops, but grapes are his passion. He welcomes visitors from PCC at his vineyard in Milton, if you call ahead 1-253-922-7224.