Saving farmland: in praise of our common wealth
by Jody Aliesan, PCC Farmland Fund President and Operating Officer
This article was originally published in February 2003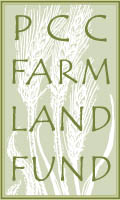 See below:
By saying why we cherish the Earth, and why we practice the arts of community, we can help restore the common wealth to the place it deserves, at the center of our minds and hearts.
— Scott Russell Sanders, "Staying Put: Making a Home in a Restless World"

Choice Organic Teas pledges 10 cents per box to farmland
Granum, Inc. of Seattle, a pioneer in the development of organically grown tea products, has pledged 10 cents to the PCC Farmland Fund for every box of Choice Organic Teas sold at PCC stores. Although many of the ingredients in Choice Organic Teas require rigorous global sourcing, the company behind the brand retains a regional focus.
"Consumers are empowered when they know their purchases make a difference," says Blake Rankin, founder of Granum, Inc. "The success of programs like the PCC Farmland Fund is basic to the integrity of an urban community and the support of sustainable agriculture is paramount to the well-being of our society. We support the preservation of regional organic farmland and are delighted to participate in the PCC Farmland Fund."
As part of a commitment to social responsibility, Granum also has made Choice Organic Teas the first U.S. tea brand to offer Fair Trade Certified products. Fair Trade certification is a guarantee to consumers that the workers who produced the tea at origin were provided fair wages and living conditions. The Fair Trade Certified label also verifies that Granum has paid additional price premiums directly to the working community. Workers can then use those funds to democratically invest in their own development projects, such as clinics and schools.
Choice Organic Teas provides an expanded guideline for true quality: sustainable agriculture, social responsibility, farmland preservation, exceptional flavors, and genuine value. From the gardens of origin to your cup, these teas enable consumers to support community efforts worldwide.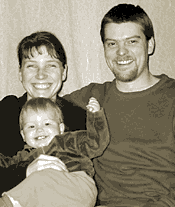 An aunt's gift becomes a $10,000 loan for farmland
"Our daughter Penelope is very lucky that her Great Aunt Mena made a generous gift of $10,000 toward her education. We felt strongly about investing this money in a way that would provide non-monetary benefits to her future as well. A loan to the Farmland Fund was a natural fit. Organic carrots stand out as a much worthier investment than Phillip Morris. We always want to feel good about how we invest. It's part of trying to make the world a better place, especially for Penelope and the rest of her sunrising generation."
— Alicia and George Guy
Diamond Dry gives 10 percent to help save farmland
The name Diamond Dry Carpet Cleaning is backed by more than 18 years of experience. We provide an all-natural, non-toxic, dry carpet and upholstery cleaning service, serving commercial and residential clients throughout the Puget Sound area. Diamond Dry, Inc. also specializes in indoor air quality management for elimination of odors, pet problems, out-gassing and mold issues.
As an environmentally conscious company, we donate 10 percent of our PCC referral business to support the work of the PCC Farmland Fund for permanent preservation of organic farmland.
We encourage everyone to make a positive impact by returning an exchange for the benefits our environment gives us. Give back to your environment now by supporting the PCC Farmland Fund today.
— Jim and Bev Cox, Owners, Diamond Dry Carpet Cleaning, 206-459-0774
Donor Roster (December 1 -31)
Anonymous: 31
Candace Aasan
Bill & Hallie Appel
Jim Bailey and Leanne Olson
Abigail Barden
Esther Bartfeld and Roger Wynne
Julia Bent
Jane Blackwell
Jim Bodeen
Rob Britt & Sharon Kita
Annette C. Case
Ann Childs
Barbara Chin
Margaret R. Cole
Bill Corr & Pam Mills
Nancy Crain
Lisa Crosby
James Cross and Margaret Morgan
Jim and Therese Cushing
Renko & Stuart Dempster
A. Michele DeWilliam
Kay E. Doolittle
Kim Duddy
Barbara Engelstein
Sue Essmyer
Gladys Fox
Bruce Galvin
Karen Gardner
Kathryn Gardow, David Bradlee, Marcus & Pearl
Jennifer and Henry Gordon
Alicia and George Guy
Lucy Hadac
Louise Hafen
Brad Hageman
Rachael Hannah
Laura Hart and Rich Grady
Mary Jane Helmann
Elaine A. Hickman
Katherine Hodgins
Betsy & Jerry Hoffmeister
Irene Holroyd & Patrick Perkins
Kathie Hopkins & Beth Healy
David Hunter
Melinda Jodry
Miranda Kahn
Pamela A. Lavigne
Rebecca Lavigne
Anne and John Leder
Marilyn Mashburn Lewis
Ronald Long
Lisa Maynard & Kathleen Tracy
Gail McCormick
Karin McCullough
Margaret C. McKibben
Dr. and Mrs. John H. Mensher
Carol Anne Modena & Dana Roberts
Bil Moorhead & Margo Leishman
Elbert Moore
Margaret G. Moran and James B. Cross
Pamela J. Murphy
Mark Musick
Heidi Neff
John & Lee Neff
Anna Nikolaeva
Beth Nelson & Sue Bartels
Bud & Trish Nicola
Gordon and Betty Orians
Robin Ozerkis
Julia A. Paulsen and Kevin O'Connor
George & Kathleen Petrich
Matt & Julia Richert
Stephanie Roche
Mimi Schorr
Mary L. Sebek
Anita and Orion Shelton
Joslyn Slaughter and Marvin Johnson
Amy Stephson and Brian Rapalee
Chantal Stevens & Dennis Wajda
Pat Stimac & Kent Buttars
Erik Swanson
Loretta H. Taylor
Martha E. Taylor
Sal Thompson
Barbara Tice
Barbara E. Tubb
Mark & Nancy Tucker
Joann Tramm
Henri Van Elewyck/Lea Florus
Ed Waldock
Wendy M. Walker
Stanley & Anne Willard
Alcena Woods
PCC Staff:
More than 100 PCC staff members make voluntary payroll deductions twice a month. Tom Gettys and Anne Murray signed over their PCC anniversary gifts (15 and 10 years), Goldie Caughlan, Jon Jokiel, Janet Noble and an anonymous donor made additional gifts, Laurie Lombard contributed in honor of PCC's Marketing staff, and Marilyn Walls organized and presented PCC West Seattle's Mini-Spa fundraiser.
In-kind donations to the Mini-Spa:
Ginny Campbell
Terese A. Derzay, Masseuse
Lisa M. Dodge MA
Theodore Johnson ABS LMP
Jessie Sager SMP
Susan Salazar
Foundations:
The Burning Foundation
Fairfield County
Foundation (CT)
Gardow-Bradlee Fund at the Seattle Foundation
Star Fund
Starr Family Fund of the Greater Tacoma Community Foundation
In honor:
John and Kari Aasan
The Fleischer Family
Robin Galvin
Barbara Hageman
Porter and Jenny Hammer
Robert M. Henninge
Doug Hodge
Elisa Miller & Norm Brocard
The Wilson Family
In honor of Elbert Moore at his retirement from the U.S. Environmental Protection Agency/Seattle:
Anonymous: 1
Richard Clark
Lee Daneker
Catherine Davis
Marilyn Freeman
Judith Leckrone Lee
Wendy Marshall
Gary McCrae
Lynn McKee
Roger Mochnick
David Powers
Bevin Reid
Deborah White
In memoriam:
Bob Meyer, Stoney Plains Farm
Businesses and Organizations:
Anonymous: 1
A Moveable Feast
Custom Pure: The Water Store
Diamond Dry, Inc.
Eco Bella Botanicals
EcoFish
Good Nature
Publishing Company
Merrill Lynch
Matching Gifts Program
Newman's Own Organics
Rainier Investment Management, Inc.
Small Changes
Southcenter Physical Therapy & Wellness Center in Renton
TalkingRain
Beverage Company
Wildwood
Harvest Foods
The PCC Farmland Fund works to secure and preserve threatened farmland in Washington State and move it into organic production. For more information, see the PCC Farmland Fund.