"Futures" — investing in faith
by Jody Aliesan, PCC Farmland Fund President and Operating Officer
This article was originally published in April 2002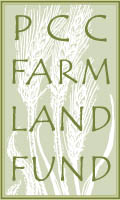 See below:
In economic terms, "futures" are bulk commodities — such as corn, wheat or rice — bought for future receipt or sold for future delivery. The crops haven't yet been grown and harvested. The agreements are made in faith.
The Farmland Fund's "futures" are your gifts and loans, made in trust, as we move toward saving our next farm.
As I write, the Fund is looking at three possible projects through the lens of our mission and purposes. We're discussing partnerships with individuals, businesses, other land trusts and local governments. We're weighing risks and assessing potential benefits. We hope to make an announcement in the May issue of the Sound Consumer.
Your confidence in the Fund gives us breathing room to make the best use of your support. We know you're standing behind us.
Farmland Fund Annual Report for 2001
The Farmland Fund's Annual report for 2001 is now available. If you'd like a copy mailed to you, call 206-547-1222.
Elder loans support the Farmland Fund
Betty Hughes leads off with $20,000 at 1 percent for 2 years
Development claims four farms in Western Washington every week, or nearly 25 acres per day. The Puget Sound region is the fifth most threatened agricultural landscape in the nation.
In 2000, Betty Hughes, along with many other PCC members, staff and vendors, responded to news about farmland loss by making donations to the Farmland Fund. In response to her challenge, we raised $45,000 in five months in 2001. This year Betty is encouraging others in her age group to make low-interest loans to the Fund for the sake of food security and future generations. She leads off with $20,000 at one percent for two years.
Long-time PCC members can measure what's been lost. Betty remembers fertilizing her rhodies with spawned-out salmon from a creek now barren because of pesticides.
Betty grew up in farmland country southwest of Seattle. "People who have lived in Seattle since they were children share a similar experience of watching Kent Valley farms disappear and saying, 'Once this was all farmland,' she says. "We can't retrieve it, but it helps to know there's a movement to save what's left. In this, we can be useful.
"We were taught 'waste not, want not,'" Betty continues. "But because of rapid change and loss, a lot of people don't hark back, and any wisdom gained hasn't been passed on because it doesn't seem to apply. Some elders feel 'out of date' or ignored, but we don't want to be put out to pasture yet. Helping to save farmland speaks to our abiding values of conservation, stewardship and concern for future generations.
"The Farmland Fund is a cooperative, community venture where we can pool our resources and inspire each other," Betty concludes. "We can lament loss or we can do something about it. Let's support the Farmland Fund with gifts and loans, joining forces with younger people who are doing the work and farmers who are valued for theirs."

Mother's Eve Concert: City Music for the Farmland Fund
Save the date!
Saturday, May 11
Benefit concert sponsored by City Music. Byron Schenkman and Rachel Matthews, duo pianists, will perform works by Mozart, Schubert and Brahms. The concert begins at 8 p.m. at Town Hall, 1119 8th Avenue in downtown Seattle.
One hundred percent of single ticket sales will support the Fund. May 11 is the eve of Mother's Day. Attending this concert is a great way to honor the mothers in your life.
Single tickets are $18, $14 for students and seniors (60+). For more information, call City Music at 206-418-1066.

Small Changes supports the Farmland Fund
Small Changes is a 25-year-old magazine and calendar distributor with hundreds of customers in western North America. Half of our customers are food stores. Most of them sell natural foods, so many of our titles focus on food, nutrition, the environment and gardening.
Small Changes has supported the PCC Farmland Fund right from the start. As the current dominant life form, humans have an ethical duty to respect and nurture the source of all beings' food and shelter — the land, air, water, flora and fauna that sustain us.
The magazine industry uses and misuses hundreds of thousands of tons of paper annually. As a magazine business, Small Changes must address some of the excess generated by our activities. One way we balance our role in the consumption of trees and paper is to support efforts like that of the PCC Farmland Fund to restore and improve local farmland that is under assault from human populations.
All businesses that use products from the land would be wise to examine how they support biological systems that make their profits possible. Our long-term prosperity comes from balancing consumption and restoration. We cannot delude ourselves that the virtues inherent in our products — 'they are natural and so healthy' — are sufficient alone to redeem destructive activities required to make them.
—Letter from Shari Basom, owner
Donor Roster (February 1 – 28)
Anonymous: 2
Tama Borriello
Arden Clise
Cheryl D. Fleming
Blaine and Solweig Hammond
Mary Jane Helmann
Leilani Hooten
Diane Horn
Betty H. Hughes
Dottie Lundahl
Polly Sanford
Judy Lyn Sweetland
Nancy and Mark Tucker
In memory of Henry "Hank" Tyson Appleyard:
Margaret and Emmett Carroll
Vivian Dallas
Pat and Bob Gillman
James E. Herndon
David and Daphne Hyde
Barbara Ohnick
Frances E. Paquer
Debra Daniels-Zeller and Tom Zeller

Welcome to newborns:
Samuel Isao Thiersch
Penelope Hannah Guy
Jane Marin Brinkley
PCC staff:
More than one hundred PCC staff members make voluntary payroll deductions twice a month. Three anony-mous staff members began and increased deductions, Dana Ames and Eva Vinson made additional gifts, Marilyn Walls honored her son Søren Palmer's 31st birthday, and the Greenlake Deli piggy- bank contributed $16.
Businesses and Organizations:
Pacific Natural Sales, Broker of the Year for Newman's Own Organics
Small Changes
The PCC Farmland Fund works to secure and preserve threatened farmland in Washington State and move it into organic production. For more information, see the www.pccfarmlandtrust.org.