Slow food Northwest
By Goldie Caughlan PCC Nutrition Education Manager
This article was originally published in August 2001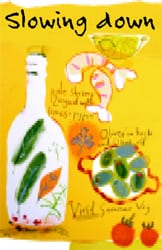 Life in the Slow Food lane is s-l-o-w-l-y moving along here in Seattle and elsewhere in the Northwest. That's in keeping with its whimsical logo, a little snail. Ironically, there are some of us who seek to move Slow Food's mission along just a bit faster, since it's so simple yet powerful.
Enjoy good food and be happy
Slow Food U.S.A. is a non-profit educational organization that's beginning to catch up with the more than 500 chapters already in full swing in more than 45 countries and more than 60,000 members. Actually, Slow Food has moved pretty fast for an organization that took hold in Italy only about a dozen years ago as a passionate and intuitive counter-measure against the onslaught of homogenized, corporatized, industrialized and banal foodstuffs. It struck a chord that continues to resonate. Currently, there are more than 50 chapters around the U.S., including one here in the Puget Sound area.
A major method the organization uses to advance its mission and values around the world is through a system known as the Ark. Inspired by the Biblical Noah's Ark concept of protecting and continuing the species, a food may be nominated for protection. The food — which can be a plant, fish, animal or even a traditional method or product, such as a regionally unique raw cheese — is investigated and judged whether it's in jeopardy. It's specifically noted that no product containing genetically modified materials and no transgenic breed or plant will qualify for the Ark.
Collecting food on the Ark
A food or product may be susceptible to either literal extinction (say from loss of habitat or industrial standardization), or in danger of being so marginalized economically that it has no practical and viable chance of surviving in the marketplace, struggling to compete against mass-produced and distributed foods. The granting of Ark status sometimes can be the deciding factor for survival. Ark status can assist in securing scientific research, lobbying, help with marketing, distributing, or in some instances, appropriate financial assistance granted to a producer or farmer. Here in our region we are working on creating the Northwest Ark (representing Alaska, Idaho, Oregon, and Washington). Specific criteria for Ark status are listed on the Northwest website www.slowfoodnorthwest.org.
Sound interesting? Want to learn more? Pick up a copy of Slow Food magazine at PCC. The articles are excellent and if you join the organization, the quarterly publication comes to your home, as well as a copy of Slow Wine magazine. If you can get your hands on a copy of the July 2 Newsweek, you'll see Slow Europe on the cover and a good article on the extension of Slow Food's concept, with its related social and cultural trend, sweeping Europe. Will such sanity reach our shores?
Joining the cause means good food! For example, in late June more than 60 of us gathered at the Experience Music Project (EMP,) in a relaxed, informal atmosphere. We sipped regional wines and noshed on superb Jamaican appetizers, prepared by Chef Doug Murray of the Turntable Restaurant at EMP. The chef discussed aspects of the succulent authentic menu, which included Ital — spinach and wild greens patties — served with a vegetable curry, rice and peas, rum-infused yam purée, fresh papaya salsa, as well as a delicious (I was told) hot and spicy Jamaican jerk chicken.
The event felt like a many-voiced intimate conversation. Cheesemakers who chatted with us included Lora Lea Misterly, whose delightful aged raw milk Quillisascut goat cheese is currently available only at PCC Issaquah, and Roger Wechsler of Samish Bay Organic Cheese (see page 8). They shared thoughts about the intricacies, nuances, challenges and mysterious aspects of traditional cheesemaking, as we nibbled and sipped and commented on more than a dozen varieties.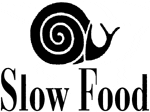 Slow Food movement strives for slower life
Mission
Recognizing that the enjoyment of wholesome food is essential to the pursuit of happiness, Slow Food U.S.A. is an educational organization dedicated to stewardship of the land and ecologically sound food production; to the revival of the kitchen and the table as centers of pleasure, culture, and community; to the invigoration and proliferation of regional, seasonal culinary traditions; and to living a slower and more harmonious rhythm of life.
Guiding values
Sustainability: recognizing the interdependence of people with one another and with our environment; caring for the land and protecting biodiversity for today's communities and future generations; and promoting pure food that is local, seasonal and organically grown.
Cultural Diversity: recognizing food as a language that expresses cultural diversity; preserving the myriad traditions of the table; cultivating and reinvigorating a sense of community and place
Pleasure and Quality in Everyday Life: celebrating the diverse expressions of our earth's bounty; appreciating and encouraging creativity, passion and beauty; and respecting and supporting artisans who grow, produce, market, prepare and serve wholesome food
Inclusiveness: following democratic principles in a spirit of sharing and service; educating members and others about Slow Food's mission; and dedicating ourselves to local cooperation and global collaboration
Authenticity and Integrity: ensuring our values are embodied by all staff, board members, and convivium (read: chapter) leaders; manifesting these values in all of our events, projects, and publications; and committing ourselves to partnerships with like-minded individuals and organizations
Find out about the Slow Food movement on the Web: www.slowfood.com, (the international site) and www.slowfoodnorthwest.org.