NEWS BRIEF: PCC COOKING CLASSES
2020 News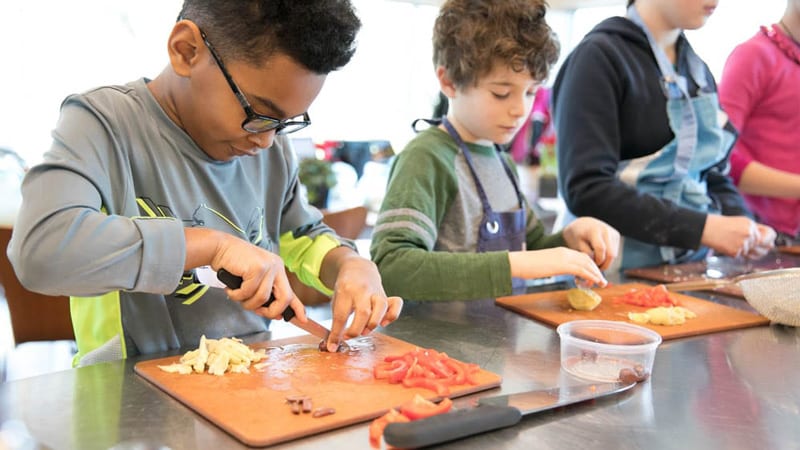 PCC Community Markets Helps Remote Students Stay Engaged with After-School Culinary World Tour
August 27, 2020
This fall, PCC Community Markets is partnering with the Clara Barton Parent Teacher Student Association (PTSA) based in Redmond, Washington, as part of their enrichment program to inspire young chefs to experiment and learn in the kitchen. As teachers, students and parents shift to remote learning, the PTSA sought new ways to help students connect with one another and build community. Recognizing PCC's long history of providing engaging cooking classes for all ages, the PTSA collaborated with the PCC Cooking Classes team to create this unique program that offers extensive benefits beyond teaching cooking skills. Cooking classes have been found to help kids increase focus and language development, enhance fine motor skills, improve reading skills and boost self-confidence, while learning about cultural food influences.
During the 11-week program, students in grades 3-5 will cook along with PCC Cooking Classes instructor, Erica Weisman, to explore flavors from around the world. In each class, kids will visit a different culinary locale, learning to prepare unique dishes and developing their chef skills along the way through a variety of cooking techniques.
The robust curriculum kicks off Sept. 24 and includes:
Week 1: Mixed Vegetable Fritters (sweet potato, carrot and zucchini) with Herb-Yogurt Dipping Sauce
Week 2:Bun Cha (Vietnamese Meat or Mushroom Balls with Rice Noodles)
Week 3: Vegetarian Chili and Cornbread
Week 4: Cheesy Flatbread and Chicken or Veggie Kebabs
Week 5: Potato Gnocchi in Garlicky Red Sauce
Week 6: Classic Quiche
Week 7: Tikka Masala and Spiced Rice Pilaf
Week 8: Enchiladas and Red Rice
Week 9: Homemade Pizza
Week 10: Pork or Tofu and Cabbage Pot Stickers with Ginger-Soy Dipping Sauce
Week 11: Beef or Mushroom Loco Moco and Pineapple Cake
For more information on creating a program like this for your students, please contact PCC at classes@pccmarkets.com.