PCC Natural Markets to open new store on July 24 in Seattle's Columbia City neighborhood
2015 News
(Seattle, Wash., July 17, 2015) – PCC Natural Markets (PCC), will open the doors of its new Columbia City store on Friday, July 24 at 9 a.m. The Columbia City PCC is located at 3610 S. Edmunds St. in The Angeline, a mixed-use development at the intersection of Rainier Ave. S. and S. Edmunds St.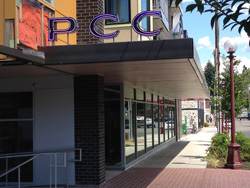 The opening of the Columbia City PCC will be preceded by a ceremonial ribbon-cutting by Seattle Deputy Mayor Kate Joncas and PCC CEO Cate Hardy at 8:50 am. The public is invited to attend. Store hours going forward will be 6 a.m. to 11 p.m. daily.
"We are delighted that we will soon be welcoming shoppers to our new, spacious and state-of-the art store," said Cate Hardy. "We look forward to serving customers from throughout the Rainier Valley area and to becoming an integral part of the historic Columbia City neighborhood."
PCC has been serving South Seattle neighborhoods at its smaller Seward Park location for 30 years. The Seward Park PCC will close the on the evening of July 23.
PCC announced plans to be the anchor tenant in The Angeline in January 2013. The 25,000 sq. ft. PCC will offer a full line of natural and organic grocery products, best-in-class produce, full-service meat and seafood departments, and a wide variety of prepared foods and grab 'n go deli items made fresh daily and on-site. Deli offerings will include a taqueria, noodle bowl bar, pizza, smoothies, espresso drinks and salad, soup and hot food bar choices.
The new store embodies a number of environmentally-responsible features to minimize its carbon footprint in support of the environmental element of PCC's triple bottom line. The Columbia City PCC will be the first of PCC's Seattle locations to host a WISErg Harvester that repurposes food scraps from store operations into high quality liquid fertilizer.
The new location features a fully-equipped cooking classroom – just one of many upgrades from the Seward Park location. Classes offered though the PCC Cooks program will begin on August 4. The schedule and registration can be found at PccCooks.com.
PCC partners with local food banks in each of the neighborhoods its serves to provide nutritious bulk food – purchased with shopper donations – to local residents in need. The Columbia City PCC is partnering with the Rainier Valley Food Bank, Jewish Family Services Food Bank and Chicken Soup Brigade. PCC also is a proud sponsor of the Columbia City Farmers Market, the Rainier Valley Heritage Parade and the Columbia City Gateway Project.
Complimentary 90-minute parking for PCC shoppers is provided in The Angeline parking garage accessible from both Rainier Ave. S. and S. Edmunds St.
About PCC Natural Markets: Headquartered in Seattle, Wash., PCC Natural Markets is a certified organic retail cooperative with annual sales of more than $230 million and an active membership of more than 54,000 households. PCC operates ten neighborhood locations; nine in King County including Fremont, Greenlake Aurora, Greenlake Village, Issaquah, Kirkland, Redmond, Seward Park, View Ridge and West Seattle, and its Edmonds store in South Snohomish County.
pccmarkets.com
Media contact
Diana Chapman
PCC Natural Markets
Email
206-547-1222, ext. 106
206-390-6657 (cell)