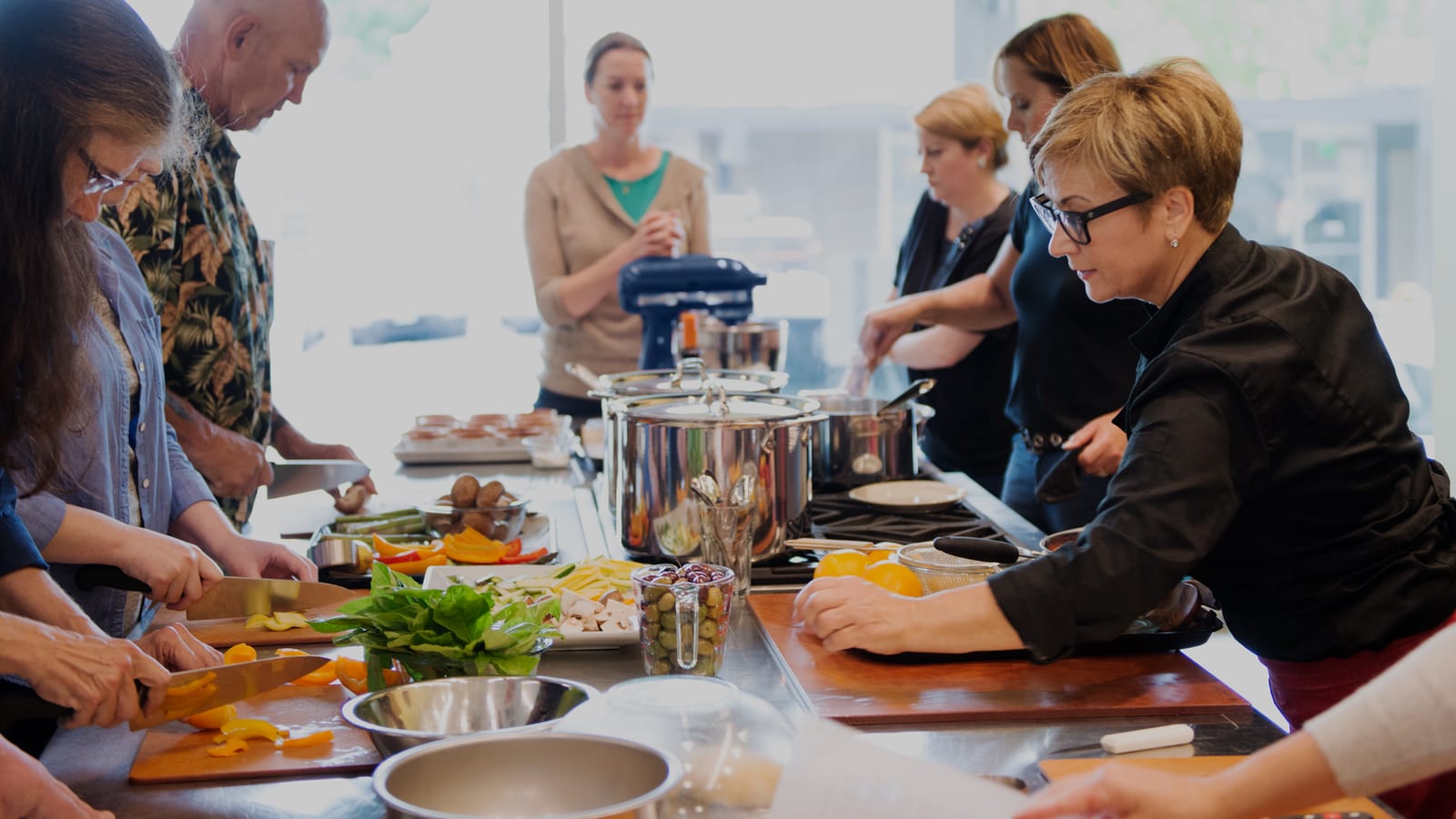 Creative Crepes
Instructor: Paola Albanesi
Hands-On, Vegetarian
Crepes (or crespelle) are a staple in French and Italian cuisine, and Paola has versatile crepe recipes that shine in both sweet and savory dishes. We'll whet our appetites with a salad of Apples and Shaved Parmigiano, then explore the savory side of crepe-making with Crespelle ai Funghi (Buckwheat Crepes with Mushrooms, Homemade Béchamel Sauce and Fontina Cheese). For dessert, we'll make classic Wheat Flour Crepes with Spiced Pears, Cocoa Nibs, Whipped Cream and Dark Chocolate. Vegetarian with dairy and eggs.
Location, Dates, and Times
French Macarons
Instructors: Gill Dey Thanh Tang
These little French bites might just be the best sandwich cookies in the world — and they're naturally gluten-free! We will share techniques for macaron success with two seasonal flavors, perfect for gift-giving or an addition to the holiday dessert platter. We'll make Pecan Macarons with Salted Caramel Buttercream; and Almond Macarons with Pumpkin Spiced Buttercream. Once you learn the techniques for the shells and the silky buttercream, there will be no end to the variations you can come up with. Vegetarian with dairy and eggs; no gluten.
Location, Dates, and Times
Steal These Restaurant Recipes!
Instructor: Nancy Leson
Demo, Sip + Savor
KNKX Food for Thought radio host Nancy Leson spent the first half of her food-centric career waiting tables and the second half writing about food, restaurants and Seattle chefs. And oh, has she got stories! She'll share them with you along with some of her "stolen" recipes, tweaked for the home kitchen. Paired with samplings of her favorite wines, this menu is perfect for a casual Mediterranean dinner: Café Juanita's Rosemary-Olive Rolls; Tamara Murphy's Skillet-roasted Clams and Mussels with Chorizo; Saleh al Lago's Warm Spinach Salad with Prosciutto; Restaurant-style Roasted Potatoes; and Yes-You-Can-Make-It Tiramisu. With meat, seafood, dairy and eggs.
Location, Dates, and Times
Our experienced chefs excel in knowledgeable, approachable and enthusiastic instruction.