Cold brew for hot summer days
This article was originally published in July 2014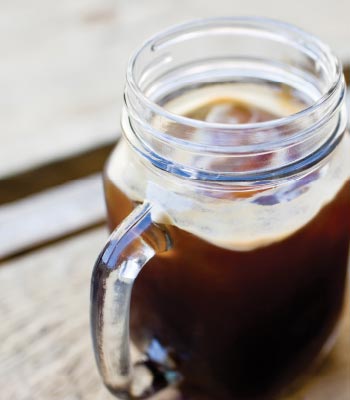 Depending on your available time and patience, we have three ways to supply you with a flavorful cold brew coffee.
Brew your own
Making your own cold brew concentrate is easy, but a gradual process. Coarse-ground beans are blended with cold water and left to rest for 12 to 16 hours. The best flavor comes from chocolaty, medium-roast beans. Try single-origin Peru or Chiapas from Tony's Coffee (in our bulk coffees) or Café Centro Toddy Grind, from Fidalgo Bay. Find our Cold Brew Concentrate recipe.
PCC espresso bars
Our iced coffee drinks are crafted by our talented baristas from house-made cold brew concentrates. You can customize with the flavoring of your choice, or opt for an iced latte made with milk alternatives or organic milk (and we never charge extra for soy, almond, coconut or hemp milk). Each of our espresso bars is certified organic, and they always use organically grown, Fair Trade certified beans.
Ready-to-drink and concentrates
Bottled cold brew is available in two styles: one is ready to drink, and the other is a convenient concentrate just waiting for you to customize it with your favorite milk or syrups. Chameleon Coffee Concentrate is available in 32-ounce bottles. Or, try 12-ounce bottles of locally made, ready-to-drink Anchorhead Coldbrew Coffee. Both are made from organic, Fair Trade beans.
Two reasons to try it
First, there's the flavor. It's rich, with minimal bitterness — in fact, if you normally add sugar to your coffee, you should try a sip before sweetening cold brew. Second, coffee made with cold water has much lower acidity levels. If you tend to avoid coffee because of digestion issues, lower-acid cold brew might solve the problem.
If precise caffeine measurements are important: cold brew tends to match up with espresso, rather than drip coffee, with approximately 35mg of caffeine per ounce. Don't drink the concentrate straight — you'll get twice that dose!