What does the "Non-GMO Project Verified" seal mean?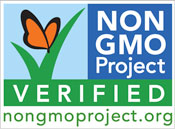 The Non-GMO Project says directly that its seal does not guarantee a product is 100 percent GMO-free. It says that's because "GMO free" and similar claims are not legally or scientifically defensible.
Contamination of seeds, crops, ingredients and products has increased steadily since GMOs first were introduced because there have been no standardized Best Practices to stop contamination. The intent behind the Project's required Best Practices and testing is to identify and stop the source(s) of contamination.
Most contamination occurs at the seed level, but testing is done throughout the supply chain and production — before planting, after harvest, and during processing.
The project's Product Verification Program requires at least one post-harvest test of each batch of at-risk ingredients, using an action threshold of 0.9 percent. This threshold was set with consideration for EU laws, where any product containing more than 0.9% must be labeled as containing GMOs. Inputs contaminated over the action threshold cannot be used; continuous improvement actions are triggered to address the source of the contamination.
In addition to testing, the project standard requires rigorous traceability and segregation practices are followed to assure integrity in the finished product. An annual audit confirms that every batch of risk ingredient has been tested throughout the year and that all other best practices are maintained.