Pasta Casalinga chef cooks for all seasons
By Tara Austen Weaver, guest contributor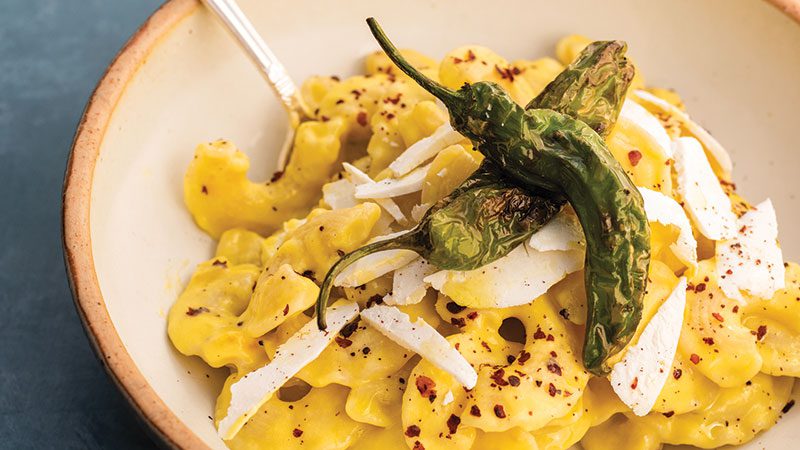 At Pasta Casalinga in Pike Place Market, Michela Tartaglia weaves together local, seasonal ingredients with her Italian heritage and a touch of philosophy.
"Pasta is something that should never be heavy," she declares. "It should fill your body, your brain, your soul—but you should never feel like you need a nap after getting up from a pasta dish."
The owner-chef turns out beautifully crafted dishes at her small market storefront, combining seasonal produce with an array of housemade pasta shapes, from wavy ribbons of reginette to lily-like gigli to squat paccheri tubes. Her favorite recipes are now collected in a new book, "Pasta for all Seasons" (Sasquatch Books, $22.95), available at all PCC stores.
Tartaglia's journey from Italy to Pike Place Market started in the north of the country—Torino, in the Piedmont region—though she's quick to point out that her family is from the south; they moved north for better job opportunities.
"The simplicity of the recipes that I do is definitely from the south," she explains, "but it's an Italian thing in general, the cooking is very intuitive. In general, you never have more than three main ingredients."
Tartaglia's cuisine melds traditional Italian cooking with uniquely Pacific Northwest ingredients. There's Sockeye salmon tossed with farfalle, marinated artichokes and fried capers in the summer; plump Penn Cove mussels mixed with orecchiette, chickpeas and capers in the fall.
Such seasonality was an essential part of Tartaglia's Italian upbringing. "I grew up before globalization," she explains. "There's no way my mom would have bought anything off season. And it's not because she was a snob. It's because food ingredients go with culture—asparagus represents the spring. I could never serve asparagus at Christmas."
Tartaglia arrived in Seattle in 2006 for a year-long stint as an au pair to improve her English. After working in restaurants while earning a master's degree in philosophy, she found a very different food scene here.
"The number one thing is seafood," she explains. "The fish and seafood we have in Italy is from the Mediterranean, it's very different—different taste, different execution, different time of year it's available…I'd never had fresh salmon, it was always smoked."
The way people ate here was different too. The parents of the family she was living with took a lunchbox to work, something Tartaglia had never seen before. "I thought they were both sick," she explains, laughing. "I thought they were making special food because they were sick!"
Though she intended to return to Italy when her contract ended, Tartaglia decided to first volunteer in an orphanage in Guatemala for a year—another experience to add before returning to academia for a PhD. A month before leaving Seattle, however, she met the man who would eventually become her husband (they later divorced). She went to Guatemala, but only for six months.
Back in Seattle, Tartaglia initially taught Italian language classes. She also worked for a corporate relocation company and did translations for video games, but she eventually came back to food.
"I love to cook," Tartaglia says. "I thought about getting a gig in some cooking school, but then I decided I could do it myself." She set up a sandwich-board sign on First Avenue, by the Seattle Art Museum, and started teaching classes out of her downtown apartment.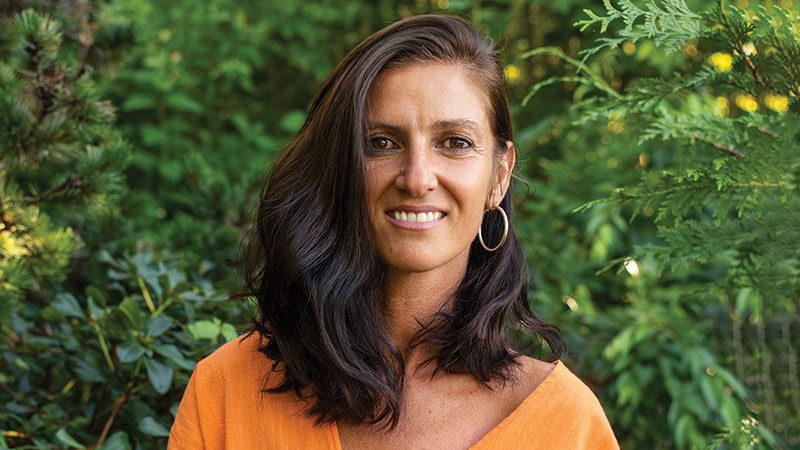 "People started coming to my apartment to learn to make pasta, mainly, and gnocchi, and some sauces," Tartaglia explains. "And they were having an Italian experience: the place was very beautiful, we could look at the Puget Sound…And I really enjoyed it."
At the time, the oldest of Tartaglia's two daughters was attending the Pike Place Market Preschool. "I was dropping her off one day," she says, "and I could see they were building a common kitchen in the atrium. So, I started to rent it out a few hours a week for my cooking classes."
Tartaglia began to imagine a storefront of her own in the market, but when she applied for an empty space in 2016, she was denied.
"Maybe it wasn't the right time," she says. But the next time a spot came available, she was determined.
"I knew I had a great concept," Tartaglia says. "I could take my Italian background and the way I cook every day, and the ingredients I see every day and transform them into something special." In 2018, she got the spot and Pasta Casalinga was born.
The Italian word casalinga means housewife, but as an adjective it is her ethos: made in house; homemade.
Seasonal inspiration comes from the market, where she can see when the spot prawns or nettles are available. "It definitely brings up creativity," Tartaglia says, "walking through the market and seeing what is coming in."
Pasta Casalinga is small but focused, offering three seasonal pasta dishes daily as well as a standing menu of lasagna and a classic Pomodoro pasta.
"Probably 60% of our clientele is regulars," says Tartaglia, something she is particularly proud of considering the tourist traffic at the market. "You can choose to just feed the crowd," she says, "or you can choose to do something for the community—to be a spot where people come to have their meetings, to have their dates, to take their lunch break."
This customer loyalty helped Pasta Casalinga through the COVID-19 pandemic. "If we had to rely on tourists," says Tartaglia, "we would not be here anymore. We had clients during the pandemic who came in just to buy things." Supermarket sales was another pandemic pivot for Tartaglia, and she is working with PCC on possible outlets.
While the cookbook includes two recipes for making fresh pasta, Tartaglia writes that "Purchasing dry pasta is not considered inauthentic at all—Italians eat it daily." More significant is the shape-to-sauce combination. "It's customary to religiously stock the pantry with several boxes of different pasta shapes, because the last thing you want to do is serve your signature ragù Bolognese with angel hair! Shudder along with me."
Tartaglia says the winter dish of Spaghetti alla Chitarra with Sea Urchin and Toasted Lemon Bread Crumbs would be her last meal, if she had to pick one.
What does Tartaglia's family think of her culinary endeavors? "My family was surprised," she says, "but they are very supportive—so long as I don't bastardize the pasta!" she laughs.
The pasta remains authentic—it not only won a Good Food Award in 2021, but also an Italian Gambero Rosso award. "It's our version of a Michelin star," says Tartaglia, "for restaurants abroad that keep up the Italian standards for cuisine."
Perhaps the best compliment comes from the Italian tourists who come in, asking if this is real Italian. They find the answer on every plate.
Tara Austen Weaver is author of several books, including "Orchard House," "Growing Berries and Fruit Trees in the Pacific Northwest," and the "Little Book of Flowers" series: Peonies, Dahlias and Tulips. 
Creste di gallo con crema di peperone giallo, ricotta salata, friggitelli e pepe di Aleppo
(Creste di Gallo with Yellow Bell Pepper Puree, Ricotta Salata, Shishito Peppers, and Aleppo Pepper)
This dish could be called three peppers on a plate. It's a delightful pasta dish for the palate and the eyes, with the bright yellow of the bell peppers, the crunchiness of the fried shishito peppers, and the rich burgundy color of the Aleppo pepper. Inspired by peperonata (classic Italian summer onion-and-pepper stew that my aunt Grazia used to make all the time), this pasta is seasonal, gorgeous and easy.
Makes 4 servings
4 tablespoons extra-virgin olive oil
½ white onion, thinly sliced
3 medium yellow peppers, trimmed and cut into 1-inch strips
¼ teaspoon dried oregano
Kosher salt and freshly ground black pepper
½ cup water
12 ounces creste di gallo pasta
⅓ cup grated Parmigiano
6 ounces ricotta salata, shaved
Fried shishito peppers (recipe follows)
1 teaspoon Aleppo pepper
In a medium saucepan over medium heat, warm the olive oil. Add the onions and sauté for 1 minute, then add the bell peppers and cook for 2 to 3 minutes. Add the oregano, season with salt and pepper to taste, and stir. Add the water and cover. Let the bell peppers cook for about 10 minutes or until soft. Turn off the heat. Using an immersion blender, blend until the consistency is creamy but not liquid. Meanwhile, in a large pot of boiling salted water, cook the creste di gallo until al dente, drain, and transfer to the saucepan. Return the heat to medium, add the Parmigiano, and combine, adding pasta water as necessary to bind the ingredients.
Plate in four bowls. Finish with the ricotta salata, shishito peppers, Aleppo pepper and a drizzle of oil. Buon appetito!
Fried Shishito Peppers
⅓ cup canola oil
12 shishito peppers
Kosher salt
In a medium pan over medium heat, warm the canola oil until it is shimmering hot. Add the shishito peppers and fry them on both sides until they are brown but not burned. Using a spider or a slotted spoon, remove the peppers and place them on paper towels to absorb the excess oil. Sprinkle with the salt.