Community Voices: A conversation with Washington Farmland Trust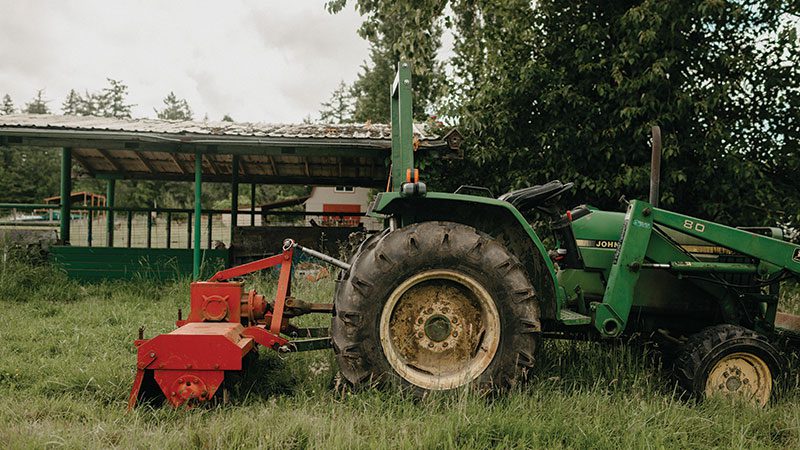 Washington Farmland Trust (WFT), originally founded as the PCC Farmland Fund (see story here), protects and stewards threatened farmland across the state.
It has preserved 30 farms to date encompassing more than 3,000 acres, from preserving the 97-acre Delta Farm in Dungeness in 2000 to protecting the 100-acre Hunter Farm in Eatonville earlier this year. In 2018, WFT began the Farm to Farmer program to connect landowners with farmers seeking land. Sound Consumer contributor Tara Austen Weaver spoke with program director Nayla Jiménez Cabezas to learn more about building connections and promoting land access through Farm to Farmer.
Q: How did the Farm to Farmer program get started?
A: For years, the Farmland Trust was focused on farmland preservation through the tool of conservation easements. And that is fantastic but it has limits—our work was only serving those who already owned land; in fact you need to have at least 20 acres or larger in order to access significant funds. And there are so many farmers who have never had access to land ownership due to a history of exclusion, systemic racism or lack of access to capital—and so we wanted to evolve our work to ensure we could serve folks not only operating on smaller acreage, but also those who have been historically marginalized and not able to access land.
We decided to give this community that already existed a home and a way to connect and some tools to aid in that connection. Our growth plan was to pilot it in one county and then, by year three, to be in three counties—but instead in year three we went statewide. But it is a program that is very new, we're still connecting with the community and adapting the program to make sure we're staying true to our goal of preserving farmland and creating land access. 
Farming is not just about the land—it's also about the process of securing the land and staying there
Q: How does the program work?
A: The program itself has two arms—the website and the direct support from regional coordinators who help make on-the-ground connections. On the website, property owners can list their properties for sale or for lease, and farmers can create profiles about their land goals and needs. Then the regional coordinators help bring those goals to life. Individuals are vetted by our coordinators before joining the website, and once approved, can message one another about opportunities. And for those who don't even want to have a listing on the site, we can make connections privately.
The coordinators also help farmers access our resources. Maybe a farmer tells us, "I've been farming for 20 years, but I have a five-acre section that I want to lease and I've never done that before." We would help them think through what kind of a lease they should offer. Or maybe a farmer says: I've been farming at an incubator farm for four years and I'm ready to expand—but they don't have an acre available, so that is what I'm looking for.
Being a farmer is incredibly hard work. As stewards of the land, farmers need to hold so much knowledge in order to tend to the soil and grow food for their communities. It feels good to be able to provide resources on topics like real estate, legal questions and financial assistance so that folks know what questions to ask and how to set themselves up for success in their farm businesses. Farming is not just about the land—it's also about the process of securing the land and staying there.
Q: What are some of the challenges you encounter?
A: Our feasibility study really showed us that we needed coordinators based in the farming communities where we worked. Just a website alone is helpful, but it's not the entire tool. There are farmers who are urgently looking for land, but we were seeing them not respond to email. So, we've learned a lot about accessibility—now we text, call and email. And if you want to set up a listing, you can call me and I'll do it for you. A farmer's priorities are important—they should be out on the field, tending to their farm. For many farmers, this is already their second of third full-time job. 
Q: What do you see in terms of future goals or growth for Farm to Farmer?
A: One of the big things we're focused on is how we can support groups of people in owning land. We know the cost of land—especially in certain areas—has become impossible. We're being approached more and more by people exploring what it looks like to own land through collective and cooperative models, so we're committed to learning about the possibilities, what funding opportunities are out there, and how we can fit into that puzzle. 
The other question we are asking ourselves is how we can improve access: what can we do to address barriers? We're working on bringing our website to a fifth-grade reading level, so it's able to communicate effectively to more people. We're looking toward a phone interpreter contract, so our coordinators can service people in relevant languages. We hope that even site visits can happen in other languages. We want the website to be easy to understand, the process to be easy, and we want ourselves to be more accessible overall. 
Q: What is the best way for people who want to support your work to get involved?
A: One great way to become involved is to sign up for The Crop, which is the newsletter for Washington Farmland Trust (wafarmlandtrust.org/thecrop)—our volunteer opportunities, donor opportunities and events are always included there. You can also follow us on Instagram (Instagram.com/wafarmlandtrust), as a lot of events and content is shared there as well.
Click here to learn more about supporting these programs.