Free game is a fun way to support salmon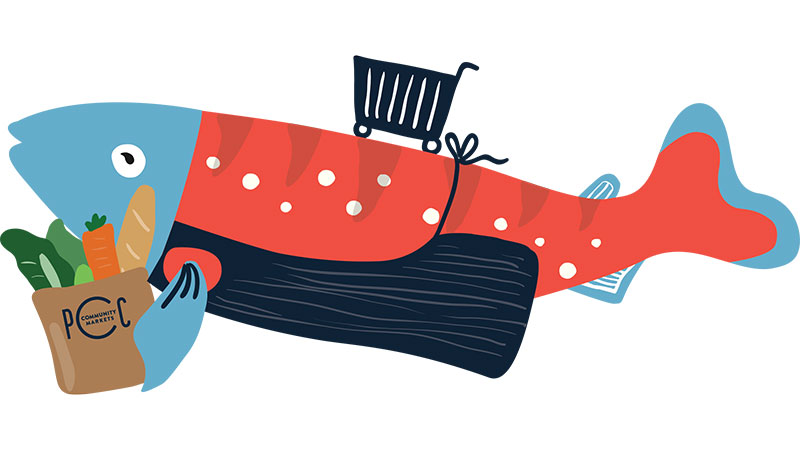 Join PCC this spring for "Survive the Sound," a fun online competition supporting threatened salmon and steelhead populations.
Sign up through May 1 at survivethesound.org for the free game, which uses real tracking data from migrating wild steelhead to illustrate the low survival rates experienced by juvenile salmon and steelhead traveling through Puget Sound. Players are encouraged to pick one of 48 fish (PCC's fish is pictured above), form teams with friends and family, and follow their chosen fish through the mock migration. Over a five-day migration from May 2-6, participants will receive daily updates about their fish and facts about salmon and steelhead.
It's the sixth year the educational project has been operated by Seattle-based nonprofit Long Live the Kings (LLTK), a longtime PCC partner. Classrooms around the region also use the migration data and material from LLTK. While there's no cost to participate, donations are welcome and will be used to support the agency's mission.
In a recent highlight, LLTK collaborated on the Salish Sea Marine Survival Project, a decade-long study involving more than 200 scientists that investigated the crisis of falling salmon and steelhead populations in the Salish Sea. See this article for more details.
Interested in other ways to support LLTK? In an ongoing PCC partnership with Chinook Wines, LLTK receives a $2 donation for every bottle of Chinook's Long Live the Kings Yakima Valley Red or Yakima Valley White sold.
Sign Up!