PCC opens Downtown Seattle store
This article was originally published in March 2022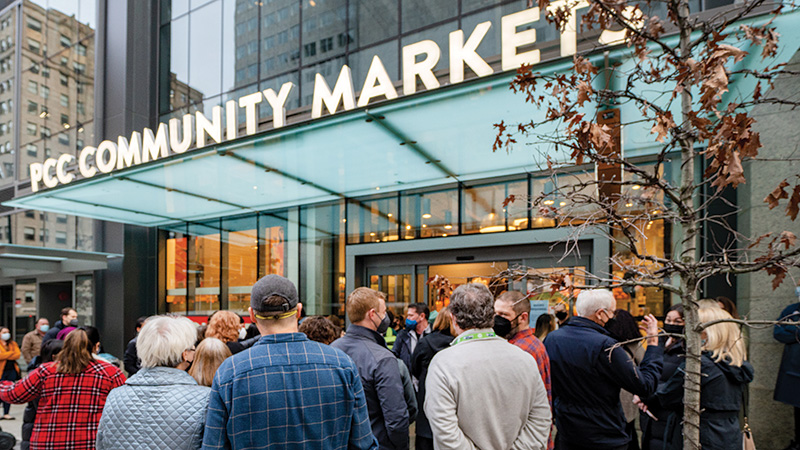 PCC's newest store is in the heart of downtown Seattle, the only full-service grocery serving the neighborhood.
The 19,000-square-foot store is located in Rainier Square at 1320 Fourth Ave. It's expected to serve office workers as well as downtown residents—including many who might live or work in the 58-story mixed-use project. The store brings new job opportunities for the community as well as career growth for existing staff, working with UFCW Local 21, which has represented the co-op's non-management store staff for nearly 40 years.
Features for shoppers include a large deli section with "grab and go" meals and stations for hot pizza, soup, grain bowls and salads. Along with PCC grocery staples and a produce section stocked with local and organic fruits and vegetables, the store offers a full-service seafood department, flowers, nut butter grinders, bulk coffee (as well as ready-made drip) and bulk spices. Seating areas for eating are available both inside the store and in a common area. While the majority of shoppers are expected to arrive on foot, PCC provides one hour of free parking in the shared garage space with a minimum $5 purchase.
The opening store director is Jai San Miguel, previously director of the Central District PCC and assistant store director (ASD) of the West Seattle PCC. Annies Tan, previously ASD at PCC's View Ridge store, will be the Downtown store's opening ASD.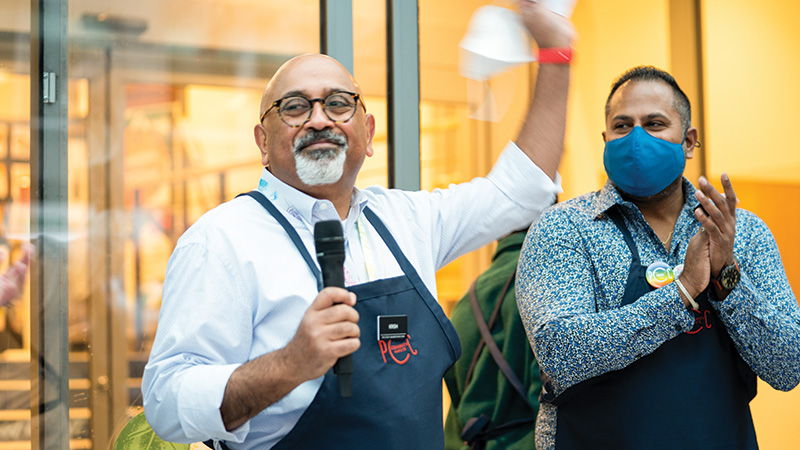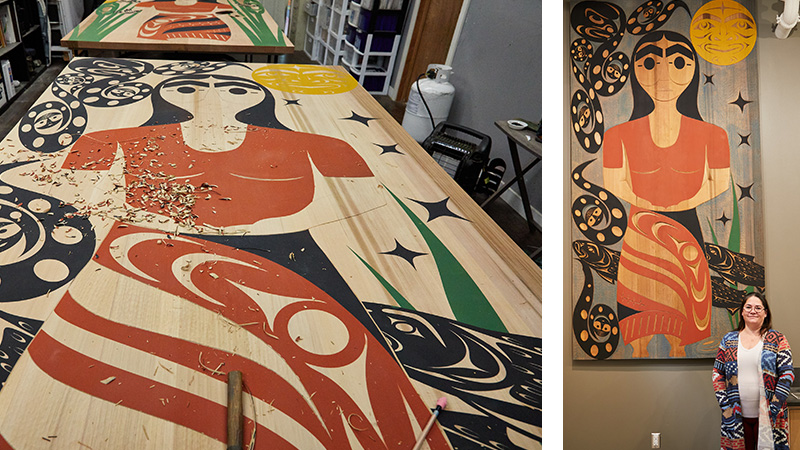 As with its other stores, the Downtown PCC staff will work with local food banks to extend food access programming. It began the work before the store opened, creating a new Downtown Seattle Food Access Grant, where six organizations received $5,000 each to buy organic foods to reduce food insecurity. (The recipients were Asian Counseling and Referral Service, Northwest Harvest's SODO Community Market, Pike Place Market Foundation, Pike Market Senior Center and Food Bank, Puget Sound Labor Agency Food Bank and Seattle Indian Health Board.)
PCC is seeking certification for the store from the Living Building Challenge, the world's most rigorous green building standard, as it did with its Ballard, Bellevue and West Seattle stores. (In 2020 the Ballard PCC became the world's first grocery store to earn Living Building Challenge (LBC) Petal Certification by the International Living Future Institute (ILFI).)
While a great deal of the certification process focuses on environmentally sound building materials and energy use, another aspect of it is beauty, which PCC has fulfilled in part through incorporating original pieces by local artists in each certified store.
Shoppers at the Downtown PCC will be immersed in the story of Andrea M. Wilbur-Sigo's work, titled "A Way of Life," in the form of two house post wooden carvings mounted on the interior dining area wall.
Wilbur-Sigo is a member of the Squaxin Island Tribe and is the first known woman carver of many generations of carvers in the Coast Salish style. The house posts depict two individuals and convey the connection between people and the environment. In Wilbur-Sigo's words: "Together is the only way things work. Without one another we would not be whole. We need each other, together we are a strong community and apart we stand alone. Together we tell a story, a written story, that will change and adapt as life changes. They will always hold the strong roots of the cedar tree and the survival of our waterways."
She added that "My works explore the balance between the environment and industrial activities, inspiring conversations about our complicated relationship with nature. I chose to collaborate with PCC because of their focus on sustainability in their products and even in-store design. I am pleased to have this opportunity to share these carvings with the PCC community—bringing nature into an industrial space."