New state organization reignites support for organic and regenerative agriculture
By Rebekah Denn
This article was originally published in March 2022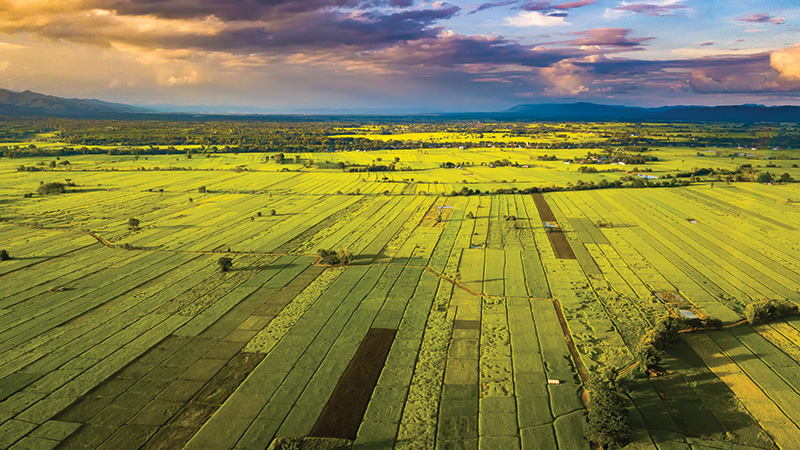 A broad alliance of farmers, business, organizations and activists have formed a state Coalition for Organic and Regenerative Agriculture (CORA).
It's planned as a "strong voice" advocating for legislation and also for programs that support research, educational opportunities, resources and marketing. Ideally, it will rebuild the bold, forward-thinking organics movement that drew wide public support in Washington state in the 1970s and 1980s.
"We really wanted it to be a collective effort," said Aimee Simpson, PCC's director of advocacy and product sustainability, one of the founding organizers.
The organization is headquartered at the Tilth Alliance. The nonprofit had historically been involved in advocacy work, but that focus had lapsed in recent years, said Executive Director Melissa Spear in a recent panel discussion at the annual Tilth conference.
When Spear came to Washington from New England three years ago, she was surprised at what seemed "a lack of voice for organics," with nothing here like the powerful 5,000+-member Northeast Organic Farming Association. Simultaneously, Simpson was exploring the possibility of developing a local organization and forming a coalition. They joined forces.
An incredible history
The commitment makes sense given Washington state's "incredible history of advocating for these farming practices," Simpson said.
Anne Schwartz of Skagit Valley's Blue Heron Farm, a former Tilth president who began farming here in the 1970s, recalled for the panel how Wendell Berry had spoken at the Washington state gathering that led to Tilth's formation.
At that "Agriculture for a Small Planet" symposium in 1974, organized by Tilth co-founder Mark Musick, poet and farmer Wendell Berry gave an "incredibly inspiring" speech, she said. "(Berry) challenged us to come together, to work together, to…not lose our agrarian roots."
Tilth members organized an organic certification program and oversaw it for years, eventually working in the 1980s with former state Sen. Ken Jacobsen, a former PCC board member, to establish a state program overseen by the Washington State Department of Agriculture (USDA) (click here for a full history). Washington regulators worked with counterparts in Oregon and California to harmonize standards, Schwartz said, along with agencies in the Northeast and Midwest. The National Organic Program was established in 2002.
"We have really made a lot of differences in 40 years," she said.
Now, added Spear, "we're at that point in time where again…we need to have a transformative future. We're at this point in time where it is really important that we approach things differently."
Amy Wong of the Oregon Organic Coalition, another panelist, said organic voices have been marginalized in recent years as agricultural practices have advanced, and it's been hard to get a hearing when important decisions are made.
"It's really important that we ramp up that voice collectively, because we have really powerful entities who are lobbying for different things."
Raising our voices
Brenda Book, organic program manager for WSDA and a former Tilth board member, noted that the majority of certified organic acreage is in Eastern Washington and that "this has to be a statewide effort." It also must include large as well as small producers, panelists said, and account for the different climate, soil, and other factors faced in different regions.
As regulators, Book said, WSDA cannot advocate for specific legislation. However, she said, "we are the ones out there seeing all the struggles. We see where there are holes in the industry, we see where farmers are having trouble accessing resources or solutions."
With new options for solutions and connections, a lot could be accomplished. Issues are even broader than before, Book said—Washington's voice is needed on a national level as well.
Otherwise, "we're going to be left out of the conversations as those rules evolve and change." That applies to issues like farm bill funding too, for instance, where a national cost sharing program for organics has been cut in recent years.
"Unless we have people advocating and making sure it's known how important those types of programs are, they disappear."
Simpson talked about the challenges of representing regenerative agriculture, a term that does not have a legal definition, along with certified organic agriculture, a term that is governed by federal regulations.
Book said that if coalition members find the term valuable, they could take the lead in where it goes from here. "If the coalition wants to define what regenerative means in Washington state, that's what you did in 1985, was define what organic meant."
One Tilth audience member asked whether the state organization would oppose hydroponic production of organic foods, a fraught issue.
Simpson noted that PCC had joined other organic advocates in asking the U.S. Department of Agriculture (USDA) to stop labeling hydroponically produced foods as organic. But she said the new organization wouldn't reach conclusions on such issues before reaching out to its membership on positions and priorities.
"This is a coalition, and we really want to make sure that we find what can bring Washington together to give us the strongest voice for organics."
Generally speaking, she said, "Let's address why there's a divide instead of thinking that we have two different camps that we're going to have to balance out…
"Standards have been in place at the federal level for a few decades now, and we know where there's work to be done… So let's look at how, as a membership, we can get that message out there."