"Peak Nutrition" from a star chef
By Rebekah Denn
This article was originally published in July 2020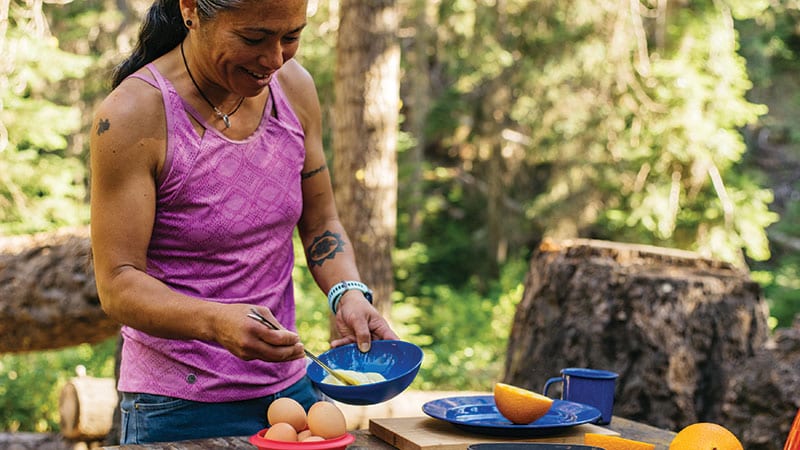 ---
Maria Hines is already acclaimed for her commitment to food and land. The Seattle chef, recipient of honors that range from a James Beard Award to an Iron Chef victory, was one of the first (and still few) restaurateurs to create a certified organic restaurant.
Tilth, the farm-to-table restaurant she opened in 2006, required sourcing at least 95% certified organic ingredients, plus establishing procedures for stocking, cleaning, record-keeping, and every other aspect of running a business under federal organic guidelines. That complex world of vigilance goes far beyond the casual promise many restaurants provide to source "organically when possible," and Hines earned passionate fans and international honors for her delicious dedication.
All that is still true. But in the interim years, Hines avidly pursued rock climbing, kayaking, backpacking and other outdoor avocations. She learned how food can serve as better fuel for people's bodies. She became a certified nutrition counselor and has now written a cookbook to help others power their bodies while pursuing their goals.
The book, "Peak Nutrition: Smart Food For Outdoor Adventure" (Mountaineers Books, $29.95) was co-authored with Mercedes Pollmeier, a strength and conditioning specialist who Hines had worked with on reaching her own goals.
The publication date was set long before the COVID-19 outbreak slammed down a barrier to most such activities, but its lessons still hold—if nothing else, to learn and plan for the future.
"I decided to do this (book) because it doesn't exist," the chef said earlier this year from the spring-green Wallingford bungalow that houses Tilth. There are sports nutrition cookbooks on the market, but those are aimed at triathletes, marathon runners, long-distance bikers. She was looking for ways to fuel bodies through long backpacks or kayaks or grueling all-day climbs.
"If I'm outside playing hard, what I need to eat is going to be very different than a 12- to 14-hour work day," she said. "I spent so much time connecting with our green spaces, but I didn't really understand how to do it in a way that felt like the food I was eating was helping me with my experience and increasing my performance, as opposed to holding me back…
"You try to charge up Mailbox Peak (off I-90) and you're bonking by the time you get to the top and you don't have any more energy coming down."
Sleeping on a ledge or paddling on a lake don't offer the optimum conditions for refueling either.
"You're often dealing with extreme temperatures. You don't have access to a full kitchen. You're very often using camping equipment; you very often don't have refrigeration."
Ideally, meals under those circumstances would involve foods that are "highly nutritious, calorie dense but lightweight."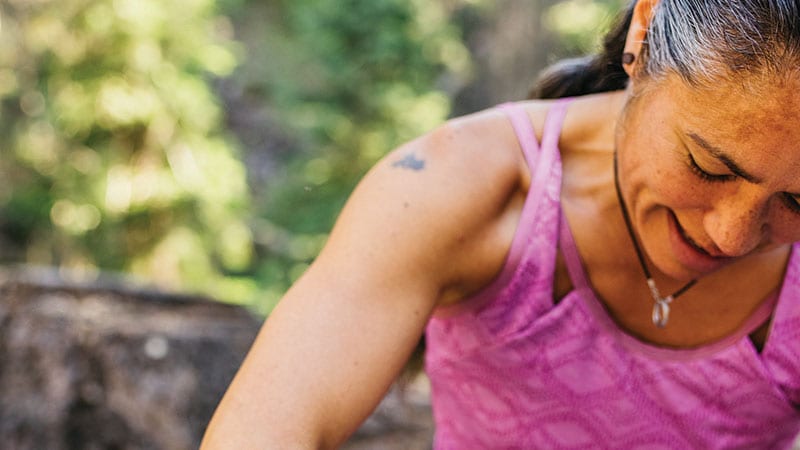 She has experimented with different diets and included keys and substitutions in the book for paleo, keto, vegan, vegetarian and gluten-free diners. Her own favorites include a luxurious-sounding shrimp and grits that can be prepared at a campground, and simple fruit roll-ups (recipe below).
"When you're on the trail and need that little bump, that's really delicious. It hits every part of your palate."
The book covers topics from stress and strength training to hormones and supplements, but it's also a reminder of how lovely and simple good cooking can be under any circumstances. Going strictly by nutritional content, Hines noted, athletes are advised to down unappealingly bare meals.
"(Some say), 'Have a can of tuna and steamed broccoli.' That's not pleasurable. Why would you do that, when you can take your broccoli and toss it in coconut oil and put it in a 400-degree oven and have these charred, beautiful pieces of broccoli and season it up nicely with some Aleppo pepper and sea salt and black pepper? That sounds totally different, right?"
The food her team cooks at Tilth follows similar principles to her outdoors menus, though not as focused on nutrient density and balance.
For those grits, for instance, "At Tilth, we probably put a little more butter in it."
The restaurant remains "my home base…what I keep coming back to that keeps me grounded and on track."
Hines teamed up with Pollmeier for the book after realizing others might welcome the same information she was seeking out.
"We were on a climbing trip to Leavenworth, driving in the car, and I was asking her nutrition questions for 2.5 hours straight: 'Talk to me about energy systems, ATP (adenosine tri-phosphate). How can I recover better? How can I put on muscle faster? Talk to me about the best way to lose fat but not muscle."
In an outdoor industry that's primarily male and white, she also hopes people will appreciate having a collaboration available from two strong, athletic women of color. "You don't see a lot of diversity when you're out on the trail."
In ordinary times, Hines generally works six days a week, hiking or rock-climbing or cross-country skiing on her day off, while sometimes paddleboarding before work, and running around Discovery Park a few times a week: "It's so close to get to, and you feel like you're in the woods."
The Seattle area, she said, is "so precious and wonderful…
"You're looking at those mountains every day. On a beautiful day, you're flanked by the Olympics on one side and the Cascades on the other side, and you just want to get out there."
The words feel truer and more timeless than ever.
---
Plum Cardamom Fruit Roll-ups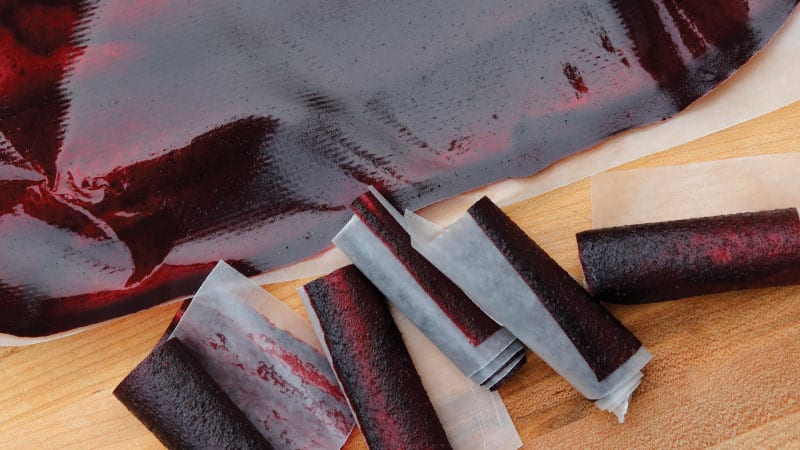 Fruit roll-ups bring back childhood memories, but here's a no-processed-sugar "adult" version for quick energy and big flavor. You can use any sort of seasonal fruit in place of the plum and blackberry. We love peaches and strawberries in summer and apples or pears in autumn.
Makes 12 rollups
3 cups pitted plums (about 1 ½ pounds)
3 cups blackberries (about 1 ½ pounds)
2 tablespoons honey or agave nectar
1 tablespoon minced fresh ginger
1 tablespoon ground flaxseeds
1 tablespoon fresh lemon juice
½ teaspoon ground cardamom
Sea salt, to taste
If using an oven, preheat it to 135 degrees F.
Add all ingredients to a blender, and blend on high until smooth. The blackberry seeds will still be noticeable and add some texture.
Pour the fruit puree into a medium saucepan and set over medium-high heat. Simmer for about 30 minutes, stirring frequently so the fruit does not stick to the bottom and burn, until the puree is reduced in volume and thick, like custard.
If using an oven, line a baking sheet with a nonstick mat or piece of parchment and pour the puree onto it, smoothing out the surface and spreading the mixture evenly and very thinly across the pan. Place in the oven and bake for 4 to 6 hours, until the mixture is totally dry to the touch. Rotate the baking sheet halfway through. Remove from the oven and let cool completely. (If the center is still moist, leave the baking sheet in the turned-off oven overnight.)
If using a dehydrator, set it to 135 degrees F and spread the puree on the plastic overlap sheet. Dry the puree for 3 to 4 hours, checking occasionally and removing when dry.
When cool, cut into 12 strips and roll each into a length of parchment paper.
Store in a container in the cupboard for up to 3 months.
TIP: These dry out quickly and evenly in a food dehydrator; using an oven requires a bit more attention. Do not increase the oven temperature to speed up drying—it will lead to toasted fruit and burnt edges. Before blending, you can puree the blackberries and strain out the seeds if you prefer a no-seed roll-up. We leave the seeds in for fiber.