Cool Beans: Coffee-roasting collaboration cuts energy use
By Brent Kawamura
This article was originally published in October 2019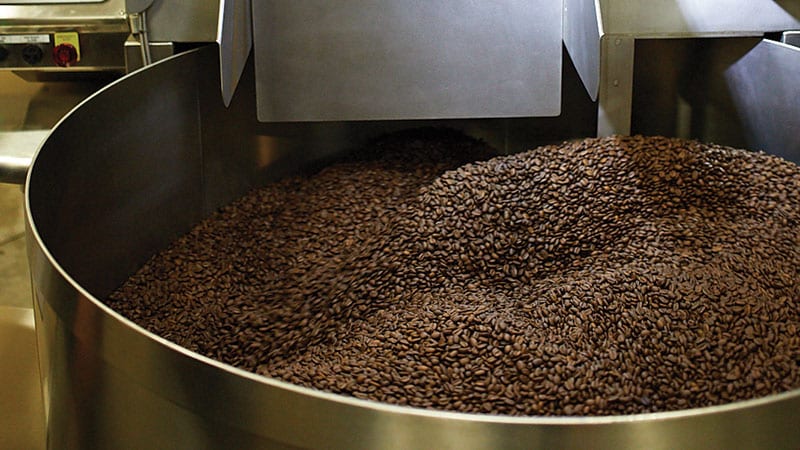 For PCC, taking innovative action on climate issues goes beyond the store walls. That's why we don't hesitate when we see an opportunity to join collective efforts such as the Climate Collaborative—a growing community of over 300 purpose-driven businesses that have made commitments to reverse climate change. We also encourage our vendors and partners to be a part of the community and seek out ways to improve their climate impacts. We've seen that even a single step toward these goals can yield remarkable progress.
For instance, Tony's Coffee, our local private-label coffee producer, recently joined the Climate Collaborative. Based on the Collaborative's advice, Tony's began monitoring and analyzing its energy consumption. The company also implemented new technology to drastically reduce the energy use associated with its roasting operations.
Largely driven by our long-standing and growing partnership, Tony's purchased one of the most energy-efficient coffee roasters on the market. This new roaster captures and recirculates heat during the roasting process rather than releasing it as wasted energy. While a seemingly simple concept, the circular process used in the roaster drastically reduces the amount of energy needed to roast coffee. In fact, Tony's energy analysis revealed that this new system has reduced its energy use by a whopping 47% per pound of coffee roasted. "We love that this roaster has helped us reduce our carbon footprint in such a meaningful way, while still allowing us to maintain the same hands-on, sensory-based roasting approach that we've honed over the past 45+ years at Tony's," said David Yake, Tony's Coffee's director of sales and marketing. As the company transitions more fully to this roaster, it expects energy use to reduce by as much as 75% over last year's consumption.
"It is inspiring to work with our partners to make meaningful change happen through our supply chain," says Brenna Davis, vice president of social and environmental responsibility for PCC. As we strive to go beyond our walls to keep more carbon in the soil and respond to climate change, so too do our partners. In turn, our members and shoppers are supporting a world we collectively envision.
All together that deserves a toast for the roast!
Brent Kawamura is PCC's senior sustainability specialist.
---
Brewing up support for sustainable farming
Looking for a way to support sustainable agriculture? In addition to its energy-efficient roaster, Tony's Coffee is producing a new Terra Nova blend for PCC to benefit both local and global efforts. For each bag sold, 50 cents will go to PCC Farmland Trust, which protects threatened Washington farmland, and another 50 cents will go to World Coffee Research (WCR), which helps small-scale coffee farmers adapt to climate change.
The project came about when David Yake, director of sales and marketing for Tony's, was selecting beans for another PCC blend with grocery merchandiser Scott Owen. "We were talking about how great it'd be to develop a coffee that benefits regenerative agriculture…" Yake said. "We were weighing the pros and cons of donating to a local nonprofit, versus a nonprofit that works internationally with small-scale coffee farmers, when Scott had the brilliant idea to donate to both."
The Trust was an obvious choice for the local nonprofit, while Tony's is a founding member of WCR and has followed its work and research projects for years.
The team "was super excited and immediately dove in to help choose the blend (a combination of beans from Latin America and Africa), as well as the roast level (a light-medium roast)," Yake said. The final bags of certified organic and fair trade coffee are described as offering "both rich texture and bright flavor" for a well-balanced everyday cup… and a sip toward a sustainable future.