Getting to know PCC Cooks
by Lena Hart-Bundy
This article was originally published in July 2018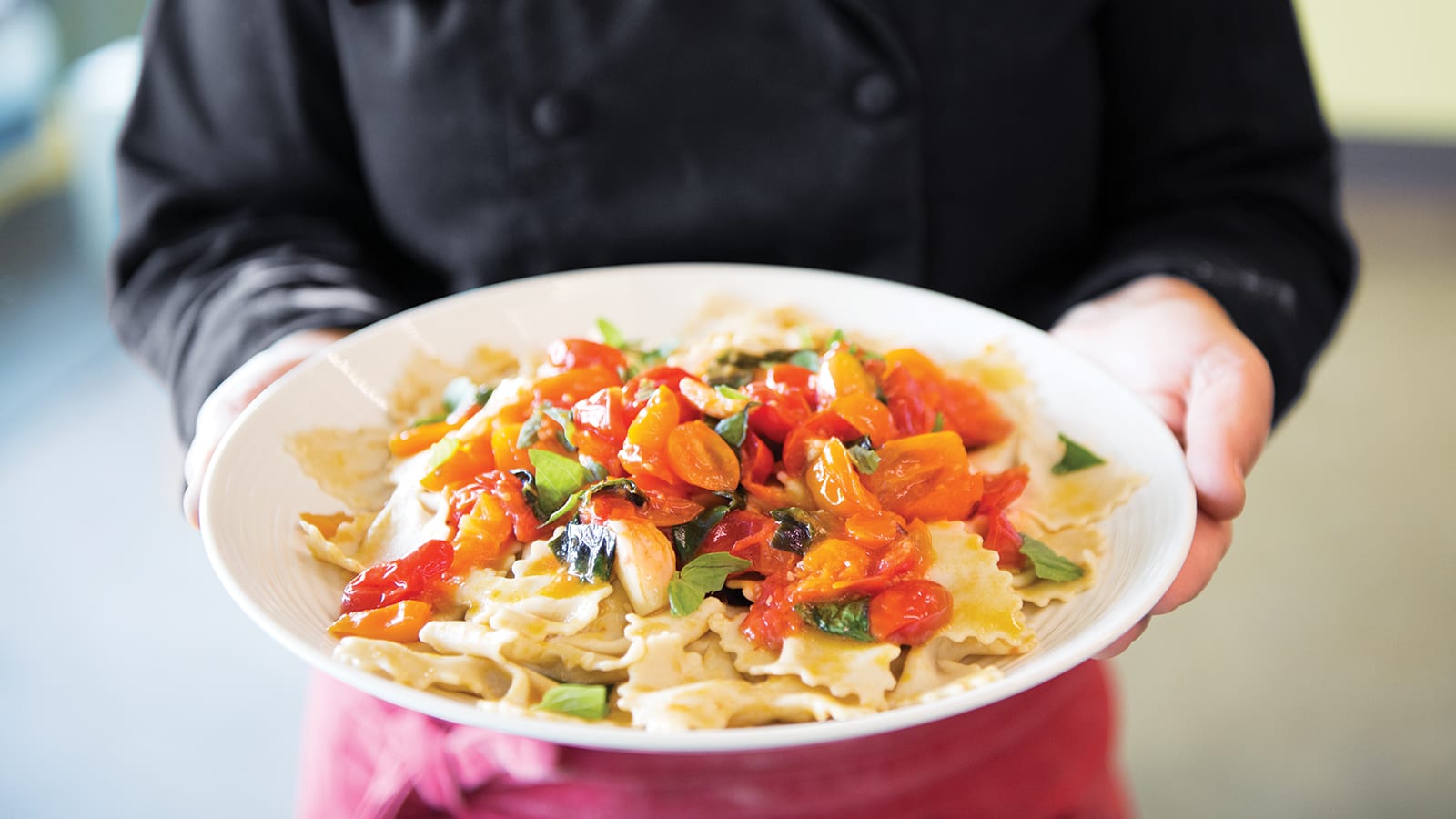 PCC's long-standing culinary education program is a community resource for informative cooking classes that bring together passionate instructors, food-lovers, and aspiring chefs of all ages and levels of experience. Situated within PCC stores, our fully equipped teaching classrooms are just steps away from the high-quality ingredients that make all the difference.
But what is PCC Cooks all about? In honor of the program's 35th anniversary this year, let's explore PCC Cooks by the numbers.
Founded in 1983
Cooking classes at PCC began in 1983 under the leadership of nutrition educator Goldie Caughlan. The first catalog included 32 classes and proclaimed, "Cooking Classes for Everyone!" a guiding principle that still holds true today.
In those early years, classes were held in the most opportunistic places, including the Kirkland PCC "forum room," the Ravenna Bryant Senior Center, the "original" Greenlake store on Fremont Avenue, and the basement of the Seward Park store. Classes covered a wide spectrum of healthful topics with creative titles, including "Sea Vegetable Sorcery," "Flirting with Fish" and "A Squash Soliloquy."
1,500 classes a year
Now, PCC Cooks holds more than 1,500 classes a year, equivalent to 125 round-the-clock days of learning.
With classrooms at seven PCC locations in Seattle, Edmonds, Issaquah, Redmond, Bothell and now Burien, we cooked up nearly 1,000 recipes in 2017 – a whole year's worth of meals!
Instructors from more than 10 countries
Our instructors are the key ingredient to what makes PCC Cooks special.
From experienced home cooks to culinary-trained chefs, each instructor brings a unique perspective and approach to cooking. They're selected for their passion for cooking, sincere enthusiasm, and talent for teaching — and some have been with us for more than 20 years!
Our popular Global Gourmet classes offer culinary voyages to instructors' homelands of Italy, Persia, China and Turkey — to name a few. Technique classes offer insider tips gleaned from years of cooking and baking experience, and nutritionist instructors provide health-focused classes on a range of topics.
350 classes for kids
Our Kids' Cook program, officially introduced as "Family Matters" in 2001, now offers nearly 350 kids' classes a year, plus 47 summer camps.
Each summer, kids ages 8 to 15 travel "Around the World in Five Days" with PCC Cooks' weeklong summer camps. This summer they'll travel to Italy, Turkey, Thailand, Peru and France.
With classes for toddlers to teens, we help kids develop skills and an enthusiasm for homemade food that will keep them cooking all the way into adulthood.
Adding it up
Time, access and convenience play a major role in how much we cook at home, but many of us also may lack know-how and confidence. Spending a little time to reacquaint yourself with your kitchen pays off!
Studies show that foods made from scratch generally are higher in nutrients than premade foods and the satisfaction of a well-made meal is gratifying, especially when you have yourself to thank.
PCC Cooks hopes to make the process fun and inspiring as well, creating an encouraging space for everyone to experience the rewards of cooking. But don't take our word for it! Grab an apron and come see for yourself.
Lena Hart-Bundy is a program specialist at PCC Cooks.