Organically Grown Company, a values-based producer community
by OGC Staff
This article was originally published in June 2018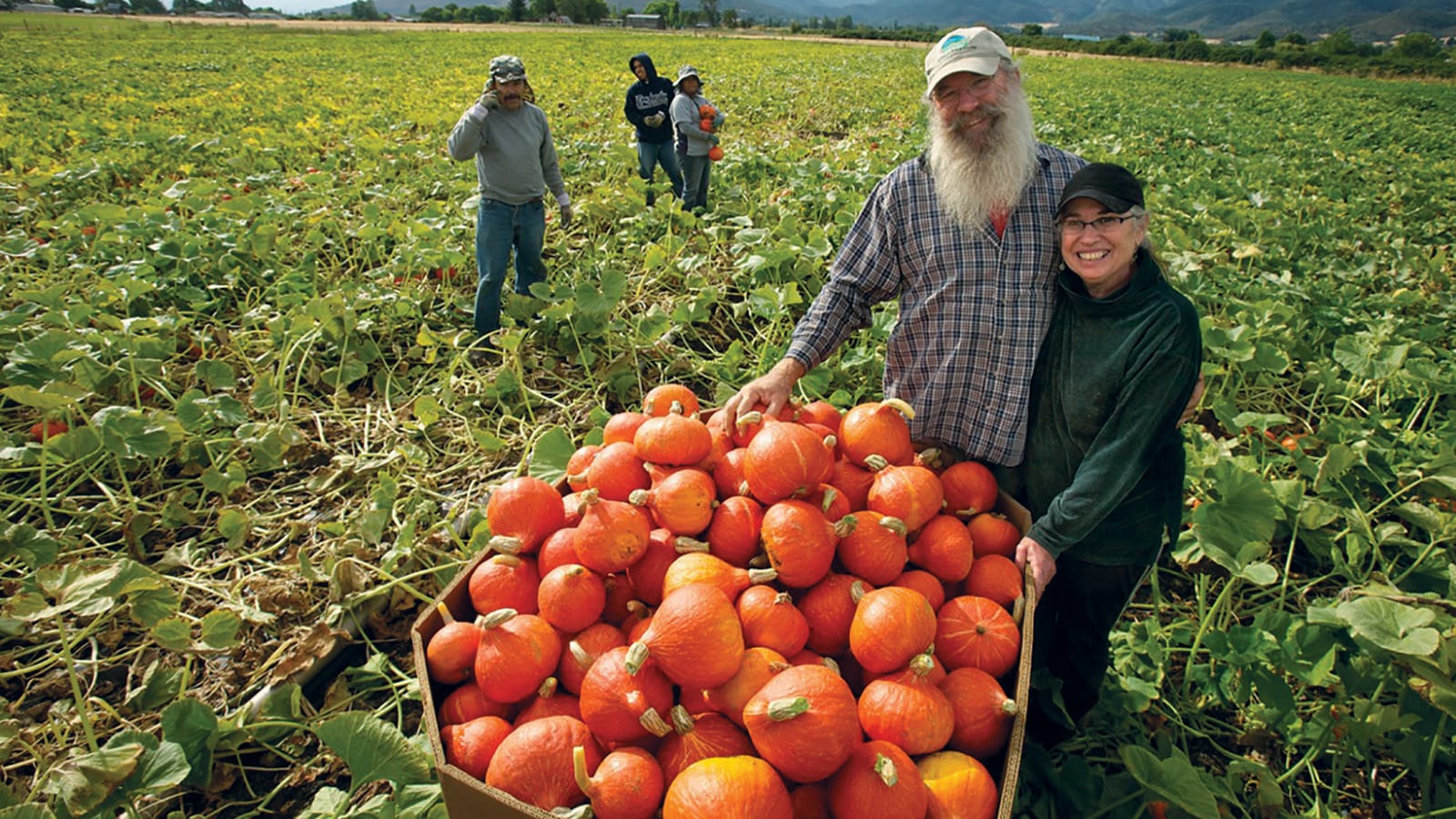 Organically Grown Company (OGC) began as a nonprofit in 1978 when a few gardeners, small-scale farmers, environmental activists and dreamers talked about a shared belief: that organic agriculture was key to nourishing healthy people and sustaining a healthy planet. Since then, OGC has been PCC's primary organic produce supplier because its produce tastes amazing — and because we treasure OGC's commitment to a values-based supply chain.
At OGC, sustaining a healthy planet means as much to us as the organic produce we deliver, the green features of our facilities, and the health of our coworkers. It also is a commitment to on-farm sustainability and small and medium farm viability.
Like the original OGC farms that formed the foundation for our grower and coworker ownership model, we remain dedicated to supporting operations that have on-farm diversity, put money back into their communities, and provide better conditions to farmworkers. At the end of 2017, 46 percent of our producer-community-operated farms were 200 acres or less, and 63 percent of those were 50 acres or less.
Our producer community includes more than 300 growers and vendors, allowing us to support mission-based work — such as organic — across many communities. The best way to visualize our producer community is as a series of communities, nested one within the other:
Pacific Northwest
California and a few other states
Mexico and a few other countries
When sourcing produce, we start with our roots in the Pacific Northwest. As winter emerges and the rain and snow arrive, our sourcing shifts south. For a few items, we work with growers in South America. Some crops, such as bananas, papayas and pineapple, come from the tropics year-round.
Pacific Northwest producers
When we refer to local, we often mean the Pacific Northwest (PNW), a bioregion that approximates the Columbia River watershed and includes Oregon, Washington, Idaho and southern British Columbia. With some of the richest soils, a temperate climate and access to water, the Pacific Northwest is a productive and diverse growing region where farmers can produce hundreds of different crops.
It's not uncommon for a grower to have more than 40 crop varieties growing over the course of a season.
In 2017, 31 percent of the produce cases we sourced came from the Pacific Northwest, with the majority from Oregon and Washington. Some growers include Andersen Organics in Eastern Washington, All Seasons Mushrooms in Southwest British Columbia, Denison Farms in Oregon's Willamette Valley, Willie Green's Organic Farm in Washington's Skagit Valley, and Fry Family Farm in Southern Oregon.
These growers represent some of the deepest roots in our producer community and several are owners of OGC. We actively support their success through grower services, including packing supplies and backhauling crops to OGC warehouses; packing small fruit such as blueberries, cranberries and kiwi berries in-house; and the impacts of our community giving program to organizations, such as PCC Farmland Trust, Friends of Family Farms, Oregon State University Agricultural Research Foundation and the Organic Seed Alliance.
Additional efforts include a program that greatly reduces annual organic certification costs for growers — and a program that helps farmers develop tools to improve profitability.
Siri & Son Farms and Fraserland Organics are two great PNW farmers we love. See page 7 for brief profiles.
California and south
Despite the wealth of crops grown in the Pacific Northwest, the season is not long enough to meet the year-round needs of customers.
As summer transitions to fall, we move more of our sourcing south, primarily from California and inland for a few items to Arizona, Texas, Georgia and Florida. A few tropical items come from Hawaii.
At the end of 2017, 78 percent of everything OGC sourced was grown in the United States. At PCC, you'll see U.S. produce by growers Del Rey Avocado Company, Deer Creek Heights Ranch, Lakeside Organic Gardens, Deardorff Family Farms, Tomatero Farm, Valliwide Organic Farms, and Anthony Vineyards.
We support this producer community through partnerships and strategic opportunities. Examples include efforts on trade advocacy and participation in our biannual "Organicology Conference: The study of a Sustainable Food Future." At Organicology, sessions often develop through consultation with our producers and include issues they're finding the most challenging, such as a shortage in farm labor, succession planning, and being competitive in a rapidly changing marketplace.
We collaborate with specific producers when we can provide value, such as helping Deer Creek Heights Ranch secure a conservation easement to maintain the land in perpetuity and recognize a high priority wildlife corridor that runs through the property.
Coke Farm in San Juan Bautista is another we love for giving a helping hand to small farmers.
Mexico and other countries
In 2017, 15 percent of what OGC sourced came from Mexico and 1.6 percent from Ecuador. The other 3 percent of our produce with southern origins is from Chile, Peru, Costa Rica and Argentina, which enables us to provide, for example, blueberries in the offseason and pineapples year-round. Sourcing from these countries allows us to support the benefits of organic beyond our own borders.
It also allows us to partner with producers that provide better conditions for farmworkers. Key in these efforts are Covilli Brand Organics, Wholesum Harvest and Awe Sum Organics. These producers provide some of the fair-trade produce from OGC. In 2017, 5.4 percent of OGC's sales were fair trade sourced from 14 producers in Mexico, Peru, Argentina, Chile and the U.S.
We're especially proud of our fair labor banana program with Organics Unlimited and its community of growers in Mexico and Ecuador.
Why we do it
By purchasing organic produce, we're able to support a more sustainable food system in each producer community we source from.
We value our role in the middle of the supply chain to serve growers, retailers and consumers. We go above and beyond traditional business transactions to develop long-term relationships and provide hands-on support for organic growers.
Sustainability is a holistic endeavor. Environmentally, it's about taking care of the planet. Socially, it means helping the communities we touch flourish. Economically, it means turning a profit so we can continue to get food to people while supporting growers who do it right.
Success in these efforts is possible only through committed partnerships throughout the supply chain.