Women in food systems: Regional agents of change
by Kate Nagle-Caraluzzo, M.A.
This article was originally published in March 2018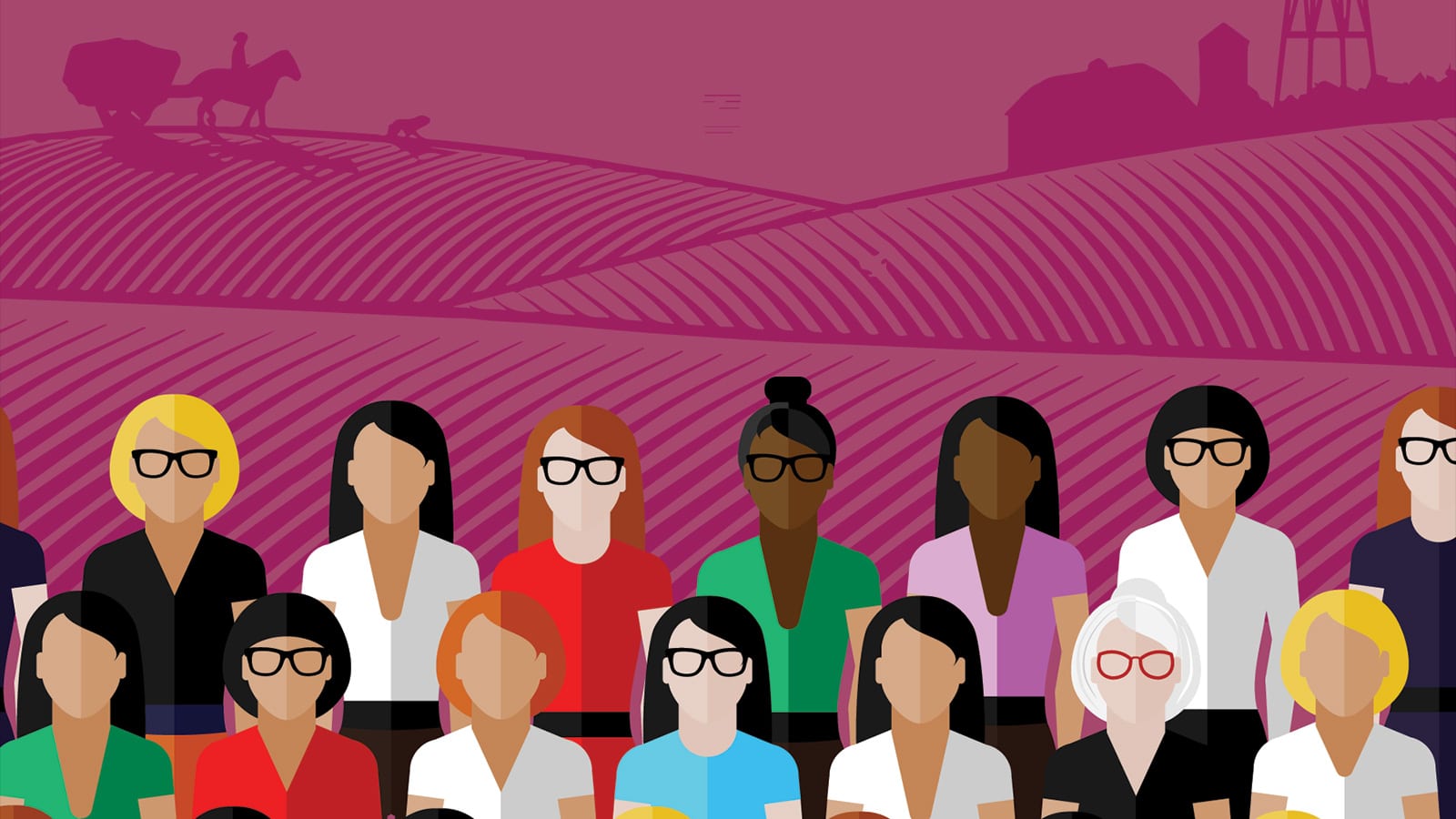 In recent months, we have seen an outpouring of demonstrations and marches as well as increased political engagement, especially from women.
Beyond politics, agriculture is also changing due to the greater involvement of women in the field. Female farmers now make up the fastest-growing sector of the country's changing agricultural landscape. Nearly 1 million women list farming as their primary occupation in the United States, representing nearly one-third of domestic farmers. The National Women in Agriculture Association calls this a "breaking the grass ceiling" moment for the food system sector.
The Pacific Northwest is rich in our agricultural history and food culture. The pioneers of the Tilth movement, inspired by Wendell Berry, set the stage in the early 1970s for Washington's agricultural movement. This movement includes the founding of vital organizations, such as the Tilth Alliance (a merger of Tilth Producers of Washington, Seattle Tilth and Cascade Harvest Coalition), the Washington State Department of Agriculture (WSDA) Organic Program, PCC Community Markets and PCC Farmland Trust.
My own path in food and agricultural work has been influenced profoundly by my mother, a farmer and change-maker, my godmother, an advocate and influencer, and professional mentors who helped me see that change occurs in incremental steps. Most recently, I have been inspired by the talented members of the Washington Women in Food System (W2FS) networking group. Women often play a key role in these dynamic organizations, yet, until recently, greater networking opportunities in the food field were limited.
We attempted to begin breaking down those limitations December 2017 when a group of 65 women gathered for the inaugural meeting of the Washington Women in Food Systems (W2FS) networking group. Together with four colleagues we founded the W2FS network to bring together women working in food and agriculture sectors. The group's goals are to provide a place for conversation, practical support and collaboration, as well as to create meaningful change in our local food system. Women attended from various sectors across the field, including farming, agriculture education, environmental stewardship and land conservation, the intersection of food and technology, food production, food banks and many more. The energy of the evening was palpable – there was excitement about integrating our work to move the food system forward for a better future.
Two W2FS co-founders, Robin Crowder and Lisa Bertelson, explain why it's critical to have a women-focused network. Lisa spent five years working for the Obama administration at the U.S. Department of Agriculture (USDA) and notes that this group "presents an opportunity to instigate real, meaningful change that will advance food systems locally and maybe even beyond." Robin adds, "it's important for women to support each other in professional endeavors. The hope is that, by getting to know each other better, creating a sense of solidarity and deepening each other's understanding of the opportunities that are available, we can foster more dynamic collaboration." Robin serves as the director of marketing and development for 21 Acres, an organization attempting to solve climate challenges by promoting food sustainability.
I spoke with a few outstanding Washington women in food systems to better understand what motivates women in this work and what our next steps are.
Angela Anegon,
WASHINGTON STATE DEPARTMENT OF AGRICULTURE ORGANIC PROGRAM, ORGANIC CERTIFICATION LEAD (Olympia, WA)
The WSDA Organic Program is accredited as a certification agent by USDA. Its function is to inspect and certify organic operations, verifying that they are meeting all USDA organic standards. In her role, Angela Anegon helps to "ensure organic integrity and provide farmers the assistance they need to gain access to a marketing tool — the USDA organic seal." Angela, who earned a master's in horticulture and urban agriculture from Kansas State University, contemplates how her current position with the WSDA Organic Program influences the current and future food system. "I think anybody with a dollar bill in their pocket has the ability to influence the future of food and farming," she says. The process of organic certification is important for consumers and producers, and the organic label serves as a point of access and transparency to the food system — from soil to sale.
Kate Delavan,
PCC FARMLAND TRUST, CONSERVATION MANAGER (Seattle, WA)
PCC Farmland Trust secures, protects and stewards sustainable and organic farmland in Washington by preserving prime land for the next generation. Kate Delavan, Conservation Manager, discusses her career evolution: "My path is not necessarily linear, but the common thread is a curiosity around why we eat what we eat. Eating is something we do every day, but do many of us really think about it? What is the impact of the many, often unconscious, decisions we make every day on our community, on our neighbors, and on the world around us?" These are questions that many people ask, and Kate is helping PCC Farmland Trust take concrete action to ensure we explore these answers. Her current work is based on a fundamental, important idea: "We can't have local food without local farmland. If we want our future food system to include local farms, if we want to be able to buy broccoli at the farmers market or local cheese at the grocery store, we must preserve our region's farmland."
Sharon Siehl,
TILTH ALLIANCE, SPECIAL PROJECTS DIRECTOR (Seattle, WA)
Tilth Alliance was born in 2016 when three separate organizations — Tilth Producers of Washington, Cascade Harvest Coalition and Seattle Tilth — realized the most effective way to get more people growing and eating healthy food was by uniting farmers, eaters, gardeners, cooks and environmental advocates to champion a sustainable food culture. Sharon's current role includes directing "Learning in Places," a National Science Foundation research grant coordinated together with Tilth Alliance, the University of Washington and Seattle Public Schools. The project is about understanding science education in outdoor learning and engaging students in ecological reasoning. Sharon's position at Tilth Alliance helps people recognize that the future depends on the need to problem solve big issues, such as climate change and land access, as well as understanding "how urban and rural communities can learn from one another to help find solutions to growing more food sustainably with access to all."
Trudy Bialic,
DIRECTOR OF PUBLIC AFFAIRS & QUALITY STANDARDS, PCC COMMUNITY MARKETS (Seattle, WA)
Trudy has been at PCC since 1992, seeking to understand and represent consumer concerns about our food supply and raising awareness about consumer choices. "Shoppers increasingly are asking questions about how their food is produced and once they've learned something, they can't un-learn it. That leads to real change," Trudy says. Early advocacy work at PCC included the 1999 creation of a 12-page booklet about genetically engineered foods, years before national organic standards formally prohibited genetic engineering. The booklet helped "establish a PCC principle that consumers have a right to know how their food is produced, and the right to an informed choice." She emphasizes, "That last part, an informed choice, is the key. We can't make good choices without credible information and transparency." As for the current food movement, Trudy notes, "Women always have been central in human agriculture, from the earliest times, although they haven't always been credited for it."
Here in the Pacific Northwest we are incredibly lucky to have these women in the field fighting to move the needle forward for the food system. There's not enough space here to mention all of the women who have helped initiate change, but here's a tip of the hat to the work of Anne Schwartz (Blue Heron Farm), Chris Curtis (Neighborhood Farmers Market Alliance), Karen Kinney (Washington State Farmers Market Association), Diane Dempster (Charlie's Produce), Laura Raymond (Washington State Department of Agriculture), Brenda Book (WSDA Organic Program), and to the many, many, other women who inspire action for food system change. Together, we are taking important steps to ensure food security, land access, education and integrity.
Kate Nagle-Caraluzzo is the membership manager at Town Hall Seattle and has worked for Tilth Producers of Washington, Farmigo and Tilth Alliance. She has an M.A. in food systems and is a co-founder of the Washington Women in Food Systems (w2fs.org) networking group.