Soil & Sea: reports from our producers
This article was originally published in July 2017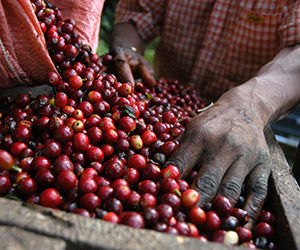 Could your coffee one day soon come from California? The first serious effort in the United States to commercialize coffee grown outside Hawaii is underway. About two dozen farms in Southern California are growing coffee in avocado groves. As growers face major challenges from aging trees that produce less fruit, increased competition from Mexico, and less access to water, they've discovered that avocado trees provide perfect shade for high-quality coffee bushes. Farmers are betting that consumer willingness to spend money on good coffee will help protect their livelihoods.
Organically Grown Company (OGC), has published its 13th annual sustainability report. In 2016, OGC, PCC's main organic produce supplier, continued to make progress in each of its five primary sustainability goals: achieving carbon neutrality and eliminating fossil fuel use, eliminating solid waste and toxic substances, achieving on-farm sustainability and small/medium farm viability, fostering a healthy and fulfilling workplace, and building community support for healthy and sustainable food system. Key achievements include:
Donating 373 tons of produce to Portland's urban core, avoiding 12,700 pounds of carbon dioxide emissions.
Diverting 95 percent of waste from landfills.
Working with 30+ farms under the LADYBUG brand that are certified organic and Salmon-Safe.
Sourcing from 16 Fair Trade producers in Mexico, Ecuador, Peru, Argentina, Chile and New Zealand.
Donating 2.5 percent of profits to 200+ community organizations and mission-aligned causes.
Ocean acidification rates on the West Coast now reportedly are among the highest in the world. Increased carbon dioxide in the air causes oceans to become more acidic, preventing oysters and tiny marine snails at the base of the food chain from forming shells.
The number of foreign farm workers on the H-2A visa guest worker program has increased significantly in the past year, according to statistics from the Department of Labor (DOL). In the first three months of 2017, the DOL approved 69,272 H-2A visas, a 36 percent jump over the same period last year. The H-2A visa program has been growing steadily in recent years, mostly because farmers have had increasing difficulty recruiting enough workers in the United States.
New U.S. Department of Agriculture Secretary Sonny Perdue has abolished the Office of Rural Development, the only U.S. department specifically tasked with improving the quality of life in rural America. It provided loans, grants and general assistance for improving infrastructure for water, electric and communications; social services such as healthcare and housing; and setting up better ways for rural Americans to get loans through credit unions, co-ops and banks.