Nourishing facial milk cleansers
This article was originally published in February 2017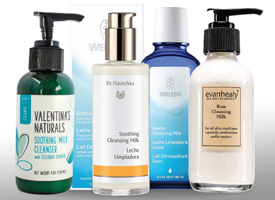 Is your skin dry or irritated? Or do you just want a new facial cleanser? You may want to try a "milk" cleanser at PCC. They clean skin without soaps and harsh detergents and are gentler than foaming or gel cleansers.
"Cleansing milks often are enriched with soothing ingredients such as chamomile for a cooling effect and to regulate sebum, or antioxidants to help protect the cells in the skin," says Malin Lentini, master esthetician at the Euro Institute of Skin Care. "They also contain oils that help nourish and gently clean skin without stripping its delicate hydrolipid barrier. This makes cleansing milks a great option for anyone who needs hydration and replenishment such as mature, sensitive or dehydrated skin. They're also refreshing alternatives for problematic or combination skin."
PCC sells cleansing milks from several trusted brands that are made with the best ingredients — often organic, biodynamic and fair trade. The result? Skin that's healthy, nourished and supple.
Here are four of our favorites.
Valentina's Naturals Soothing Milk Cleanser
Formulated with anti-inflammatory and protective organic colloidal oatmeal and EcoCert-certfied super-emollient safflower oleosomes, for gentle cleansing of even the most finicky skin.
Good for: Normal, dry or mature skin
Why we love it: It's unscented and leaves skin feeling clean but moisturized.
Follow with: Hydraboost Toning Mist, then Age Proof Facial Oil with Evening Primrose Oil
About the company: Portland-based Valentina's Naturals makes products in small batches by top-level cosmetic formulators who've worked everywhere from Aveda to Chanel, using the finest natural and organic ingredients.
Weleda Gentle Cleansing Milk
Effectively yet gently removes dirt, oil and makeup while maintaining skin's healthy balance. Organic jojoba seed oil and antioxidant-rich sesame seed oil act as emollients to help lift oil and dirt. Witch hazel, a naturally light astringent, helps clarify and purify pores.
Good for: All skin types, especially sensitive
Why we love it: Feels nourishing and moisturizing, with a lovely mild, herbal scent.
Follow with: Sensitive Skin Facial Lotion
About the company: Weleda has long set the gold standard for clean body care. Started in Switzerland in 1921, Weleda believes nature offers everything needed to create effective beauty and wellness products: flowers, herbs, fruit extracts, clays, roots, minerals — carefully selected from biodynamic farms and fair trade partners.
evanhealy Rose Cleansing Milk
This skin-balancing formula with antioxidant-rich gotu kola, purifying white kaolin clay and lightly lathering natural yucca root leaves skin feeling clean, while plant oils and floral waters restore skin hydration.
Good for: All skin, especially dry, oily or combination
Why we love it: The Rose Geranium floral water is from a Washington farm.
Follow with: Rose Geranium HydroSoul, Rosehip Treatment Serum and Rose Vetiver Day Moisturizer
About the company: Evan Healy is a holistic aesthetician with more than 30 years of experience. She uses certified organic and wild-crafted plants and mineral-rich clays, and sources sustainably harvested ingredients from family farms, women's cooperatives and tribal villages.
Dr. Hauschka Soothing Cleansing Milk
There's a cult-like following for this cleanser, made with anthyllis, jojoba and almond oil to maintain the skin's natural protective function. A nutrient-rich extract of fermented grains and bentonite clay effectively cleanses as it calms skin and reduces redness.
Good for: Sensitive or dry skin
Why we love it: There's a reason this cleanser is so sought-after: it's so gentle it seems to melt into your skin, offering instant rejuvenation and absolutely no irritation or dryness.
Follow with: Facial Toner, then Revitalizing Day Cream
About the company: In 1935 Dr. Rudolf Hauschka established the mission of his company that still stands today: "to support the healing of humankind and the planet." The German-based company employs ecologically and socially conscientious methods of growing and sourcing ingredients.
How to use milk cleansers
Many experts advise gently massaging the cleanser on dry skin, then rinsing off. This gives greater concentration of the active constituents, and they absorb deeper into the skin. Don't exfoliate on the days you use a milk cleanser. We like to follow cleansing with a toner, floral water or hydrosol; then a serum; and finally a moisturizer or moisturizing oil combo.