Choosing a nutrition bar
This article was originally published in June 2016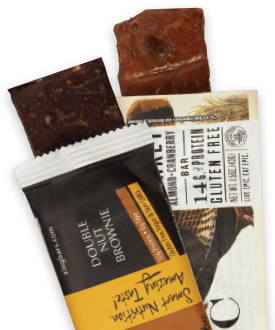 "Nutrition" bars go by a lot of names: protein bars, energy bars, granola bars and meal bars. Some are just glorified candy bars, while others combine wholesome ingredients to support healthy eating in between meals.
Nutrition bars can be used as a snack to hold you until your next meal, a calorie boost if you're trying to gain weight, or a convenient source of essential nutrients. Nutrition bars also can be used to create a meal if you're traveling or away from your home kitchen.
Unlike bars at mainstream stores, PCC's bars don't contain artificial preservatives or high fructose corn syrup.
Snack bars: If you're looking for a healthy snack option, look for bars low in sugar, providing at least 5g of protein and a few grams of fiber. Find bars with whole ingredients you normally would eat, such as nuts, fruits and spices. Bumblebar, Kind and Perfect bars make good snacks.
Everyday bars: If you eat bars every day, be mindful of eating high-calorie, high-sugar or heavily fortified bars. Many bars are fortified with vitamins and minerals, sometimes providing up to 100 percent of your daily value for certain nutrients. This isn't a problem for an occasional snack, but it's possible to overdo it on vitamins and minerals, especially for children. Too much sugar or calories also can be problematic.
Meal bars: If you're eating a bar as a meal while traveling, backpacking or training for an event, look for bars that provide a good mix of fat, carbs and protein. Ideally combine the bar with a piece of fruit or some raw veggies, to balance the "meal" with some real food. CORE Foods, PROBAR and Organic Food Bar provide more than 300 calories and a good balance of nutrients.
Whole foods vs. isolated nutrients: Some bars use only simple, whole food ingredients while other bars use isolated nutrients to maximize the nutritional profile. For instance, LÄRABARS are made from dried dates and nuts, while Oatmega bars use whey protein concentrate, chicory root fiber and fish oil to maximize the nutrient density of their bars. Both can be healthful choices, depending on what you want.
Sweeteners: The sugar content of nutrition bars can range from 0 to 30 grams per bar. LÄRABARS contain no added sweeteners and get all sweetness from dates, while Zing bars use agave and tapioca syrup for sweetening. Low-sugar, high-protein Oatmega bars use Lo Han guo, a zero-calorie sweetener similar to stevia, mixed with brown rice syrup.
Protein sources: Some nutrition bars get protein from nuts or seeds, while other bars boost the protein content with isolated protein powders from milk, soy or rice protein. Pea protein is becoming more popular as more shoppers seek plant-based protein sources. Protein powders allow manufacturers to squeeze more protein into a tiny bar, but most Americans don't need more protein in their diet. The newest trend in protein sources for nutrition bars is meat, creating a new style of low-sugar bars that taste like jerky or pepperoni.
Nutrition bar comparison
| Bar | Protein Content/Source | Sugar content/source | Fortified? | Calories |
| --- | --- | --- | --- | --- |
| Perfect Bar* | 5g Peanut butter, nonfat dry milk | 5g Honey | Flax seed, kale, papaya, tomato, kelp, carrot | 100 |
| Epic | 13-15g Meat (bison, beef, pork, chicken, bacon) | 0-8g Dried fruit | No | 100-200 |
| Oatmega | 14g Whey | 8g Brown rice syrup, lo han guo | Green tea extract, fish oil, inulin | 190 |
| LÄRABAR | 4g Nuts | 23g Dates | No | 190-240 |
| Zing | 10-15g Whey (vegan bars use rice protein) | 10-15g Agave and tapioca syrup | Calcium | 200-220 |
| Simple Squares* | 6g Cashews, almonds | 10g Honey | No | 239 |
| Vega | 12g Pea protein, rice protein | 19g Sugar, brown rice syrup, tapioca syrup, dates | 26 added nutrients | 240-270 |
| Rise | 15g Pea protein, nuts | 12g Coconut nectar | No | 260-280 |
| CORE Meal* | 12-19g Whey (vegan bars use cashews) | 6g Raisins | No | 350-360 |
*Organic