Soil & Sea: reports from our producers
This article was originally published in May 2015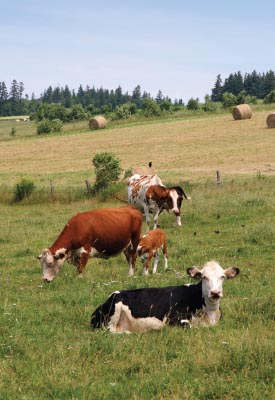 The Northwest's warm winter means the region's sweet cherries likely will come to market early this year.
At least one PCC farmer has reported the record-low snowpack across Washington state may result in a smaller harvest this season. The state's average snowpack this year is 71 percent below normal levels. In some places, including the Olympic Peninsula, snowpack is 90 percent below normal levels.
In 2012 honeybee pollination made it possible for fruit, vegetable and seed crops to add billions of dollars in harvest value to Washington agriculture, including nearly $3 billion from tree fruit and berries. The bees also added nearly $4 million from the sale of their honey. Washington beekeepers are lobbying the state's lawmakers for lower taxes and more forage for their bees.
Congress is giving veterans financial support to help them pursue agriculture careers. The 2014 Farm Bill designated veterans, for the first time, as a distinct class of beginning farmers within the USDA. The status grants veterans access to low-interest loans to buy animals and equipment. It also allows them to apply for grants to build onto their farm, and can help them receive extra payments to implement conservation practices.
Label claims such as vegan, Paleo, grass-fed, pasture-raised, ancient grains and allergen-friendly are on the rise, according to investment banking firm Silverwood Partners. Other trends gaining momentum include chia, foods and beverages that are fermented or have turmeric, and meat snacks such as jerky.
A new study looks at how commercially valuable fish are reacting to low-oxygen dead zones in the Pacific off the West Coast, which are getting more common as the climate changes. It found overall numbers and diversity of fish reportedly dropped as oxygen levels dropped in deep waters, but some fish remained, able to adapt.