Bringing back native shellfish
by Abra Bennett
This article was originally published in January 2015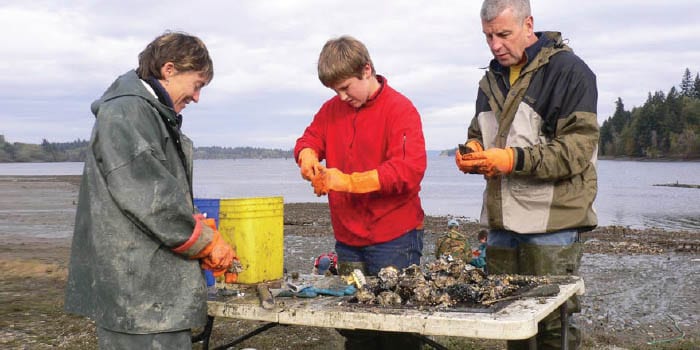 Shuck. Slurp. Sigh. A little thank you that the Olympia oyster, our only native coastal oyster, is being brought back from the brink. If you're a fan of the tiny ostrea lurida, you may well have a local conservation group to thank for the fact that the intensely flavorful bivalve still is around.
First cultivated in our waters during the last part of the 19th century, the Olympia oyster population nearly was wiped out by the mid-20th century from overharvesting and toxic discharge from then-unregulated pulp and paper mills. Restoration efforts began some 50 years later, with the help of Puget Sound Restoration Fund (PSRF), which now works in partnership with Washington Department of Fish and Wildlife, the Nature Conservancy, the Suquamish tribe, National Oceanic and Atmospheric Administration (NOAA) and the U.S. Navy.
"We've entered an era where shellfish species need a helping hand," says Betsy Peabody, founder and executive director of PSRF. In pursuit of that goal, PSRF and its partners have spread countless tons of empty oyster shells in places where Olympias traditionally thrived, giving them a new substrate on which to breed. PSRF also operates a hatchery at a NOAA facility in Manchester, Wash., producing seed to be used in restoration efforts.
Another PSRF project involves three shellfish farms featuring the Pacific oyster, at Port Madison on Bainbridge Island, Drayton Harbor near Blaine, and at Henderson Inlet, not far from Olympia.
"The Pacific oyster is very hardy, grows rapidly and is ready to eat in just 12 to 15 months after you set out the seed," explains Peabody, "in contrast to the Olympia that needs to grow for 4 to 5 years before it's ready to harvest."
Community Supported Aquaculture
The Port Madison and Drayton Harbor farms operate CSAs, which in this case stands for Community Supported Aquaculture. "We want to connect people back to the food that can be grown in local waters," says Peabody. "We're getting food from the water that goes directly on our local tables, so we have an incentive to keep that water clean. You think about water quality very differently when it's producing food for you."
"It's fun and educational," Anne Seeley, a member of the Port Madison CSA, says about her volunteer work at the farm. "Once a month you go out at low tide, sometimes there's half a dozen volunteers, sometimes as many as 15 to 20. We lay out a tarp on the sand and haul the bags of oysters up from the lines where they're kept. We open the bags and sort them into the ones that are ready to eat and the ones that need to grow some more, we put them in bags and tag them for the people in the CSA. It's always a really interesting group of people and we get to take home extra oysters, in addition to the ones we pay for with our CSA membership."
Shellfish gardening program
PSRF also sponsors a shellfish gardening program, which currently provides seed to about 150 households that raise oysters, mussels and clams on their tidelands on the shoreline of Bainbridge Island. Paul Nishman and Cyndy Holtz are part of the shellfish gardening program and have plenty of oysters. "Maybe 100 bags, says Nishman, "maybe more."
Since that represents thousands of oysters, he admits cheerfully, "we give away a lot of them." Holtz laughs and adds that "Even when people come to do work on your house, you always can ask whether they like oysters and give them some." Nishman has been known to pack them up and take them on business trips, rewarding colleagues in faraway places with oysters that, as Peabody puts it, "have a special taste that's a signature of this place, the taste of the water, and the land that drains to the water."
Summarizing PRSF's mission, Betsy Peabody says, "The reason we're trying to restore iconic food resources is that we live in a place that has been, and can be again, an edible world with lots of different resources abounding on our shorelines and in our waters. We want to be able to rely on these resources as we move forward in trying to build a sustainable world that continues to feed us."