Beneficial bone broth
This article was originally published in January 2015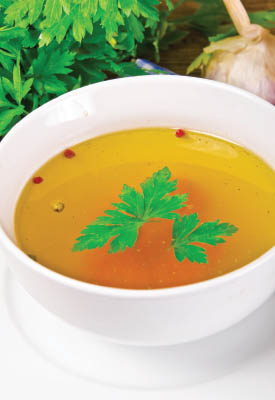 People around the globe have been making broth from bones throughout history. Made from the bones of cows, lamb, chicken or turkey, bone broth is deeply flavorful and versatile, and a good way to help use every part of an animal.
"Bone broth is incredibly nutritious, having a high concentration of minerals and amino acids aiding in a multitude of ailments, including boosting immunity," says Suzanne McMurry, N.D., of Full Circle Natural Medicine in Seattle. "It's a perfect remedy for cold and flu season!"
To make beef bone broth:
Roasting bones brings out their flavor. Put 3 1/2 pounds of bones in a roasting pan and brown at 350° F in the oven until well browned, about an hour. Remove and place in a large stock pot or crockpot.
Note: Using bones that have some meat on them increases the flavor and fullness of the broth.

Add 1/2 cup apple cider vinegar and enough filtered water to cover the bones, and let the mixture sit for 1 hour so the vinegar can help leach the minerals out of the bones.

Add just enough water to cover the bones, then bring to a boil. Skim the scum from the top and discard.

Note: The broth shouldn't boil for extended periods of time to keep the fat and scum from emulsifying into the broth.

Reduce to a low simmer, cover, and cook for at least 3 hours, or up to 72 hours total. Keep adding water during the cooking process to keep the bones just covered and to compensate for evaporation.

During the last hour or two of cooking, add 3 medium onions (quartered), 3 celery stalks (chopped), 3 carrots (chopped) and 2 bay leaves.

During the last 10 minutes of cooking, throw in a handful of fresh parsley for added flavor and minerals.

Let the broth cool and strain it. If it's unpalatably greasy, you can place it in the fridge until the fat has solidified on top, then scrape off the fat.

Add sea salt to taste. Store in the fridge up to 5 days or the freezer up to 6 months.
Chicken or turkey bone broth
Follow the same instructions for beef bone broth above, but substitute 2 to 3 pounds chicken or turkey bones (or a whole carcass), and reduce vinegar to 2 to 3 tablespoons. Reduce simmering time to 2 to 24 hours.
Versatile in the kitchen
Hot tea — Drink bone broth to cleanse in the morning, or before bedtime to promote restful sleep. Try adding freshly grated ginger, herbs, spices, miso or sea vegetables.
Grains — Use bone broth as all or some of the liquid when preparing grains. It adds additional protein, flavor and increases digestion.
Soups, vegetables and meats — Use bone broth to add flavor and nutrients to soups and stews, or for poaching or braising meats, fish or vegetables.
Bones at PCC
Most stores carry the following bones in the freezer case:
Eel River organic, grass-fed marrow and knuckle bones
PCC grass-fed marrow bones
PCC organic chicken necks, backs and feet
Diestel turkey necks and backs
Some stores also have the following, in the fresh meat case at times or in the freezer case. Special orders can be placed if not in stock.
salmon heads and bones
pork bones
lamb bones
Pacific Foods bone broth
Short on time? No need to make bone broth from scratch. PCC carries bone broths from Pacific Foods. Pacific's organic bone broths are made by slowly simmering organic chicken and turkey bones, sourced from pasture-raised poultry, in a classic combination of apple cider vinegar, water, onion, fresh herbs and seasonings for a full 12 hours. The result is a broth that's flavorful and nutritionally rich, with 9 grams of protein and only 40 calories per serving.