Soil & Sea: reports from our producers
This article was originally published in November 2014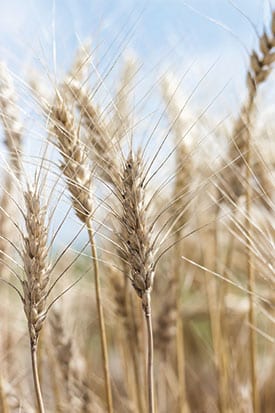 GLOBAL FOOD PRICES ARE AT A FOUR-YEAR LOW because of good harvests in the United
States, Europe and China. But food still costs
more than it did in the 1990s, even accounting
for inflation.
ANTIBIOTIC-FREE CHICKEN ACCOUNTED FOR
ABOUT 10 PERCENTof the fresh chicken
market in 2013. Along with organic chicken,
it's among the fastest-growing sectors.
THE CEREAL BUSINESS HAS BEEN DECLINING the past decade, as consumers reach for granola
bars, yogurt and drive-through fare in the morning.
Cereal consumption reportedly peaked in
the mid-1990s, but some 90 percent of American
households report buying ready-to-eat cereal,
which remains the largest category of breakfast
food with some $10 billion in sales last year.
CLIMATE CHANGE IS SET TO UNLEASH A SERIES OF DECADES-LONG "MEGADROUGHTS"
THIS CENTURY, according to recent research
from Cornell. Megadroughts — generally
defined as lasting 35 years or more — will
become considerably more frequent as global
warming increases temperatures and reduces
rainfall in regions already susceptible.
HAZELNUT PRICES ARE UP, in part because
Ferrero, the Nutella-maker, a giant company
based in Italy, uses about a quarter of the
world's hazelnut supply — more than 100,000
tons every year. A late frost in Turkey also froze
the hazelnut blossoms and cut the country's
hazelnut production in half, spiking prices
even further.
FISHING FOR COHO SALMON started out well in the summer troll fishery off Southeast Alaska this summer, but trollers say the catches fell off sharply much earlier than usual. This year, daily troll catches plummeted at the end of August. Last summer, fishermen in the Southeast had a banner Coho season, landing 3.9 million Coho, the second-highest catch since Alaska's statehood in 1959.
HAZELNUTS ARE SO VALUABLE, farmers
now are growing them in Chile and Australia,
Oregon's orchards are expanding, and
they're being grown in the Northeastern
United States, where they've never successfully
been grown before.
GRAIN IS PILING UP IN ELEVATORS across
the Northern Plains, costing farmers millions
of dollars in lost or delayed sales. Railroads
make more money per car hauling oil than
grain. So when the tracks get crowded, grain
sits in silos while oil cars head to the coasts.