Your co-op community, October 2014
This article was originally published in October 2014
Bagged apple program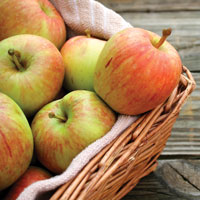 This fall, eating an apple a day comes with even morer benefits than just keeping the doctor away.
PCC once again has partnered with Washington state apple growers and Organically Grown Company (the Northwest's premier organic produce distributor) to fund farm-to-school education in our region.
Proceeds from bagged organic Fuji apples in specially marked Farm-to-School bags will support children's programs at Seattle Tilth that provide an assortment of hands-on activities for K-12 students and their teachers. Last year, $42,000 was donated to Rainier Beach Urban Farm and Wetlands. Look for the arrival of these special apples to PCC's produce departments this fall.
---
Feeding Your Immune System
Thursday, October 2, 7 to 8:30 p.m.
PCC Greenlake Village

Dr. Suzanne McMurry, N.D., and PCC's nutrition educator, Nick Rose, will discuss ways to pump up your immune system and prevent nasty colds and flus. Come join us for the monthly "Walk, Talk & Taste" tour as we discuss what foods and supplements offer the most benefit to your immune system. Sign up is available on the PCC website under "Walk, Talk & Taste classes" in the "Cook" tab. Free.
---
Rewards of Fair Trade
Saturday, October 4, 11 a.m. to 3 p.m.
Greenlake Village PCC patio
Sunday, October 5, 11 a.m. to 3 p.m.
Issaquah PCC patio
PCC is proud to host two events featuring Fair Trade products. This is a great opportunity to speak to the vendors who know their products and can tell the impactful stories behind Fair Trade. Samplings include Fair Trade coffees, teas, chocolates and more. Free.
---
Seattle Children's Festival
Sunday, October 12, 11 a.m. to 6 p.m.
Seattle Center Grounds
Join us for this free one-day, multi-cultural festival located on Seattle Center Grounds. By "Celebrating Our Big Neighborhood," the festival will bring together local communities that showcase and celebrate families of the Northwest. 
The event will feature performances and interactive workshops geared toward families and children of all ages. You'll find the PCC TasteMobile outside of Fisher Pavilion delivering interactive cooking demonstrations throughout the day. Learn more about this exciting event at nwfolklife.org/seattlechildrensfestival.
---
Pumpkin Decorating Party
Saturday, October 25

9 a.m. to 12 p.m.

Edmonds, West Seattle, Redmond, Issaquah and Greenlake Village PCCs
Saturday, October 25

11 a.m. to 2 p.m.

Greenlake Aurora PCC
Hey, kids! Come decorate your very own pumpkin to take home. There will be healthy snacks to stir those scary, creative juices. Free for kids 12 and younger.
---
Woodland Park Zoo Pumpkin Bash
Saturday, October 25, 9:30 a.m. to 3 p.m.

601 N. 59th St., Seattle
Enjoy a range of animal behavior as hippos, bears, elephants, monkeys and other animals crunch, smash or stomp pumpkins at the zoo's annual Pumpkin Bash. Wear your costume for trick-or-treating in the west plaza and visit the PCC TasteMobile for warm cider.
---
Chocolate tasting!
Thursday, October 23, 4 to 6 p.m.Greenlake Village PCC
Love chocolate? Come to this casual event to learn about the health benefits of cacao. Taste bars ranging from milk to extra dark, and compare the flavors of many of our favorite brands sold at PCC! Free.
---
Start to Fitness: Added Sugars
Wednesday, October 29, 7 p.m.Sammamish Library
As part of the King County Library System and KCLS.org's "Start to Fitness" series, PCC's nutrition educator, Nick Rose, will discuss natural sugars, added sugars, artificial sugars, how much sugar is too much, and why fructose-based sweeteners such as agave have earned a bad reputation. Give up on the quest for a miracle sugar, and instead learn how to avoid added sugars. Enjoy free samples.