EPA whistleblower: Agency faked data on safety of "biosolids"
by Joel Preston Smith
This article was originally published in August 2014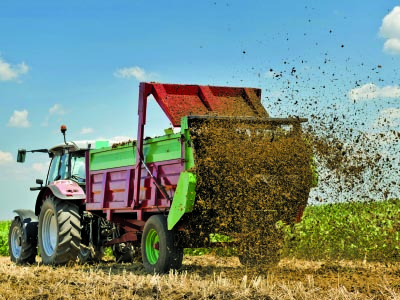 The Environmental Protection Agency (EPA) used faked data in order to win approval of biosolids as a safe form of compost. An EPA whistleblower reveals in his new book, "Science for Sale," that he was forced out of EPA after publicly condemning biosolids.
Biosolids are human wastes treated to remove most pathogens, but not all. EPA began promoting biosolids, also called sewage sludge, under formal guidelines in 1993. EPA promotes the use of sludge on farmlands, public parks, mine reclamation projects and home gardens. 
David L. Lewis worked as a microbiologist for EPA for 32 years. He claims that EPA, in its biosolids safety assessment, used data conjured up in 1999 by Allen Saxon, a sewage treatment plant manager in Augusta, Georgia. Lewis says Saxon invented a 20-year-long record of soil tests for heavy metals (cadmium, in particular) to win approval of Augusta's biosolids-disposal program. His invented data showed safe levels of those pollutants in biosolids, when in fact those tests never were performed.
EPA's stance on biosolids is suspect, Lewis concludes — and exposes the public to open-air dispersal of Staphylococcus, E. coli and other pathogens, along with heavy metals and industrial pollutants that humans ingest and then excrete.
According to Erika Holmes, communication manager for the Washington State Department of Ecology, 379 facilities in the state produce biosolids and about 90,000 dry tons are applied annually (mostly in the central and eastern portions of the state). Holmes notes that land applications of biosolids require a state permit "to ensure buffer zones are in place to limit the potential for runoff."
The real science
Despite EPA's effort to popularize what it terms "sewage sludge," everywhere you look, it's a biosolids storm. Lawsuits have been filed and citizens groups are campaigning to stop the spread of biosolids. The Sewage Sludge Action Network is tarring and feathering online North Carolina House Speaker Joe Hackney, who allegedly spread biosolids on his Chatham County farm earlier this year.
The public outcry is not surprising. Sewage sludge is not allowed in organic agriculture with reason. Not all toxins are filtered out at the waste treatment plant.
In 2006 scientists from Eastern Washington University and the U.S. Geological Survey's National Water Quality Laboratory found a total of 87 different human-manufactured compounds in biosolids. The researchers described biosolids as a "potentially ubiquitous nonpoint source" of contaminants in the environment.
"A minimum of 30 and a maximum of 45 [wastewater contaminants] were detected in any one biosolid," the scientists noted.
In 2008 scientists from the U.S. Geological Survey and Colorado State University found that earthworms in soil plots amended with biosolids had bioaccumulated multiple human-manufactured compounds, including disinfectants, anti-foaming agents and flame retardants, antibiotics, synthetic fragrances, detergents and pesticides, as well as other chemicals.
EPA's 2009 Targeted National Sewage Sludge Survey Report found 28 metals in every biosolids sample from 74 randomly selected water treatment plants in 35 states. The samples, collected in 2006 and 2007, also contained 72 pharmaceuticals, 25 steroids and hormones, flame retardants, and a variety of "semi-volatile organics and polycyclic aromatic hydrocarbons."
Proponents of biosolids say there is plenty of research confirming their safety. "It's not like a new risk is being foisted on the world," says Dan Sullivan, an associate professor of nutrient management at Oregon State University. "It's kind of pointless, in my view, to question the safety of a material that's been this tested."
But Lewis argues that if biosolids were safe, government officials wouldn't have felt driven to fake the safety data.
"The only honest thing left to do," Lewis argues, "is throw out the whole body of 'biosolids science,' and start over with a new group of scientists who have no conflicts of interest with government and industry."